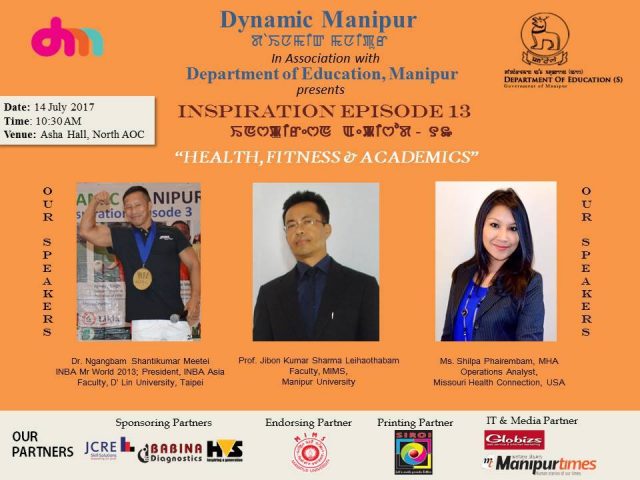 Dynamic Manipur in collaboration with Department of Education, Manipur presents "Inspiration Episode 13" on 14 July 2017 under the theme "Health, Fitness and Academics" at Asha Hall, North AOC, Imphal.
Under our flagship project "Dynamic Inspirations", Dynamic Manipur has organised 12 Inspirations Episodes and nearly 20 Local Inspiration Episodes covering over 40 speakers of varied background and over 4000 students. Yumlembam Pakpi Devi who represented India in the AFC U-14 Girls Regional championship held at Dushanbe, Tajikistan is one of our biggest success stories.
After our recent collaboration with Department of Education, Government of Manipur, Dynamic Manipur is getting stronger and more determined to organize 50 more Local Inspiration Episodes in both Hills and Valley regions of Manipur, mainly covering students studying in Government School.
Our Esteemed speakers are:
1. Ms. Shilpa Phairembam, MHA, Operations Analyst, Missouri Health Connection, USA on the topic "Education Abroad and the Necessary Skills"
2. Prof. Jibon Kumar Sharma Leihaothabam, Faculty, MIMS on the topic "Excellence with Healthy Mind in a Healthy Body"
3. Dr. Ngangbam Shanti Kumar Meetei, Faculty, D'Lin University, Taipei on the topic "Importance of Health and Education"
To participate, register here – https://goo.gl/forms/u11e06AFPL3HUg6T2