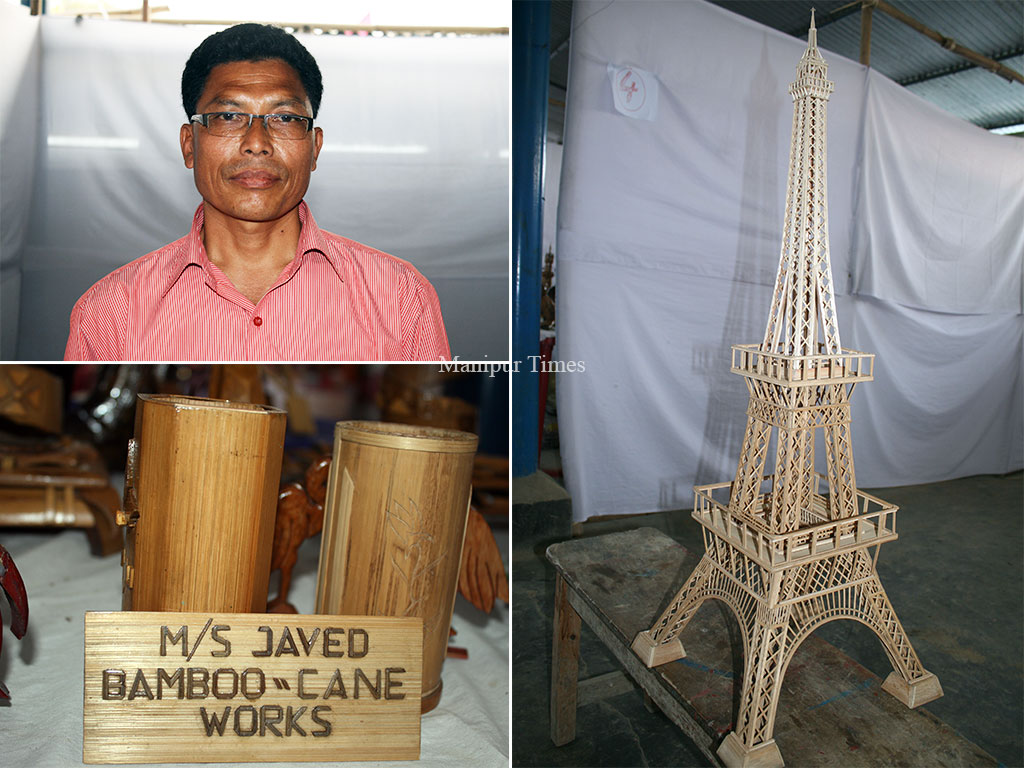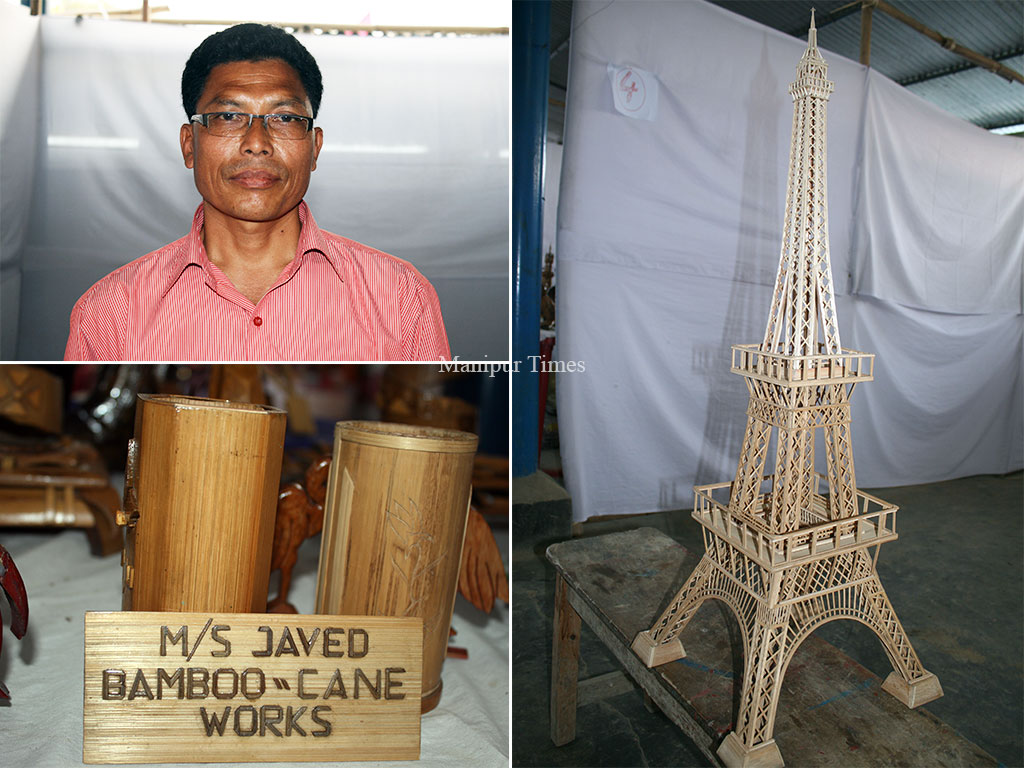 "The artisans are struggling to survive as there are no patrons. There were very few customers who would buy the handicraft items made by the artisans. Hence, the income of the artisans was very low, though all liked the handicraft products of the artisans. Cane and bamboo craft was not considered a good profession years back due to limited customers. Now it is a thriving business with many buyers coming up gradually in Manipur. One artisan can earn good income if he dedicates himself to this job", observed Salim Javed, a successful cane and bamboo craftsman while speaking to Manipur Times.
Salim Javed, 43,  son of Jaman hailing from Khurai Khomidok, a graduate from DM college of Arts, Imphal, is a rare craftsman among Manipuri Muslim community. He completed one year advanced training course on Handicrafts from Industrial Training Institute, ITI, Takyelpat in 1980. He also completed six months special training course on handicrafts from BCDI, Agartala in 1985. Javed is the youngest son among three siblings of two sons and one daughter.
Hes is married and a father of six children now. Presently, he is making various products of cane and bamboo under a registered firm M/S Salim Javed cane and bamboo works, located at Khurai Khomidok while giving jobs to some youths of his locality
After completion of his training course on handicraft, he worked as instructor at a Mumbai based company Ten Brothers for three years. At one time, he also worked as an Inspector at Manipur Pollution control board for some years.
Once Manipur University honoured him with an award for his handicraft product "Gold chair" made of cane. He has a future plan to complete in the National and international handicrafts competition.
Javed was fond of craftworks since his childhood and he got the knowledge of this art mainly from his father Jaman, a retired handicraft Instructor of Commerce and Industries, Government of Manipur. When he was a child, Salim observed his father making various can and bamboo crafts at home. He  adopted the profession in handicraft out of his love for this art. At the initial stage, it was hard for him to maintain family as he could not get good income from this profession. With numbers of buyers who love handicraft increasing day by day, his business has been a thriving one with many costumers lining up at his house to buy the products he designs. He is able to earn at least Rs.15000 a month now, enabling him to maintain the family, sending the children to school, claimed Salim.  
Cane and bamboo craft was not considered a good profession years back due to limited costumers. Now it has been a thriving business, because so many fans of handicraft items have come up in Manipur.
Salim had displayed his handicraft products in Manipur Sangai festival, HADO crafts bazar,  the Peace Crafts Bazar, organised by People Education for Awareness and Community Empowerment Organization (PEACE) under the sponsorship of the Development Commissioner (Handicraft), Union Ministry of Textiles at Wangkhei Keithel Ashangbi. His own made handicraft items could win public popularity during those handicraft exhibitions. 
"So far, I have not received any subsidies or grant from the concerned departments, but I have heard about the government extending financial aid to many artisans in their work.
Among the can and bamboo crafts items Salim makes, it includes famous models of Eiffel tower of Paris, Australian tower, Orissa tower, Arunachal pradesh tower, Bamboo made table lamp, Pen stand, and other root carving works like Boat of great britain, Beigyachandra Shamu phaba, a famous Manipuri historical legend, Chimpanji and Tarjan fight, Universal truth and so on.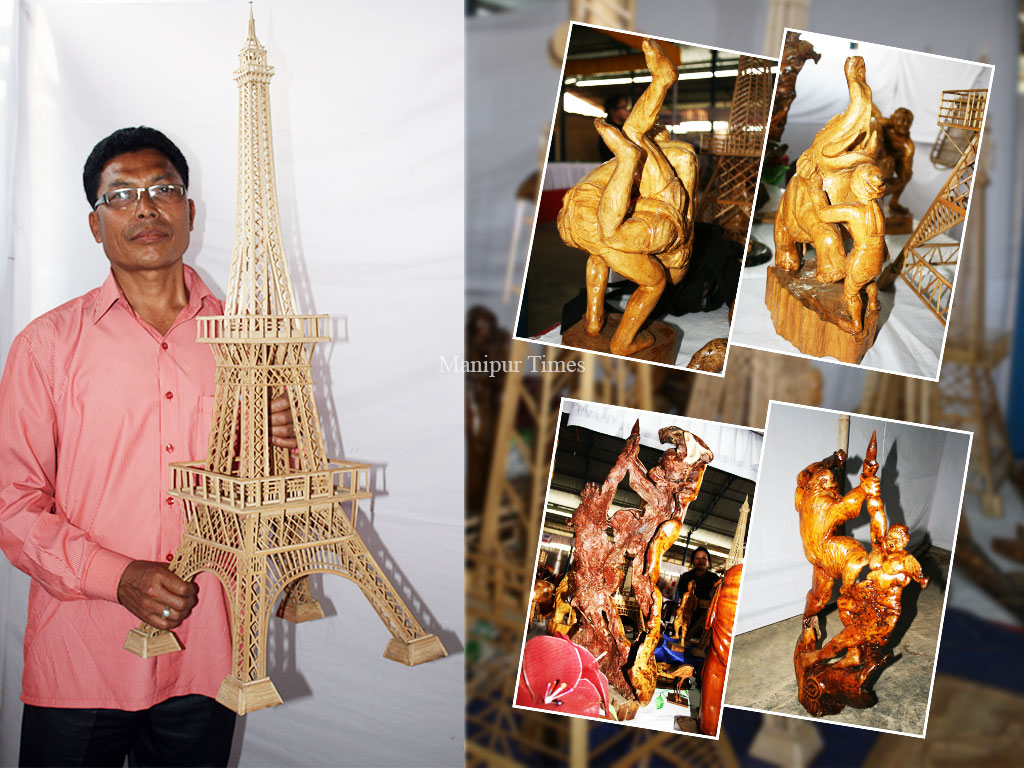 He sells the famous Paris effel tower and Australian tower at the rate of Rs.16,000 and 13,000 per piece respectively while the Orissa tower and Arunachal pradesh tower are sold at Rs.3000 each. On demand from the costumers of Mumbai, Orissa and other states, he had sold some pieces of tower made of bamboo and cane some months back. His products have even reached to USA recently. Among the bamboo varieties, Unan is the best raw material he uses for his craft. To complete his masterpiece Effel tower, it almost took ten days, Salim said.   
In fact, Manipur is known for its expertise in handicraft. Since time immemorial, they have practiced cane and bamboo craft extensively making various handicraft products in different designs and motifs for many purposes. Bamboo craft which is an integral part of villagers life is diminishing gradually due to lack of preservation and state patronage in the state, observed he.
Bamboo is a useful thing which can be used in many ways for making several articles and household decorative items etc. Generally, people make only those things that are required in their day-to-day life. These items for general use are not for sale in the markets. However, with the changing times and a need for earning money to survive, local craftsmen began to make and sell in the markets those things that are required in everyday life and other decorative things. The demand of various articles and household decorative things made of cane and bamboo is increasing in the national and international market now.  Products such as sofa sets, stools, mats, basketry, tray, chairs, tables, flower vases, ashtrays and many other decorative and utility articles made by the local artisans are highly appreciated from various corners. Manipuri artisans now can make a good living from this craft, he added.