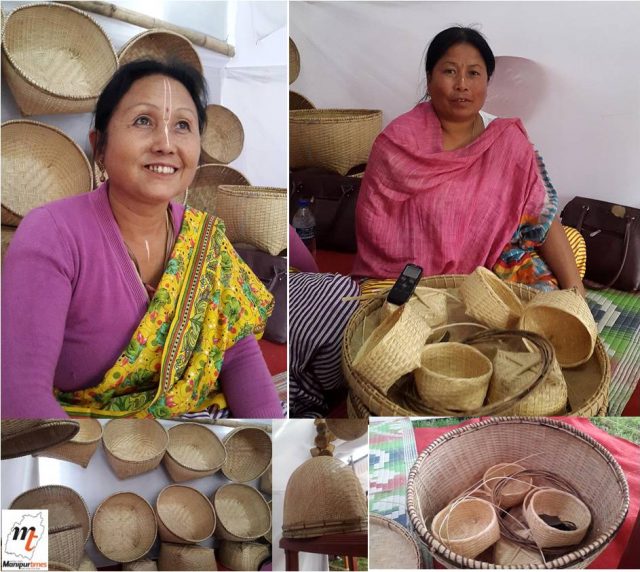 One cannot imagine the cultural life of the people living in the valley and the hills of Manipur without bamboos and their products. Bamboo plants are related to a person's life in one way or the other, even in death. There can be no end to the uses and utility of bamboo. Meiteis living in the valley differentiate particular varieties of bamboo according to their uses: bamboo for use in rituals, bamboo for use in the daily lives of the people, bamboo for burning rubbish and the like and so on.
Patsoi Thumok
Patsoi village in Imphal west has a long tradition in bamboo craft, particularly in making "Thumok" (bamboo basket), Polang (filtering basket). For many families, bamboo craft has been a source of livelihood option for many years. Nowadays, this legacy of bamboo craft is gradually dying from the village with many families opting for other livelihood option other than the bamboo craft.
Irom Pramodini wife of Irom Shanta from Patsoi Part-II is a bamboo artisan who supplements her family income with bamboo craft. Leaving handloom job which is the general profession of most Manipuri woman, she takes up bamboo craft to revive the legacy of bamboo craft in the village.
Self help group – symbol of woman empowerment
She doesn't work alone. She works with other woman artisans namely Naobi, Khoibi, Ganga, Borkeinya, Hemabati, Ranjita, Naobi, Lata, Ashakiran, Ishingjaobi under the banner of a woman self help group at a workshed attached to local Meira Paibi building, They make Thumoks of different sizes – Laitang, Likhai, Tungol (fish container), Yangkok, Lukmai. Meruk (Manipuri measuring unit for rice). The woman artisans also make a bowl-shaped fishing basket called Long, Chengchamuk in which the finely winnowed rice meant for cooking is put to be washed thoroughly with water.
Some like minded woman of the locality formed the self help group and started the craft since 2014 with an objective to revive the dying bamboo craft tradition of Patsoi. Now the craft has come as a boon to the artisans in maintaining their families comfortably.
"Some other women of the locality have expressed desire to join us. Our self help group is yet to be registered. We register the group very soon and will accommodate more workers. We like to provide employment avenues for jobless people", she said.
A woman worker can make five baskets to the maximum. The size of a thumok is determined by the Param while weaving. Laitang is decided by three Params.
The woman workers usually gather at the Meira Shang in the evening, sit down together to weave Thumok and other bamboo craft items after having completed their day's domestic chores like cooking, washing utensils. In day time, they engaged themselves in weaving Manipuri handloom fabrics.
They join in social work too
Apart from their bamboo craft, the woman artisans also actively take part in other social activities like Nisha bandh movement to prevent drugs and alcohol and other anti-social activities in the locality.
Mother of five children (three daughters and two sons), Pramo can help her husband in supplementing the family economy with her bamboo craft. Her husband works in Government printing and stationary.
Bamboo craft a luscious business for woman artisans
Pramo said that she learnt the bamboo craft from her father in law Goura Singh. Almost man and woman of Patsoi are specialized in Thumok making. The income received from selling the products are saved through Marup, a local money saving system.
Another woman artisan Mathurabasimayum Inaobi, wife of Nabakishore Sharma said that the bamboo craft has been a good source of earning. She can supplement her family income comfortably with the job.
Bamboo varieties used in the craft
She said that bamboo varieties like Uyee (Dendrocalamus Sericeous), Liwa, Longa, Utang, Warubop, Watangkhoi are good varieties mostly used in making the bamboo craft items. The bamboos which are used in making craft items are mainly collected from Patsoi and other nearby villages. Usually, they purchased bamboo stalk at Rs 150-200 per piece.
The bamboo stalks are cut into fine pieces (locally known as Paya). Thumok, Polang, Phiruk, Long etc are made by interweaving the Payas each other and it takes two or three days to complete a Phiruk. However, a worker can make three to five Thumok (basket) in a day.
Lady Artisans from Patsoi reviving the legacy of bamboo craft
Support from manfolk in their craft
Their husbands do not stay silent. They extend their best support to the venture of their wives in marketing the products. Manfolk take their products in a cycle or four wheeler vehicle to reach out the craft items in different places like Imphal, Khumbong, Leimakhong, Khurkhul, Sekmai, Loitang Khunou and other areas as far as they can reach out.
Bamboo craft like Phiruk, Thumok and Polang are the indispensable items for every Manipuri household. Phiruk is traditionally an essential item used during Meetei religious rituals like marriage ceremonies. It is mainly used for carrying bananas, coconuts, other fruits and vegetable items. Polangs (Hamper) are used for storing vegetables and rice etc, she said.
In Manipur, cane and bamboo crafts was extensively practiced by practically every household in the valley and in the hills. A variety of products in different designs and patterns for various purposes are made, covering almost everything required in a simple living. Bamboo is an integral part of a villager's life, as it is associated in all ways with the everyday life of the rural populace. Regrettably, the practice of this craft has now diminished considerably. Preservation of the varied cane and bamboo products must be done now if they are to be preserved for posterity, she observed.
[ecwid widgets="productbrowser search minicart" categories_per_row="3″ grid="10,3″ list="60″ table="60″ default_category_id="21294227″ category_view="table" search_view="list" minicart_layout="MiniAttachToProductBrowser"]