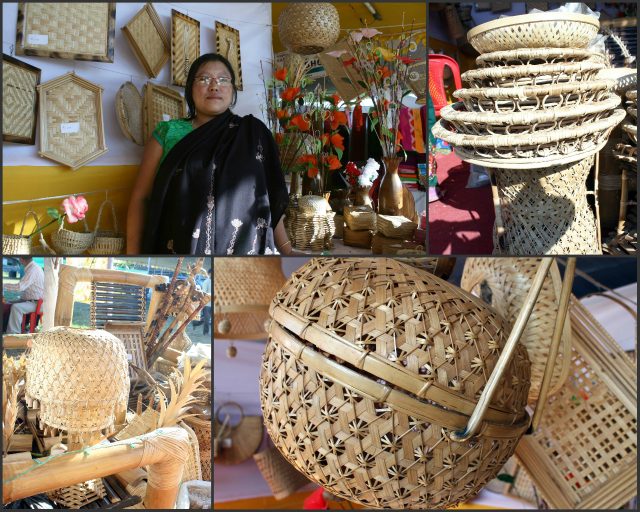 Blessed with abundant availability of raw materials and demands from both domestic as well as International buyers, artisans in Cane and Bamboo craft has now been able to generate a viable income for their livelihood apart from providing employment to many jobless. 40 years Lourembam Ranibala Devi, wife of Henthoingamba Imphal east is among the success artisans of Cane and Bamboo who crafts various decorative items under the banner Khonghampat Handicraft.
Lourembam Ranibala from Naoremthong is the secretary of Khonghampat Mantri Leikai Woman self help group which was set up in 2011 under the aegis of Lifeline Development Foundation, Naoremthong, an NGO founded by her husband. The NGO has been successful in providing employment to around 300 local Artisans through different self help groups.
As for the Khonghampat Handicraft, the farm is providing employment to around 10 skilled woman Artisans of her locality. The workshed of the farm is located at Naoremthong Laishram Leikai.
Initially, Ranibala was a handloom weaver. But she shifted her profession to bamboo handicraft after she completed a month long training course in bamboo crafts organized under the aegis of the Bamboo Mission Manipur, forest department. She was motivated to initiate bamboo craft after she learnt the skill of making various decorative items of bamboo.
Ranibala studied upto class X at Shakhi Devi high school at Uripok.
Bamboo varieties used in craft
Ranibala said that Bamboo varieties like Marubob, Uyee Unan, Utang and Khakwa  are mainly used for making various decorative craft items. She collects Bamboo stalks mainly from Khonghampat, Kakching, Hiyangthang, Leimaram Areas at the rate of Rs 120 to 250 a piece while fresh Cane is collected from Tamenglong at the rate of Rs 1300 per kg.
Marketing and products
Bamboo made decorative items made by the Artisan of the woman self help group includes Sopha set, Table, Lamp, flower basket, base, Tray, Pen stand, Bag. Kouna items. The Sopha set is sold at Rs 20,000 and it is high demand in the market. She said that Bamboo furniture could replace wooden furniture to make the world more environmentally friendlier. Use of bamboo made products will protect the deteriorating global climate change due to mass cutting down of trees for domestic use purposes.
Craft of the women artisans is not limited to only making decorative bamboo made items, some women artisans also make various items of Kouna (Water reed) which is locally available abundantly. They make Kouna made products like Mat, Lady's bag, Cap, shoes, Phiruk, Mat, Mora (stool) Cushion, Make-up-Box and other decorative items  etc.
Ranibala said that local artisans need not worry as the demand of Kouna, cane and bamboo products is on the rise, occupying a good space in the local and international markets. Handicraft has become a thriving job, creating good profit and enabling the artisans to support their families.
"Initially, I along with my husband was running a canteen to maintain our family. It was hard for us to maintain daily needs of the family and our two kids with the meager income from the hotel job. After taking up bamboo craft, I can support my family comfortably with the income earned from this profession", said Ranibala who is now a mother of two daughters.
She said that a Nagpur based company has demanded 500 pieces of bamboo made decorative item.  Imphal hotel has ordered for Tengkot.
Her effort to popularize the craft
She said that her woman group has showcased their craft items in several handicraft exhibitions held in both outside and inside the state. They participated in the handicraft melas held Delhi, Kerala, Nagpur, Guwahati. They received good feedback from the people when they showcased their products during the Manipur Sangai festival and Saras fair etc.
Support to many poor woman  
Every day, the woman artisans gather at their workshed and set themselves to work after finishing their day's household chores like cooking, washing in the morning. The workplace is in fact a source of livelihood and shelter for many women as it has been able to extend a helping hand to the local women in supplementing their families. Like the members of the same family, we work together sharing our life experiences. Among the women workers, there are also widows who maintain their families with the income earned from the job, she said
"The farm is also providing training to other aspiring crafts persons. Since we are in infant stage of business, we are yet to receive high turnover as for the present. In spite of this fact, a woman artisan has been able to earn about Rs 10,000 a month from the job with which they can manage their family comfortably to somewhat extent. The profit from selling the craft items is shared among the members", she added.
Another woman Artisan who works in the firm, Thangjam Ashalata wife of Thangjam Neta Awang Wabagai, said that she can now comfortably supplement her family income after adopting the bamboo craft. She has been working there for one year. She said that she initially earned for her family through embroidery works.
Message
Life is work and we cannot thrive our income without hard work. Success normally comes to those people who devote to their work. Prosperity in life will never come to us when we remain sitting idle. Economically backward state like Manipur will see the sparkling development in economy when the people cultivate work culture, she said.
[ecwid widgets="productbrowser search minicart" categories_per_row="3″ grid="10,3″ list="60″ table="60″ default_category_id="20778902″ category_view="grid" search_view="list" minicart_layout="MiniAttachToProductBrowser"]