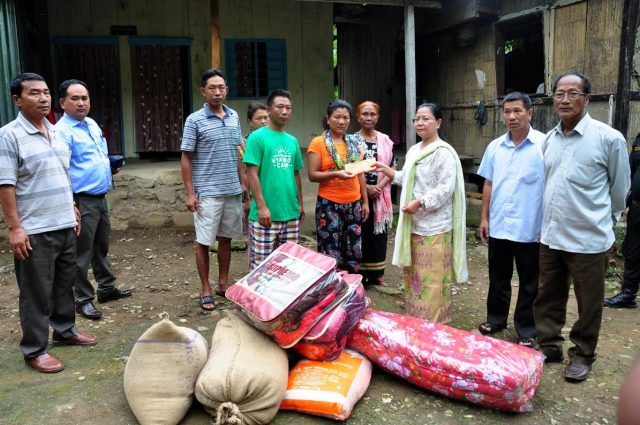 Imphal, May 29, 2017 (DIPR): Social Welfare and Cooperation Minister and also local MLA Smt Nemcha Kipgen along with PHED Minister Shri Losii Dikho today visited the family members who were victims of the fire that broke out some days back. It is a residential quarter of Goulen Khongsai, Grade IV employee of PHED, Kangpokpi.
The Ministerial team also visited and inspected the site that was totally damaged by the ill-fated incident. Fortunately, there are no reports of casualties from this unfortunate incident.
Social Welfare Minister assured full support and assistance to the family. She handed over various relief materials and essential commodities that include two bags of rice, pulses, oil, sugars, blankets, mattress, to name some.
During the visit, the PHED Division Office that lies almost on the verge of completion was also inspected by the Ministerial team. As per the sources by the official, staff quarters and compound/fencing are yet to be completed.
On the way back, Smt Nemcha Kipgen checked the ongoing black topping work at the road (of around 2km) that connects National Highway 39 to Phyapou village. It may be mentioned that the ongoing black topping work is done from the MLA development fund.
The Minister also visited Kalapahar to personally check the ongoing road construction work. This road once completed, will directly connect to National Highway 39. The road is constructed under the special package sanction for Kangpokpi district by Public Works Department (PWD). During her visit at Kalapahar, she enquired about drainage system in the area and urged the locals to submit proposal for the construction of proper drainage system and also to construct new market shed. The Minister took up such initiatives as she believes that proper roads and connectivity is an essential medium for development in any parts of the state. (DIPR)
[ecwid widgets="productbrowser search minicart" categories_per_row="3″ grid="10,3″ list="60″ table="60″ default_category_id="21294227″ category_view="grid" search_view="list" minicart_layout="MiniAttachToProductBrowser"]