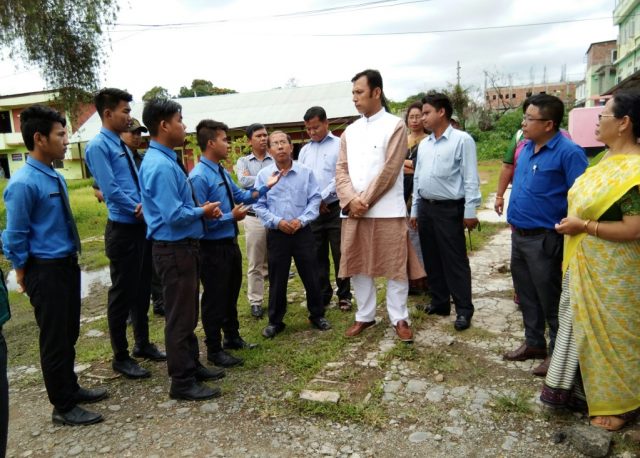 Imphal, 29th May 2017 (DIPR): Education Minister Shri Th. Radheshyam made a visit to the The Churachand Higher Secondary School, today. In the visit he checked the infrastructural condition, the classroom, laboratories and the campus of the school.
Informed about Th. Loyangamba Meitei who held 4th position in Commerce and the two other students holding position in arts stream in the recently declared Higher Secondary Examination, 2017, the Minister said, more students with good academic records need to be assisted and make their dreams come true.
Emphasising on the need to extend extra support to the students with weaker academic record from the teachers' and the peers' side, he said, they should be treated with much more care, encourage them to excel in their academics. The best of effort, from teachers and anyone involved with students and their education should be put in, to improve the quality of the Government School and the education system, he added.
During the visit the teachers and students highlighted about the water logging problems in the school due to drainage block by the newly constructed building in and around the school, requirements of laboratory and the need to increased better classrooms of the school. He advised the students to consider the school as their second home and do all the needful of keeping the school neat and clean by organising social services through the N.C.C., N.S.S. and student unions.
The visit was made as part of the undergoing survey of the higher secondary schools to be developed. He also informed that a meeting for all the school principals will also be held very soon and thus inform the staffs of the school to prepare a report on needs and requirement of the school. (DIPR)
[ecwid widgets="productbrowser search minicart" categories_per_row="3″ grid="10,3″ list="60″ table="60″ default_category_id="21294227″ category_view="grid" search_view="list" minicart_layout="MiniAttachToProductBrowser"]