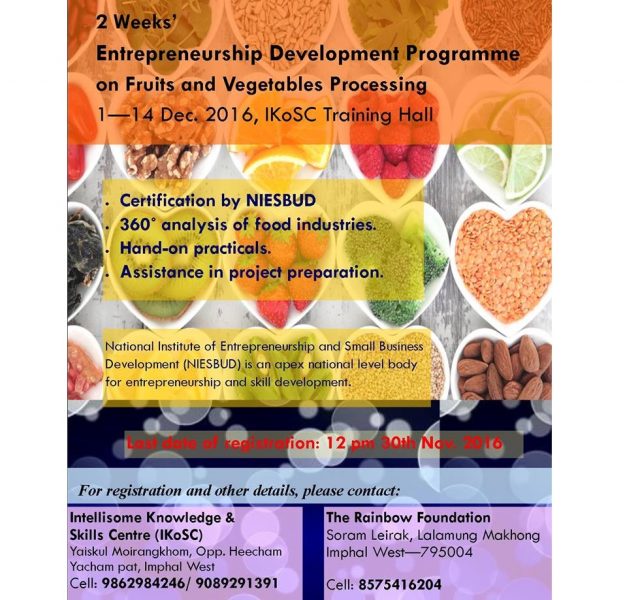 2 Weeks' Entrepreneurship Development Programme on Fruits and Vegetables Processing 1-14 Dec. 2016, IKoSC Training Hall The program is the most insightful and hands on programme for potential foodpreneurs ever designed.
With investment of around Rs. 600 crore on anvil by Govt of India, potential / existing entrepreneurs are likely to be benefitted. This course will give a holistic picture of food industries particularly in fruits and vegetables sector.
IKoSC in partnership with The Rainbow Foundation initiated this unique programme to inspire youth in taking up enterprise as a viable and prospective career.
Participants will also be mentored after the program to ensure that their dream is in right trajectory.
The program consists of theoretical perspective as per the curriculum of NIESBUD (National Institute of Entrepreneurship and Small Business Development) and practical classes.
The program will be started from 1st Dec to 14th Dec. 2016 at IKoSC Trainning Hall, Moirangkhom, Opp. Heecham Yacham Pat, Imphal West.
Course fee: Rs. 3000/- (includes course materials, CD etc)
Interested individuals may kindly contact the co-ordinator. Cell: 9862984246/ 9089291391 / 8575416204