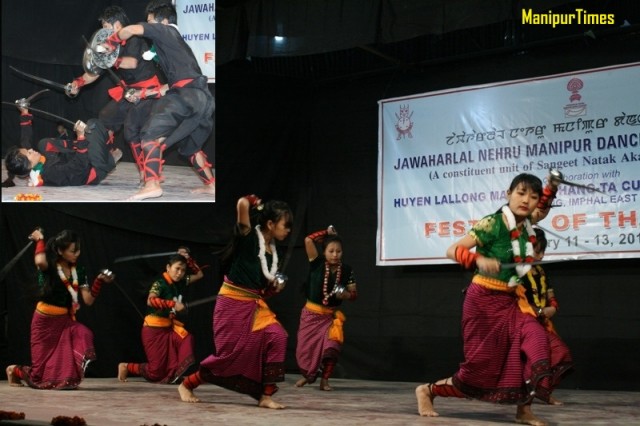 IMPHAL, Jan 10: A 3-day festival of Thang-ta organized by Jawaharlal Nehru Manipur Dance Academy (JNMDA) in collaboration with Huyen Lallong Manipur Thang-ta Cultural Association kicked off at Irilbung from today.
The festival is held as part of the Diamond Jubilee celebration of the Jawaharla Nehru Manipur Dance Academy Imphal.
Inaugurating the festival, former Art & Culture Commissioner P Bharat (Retd IAS) who attended the function as chief guest said that the hilly state Manipur has contributed the world mainly in two fields namely Sports and Culture. The world knows the state for its aesthetic cultural heritage including Thang Ta Martial Arts and beautiful dance.
The indigenous Thang Ta Martial Arts having its unique history is the identity of Manipur. Our brave forefathers safeguarded the sovereignty of Manipur with the help of Thang-ta. Thang means sword and Ta means spear. The rare art form is languishing with the change of time. Protection of our identity lies in the preservation of indigenous culture or art forms, he maintained.
Retired Director JNDMDA L Joychandra said that nobody will understand the culture of Manipur without understanding the aesthetic values of Thang Ta and Manipuri Dance forms. Learning Thang ta requires strict discipline, tolerance and sense of patriotism. The aesthetic Meetei cultural values can be seen in Thang Ta art, he said.
About 14 Thang-ta groups are participating in the festival. Thang Ta performance from Artistes of Huyen Lallong Manipur Thang Ta cultural Association, Irilbung, Malem Apunba Thang Ta Maheikol, Soibam Leikai, Hulla Keishamthong, Langol Lukhoi Thang Ta Shindamsang, Wangkhei, Pakhangba Huyen Lallong Sindamsang, Mayai Koibi, Eastern Kala Bidya Thang Ta Association, Nongmeibung, Kangleipak Thang Ta, Kongba etc mesmerized the gathering on the opening day.
On the concluding day of the festival, a discussion session on Thang-ta would be held with Prof N Tombi as the moderator. Prof P Gunindro, A Ojendro Meitei and Sanathoi Sharma would present papers relating to Manipuri Thang Ta martial arts.