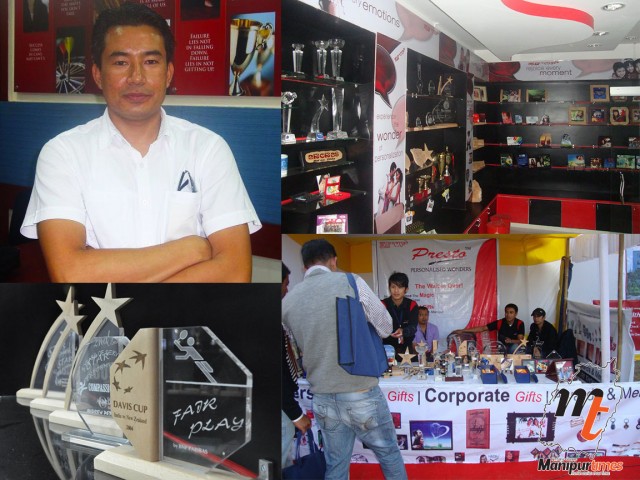 By Madina Khaidem
Daya Thounaojam hailing from Tera Tongbram Leirak always believes in self employment. After his masters' degree from Punjab University, he came back to his home town and started working in private sector.
From the experience he gets, his confidence in establishing his own business gain maturity. He went on to hunt for his challenges and pick on owning a franchise store.
Presto Wonders Imphal located at Thangal Bazaar near Kasturi Bridge is an organized gifting sector in Imphal. Daya Thounaojam is very keen in his business which began on 10th June 2011.
Product Range
The products of Presto are categorized as personalized gifts items, corporate gifts items and pre ink rubber stamps which include more than 700 different items of the rate ranging from 80 rupees to 16000 rupees. Some of the products are the personalized key rings, photo mugs, photo clocks, name plates, personalized pens, 3D photo crystal, photo crystal gifts, pictures on stone, ceramic photo tiles, engraved wooden gifts, photo frames, customized medal, trophies and mementos, laser able metal plagues, crystal mementos, printing on T-shirts, etc.
Rubber stamps made from gel based pre-ink technology is everyone's favorite says Daya. The stamp conforms to the best Global standards in pre-ink stamps manufactured. It can be made in different style including logos, signatures and own photographs.
Unique prints
Daya Thounaojam expressed that most customers' wants to print the Kangla Sha, Sangai or idols from various communities on their gift items and thirty percent of the products gets imprinted according to the demand.
Customers
His customers is varied according to their diverse product range, he is able to reach kids , teenagers the lovebirds, students, the homemaker , executive salaried, small, medium and large businesses, banks, schools, government departments, clubs, social institutions NGOs, retailers etc.
Employment
Presently there are 5 staffs working under him in Presto branch Imphal. They are trained at the main branch of Mohan Impressions Pvt.limited Kolkata. As of now some machinery are available but Daya had planned to upgrade it for providing his customers more varieties of products.
Expansion in Business
After gaining popularity and as many customers turn up who asked for local products Daya Thounaojam has now open up another store in the same building. The store is loaded with local handicrafts items which the local crafts men supply after the demands from his customers. The product range from small statuette of Pung Cholom, Sagol Kangei, and many others. Customers often demands 50 or 100 pieces at one time and he ask his linked up craftsmen and make the items available in time.
Growth
Daya Thounaojam is planning to expand the store in other place of Imphal which will include two showroom one for products of Presto and another for local handicraft products.
Challenges
Daya Thounaojam shares that at the beginning, he had to face many challenges like discouraging comments. Financial problems were also one of his main hurdles and even the marketing space was difficult in Manipur at the onset.
But with lots of hardship and despite many challenges, he has successfully maintained the store and has now become known to everyone.
Extra Edge Service
Daya further mentions that Presto is committed to presenting only products of superior quality. He continued that one of the most significant services of Presto is the instant delivery of products. Customers didn't have to wait for a long time to get their products, once ordered it will be provided within few hours and in case of bulk orders it will not take more than 2 or 3 days he assured.
As such Daya is a hard working and strategic person who has the potential of creating a fair business atmosphere in his own capacity.
Daya Thounaojam's Exposure in private sector
In Manipur Daya Thounaojam served as managing partners in IBP Red Lubricant during 2003 – 2005. He then join Dishnet wireless limited (AIRCEL) as Project Officer from 2006 to 2011 and Project Manager in Essjay Erricson Pvt. ltd from 2011 to 2012.
Message to the youths
"We can achieve whatever we want; the only important thing is our will to achieve it. We should not wait only for the Government Jobs, there is lot of space for business in Manipur, what we need is the correct time and correct opportunity and if we grasp the correct opportunity we could be a successful person".
On gifts and memories
"Personalized gifts often ensure that we are long remembered by our families and friends, clients and colleagues, business partners and vendors. It leaves everlasting memories. We can choose customized gifts for every different occasion like wedding, birthday, anniversary, Christmas, Diwali, New year, etc", says Daya Thounaojam.
[ecwid widgets="productbrowser search minicart" categories_per_row="3″ grid="10,3″ list="60″ table="60″ default_category_id="21294227″ category_view="grid" search_view="list" minicart_layout="MiniAttachToProductBrowser"]