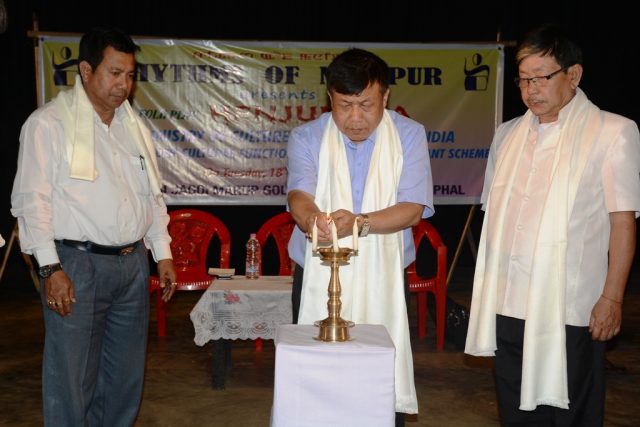 IMPHAL, APRIL 18 2017(DIPR): The Rhythms of Manipur, Imphal that has reached its 31st year of existence, premiered its folk play "Henjunaha" today at Manipur Jagoi Marup Golden Jubilee Stage, Lamboikhongnangkhong. The play was sponsored by the Ministry of Culture, Government of India under Cultural Productions and Production Grant Scheme.
Director Information and Public Relations Shri Meghachandra Kongbam, Director Progressive Artiste Laboratory & State Member NEZCC, Dimapur Shri Nameirakpam Tiken Singh and President, Rhythms of Manipur & PEX of DDK, Imphal Shri Manibabu Likmabam sat on the dais as Chief Guest, Guest of Honour and President respectively.
The folk play Henjunaha by Goshe Meitei revolves around the love between Henjunaha and Lairourembi, a legend fromMoirang Kangleirol. The story is about the strong bond of love that existedbetween Henjunaha and Lairourembi, created by none other than the Supreme God Moirang Thangjing and Goddess Koireleima. Henjunaha, an  orphan fall in love with Lairourembi , the only daughter of nobleman Laijinglakpa.
According to the director Goshe Meitei, who is also an approved artist of All India Radio and Doordarshan, the story ofHenjunaha and Lairourembi is one of the greatest love stories of India that leaves an unforgettable legend of love in the coming generations.
The lead cast of the play are Wahengbam Romen and Saikhom Pinky in the roles of Henjunaha and  Lairourembi while A Mukta  and A. Sardananda Singh portrayed Henjunaha's mother Khoidon and God Thangjing  respectively. Music direction is given by Haobam Nisheshwor while Oasis Sougaijam designed the lighting of the play.
 Established in 1985, the Rhythms of Manipur, not only an important centre of music and theatre in Manipur but also an expertise in both traditional and fusion arts, has undertaken research works for the revival of rare performing art forms in the region. Some of the remarkable contributions of the group include Heirangkhoinida(based on Pena Music) in 1995, Moirang Sai Opera in 2002, Drums of Manipur in 2009 and the latest Loktak in 2017.
Appreciating the role of the Rhythms of Manipur in promoting art and music of the state, Chief Guest of the function, Shri Meghachandra Kongbam said that the younger generations can learn new innovative elements of literature, music, costume designing and even choreography from folk play.
Guest of Honour Shri Nameirakpam Tiken Singh, said that the aesthetic value of Classical Art draws its origin to the old days' Folk Art and that it would be wrong to underestimate the indigenousness of Folk Art at present since it is the mother of all art forms.
President of the function Shri Manibabu Likmabam, said that the Rhythms of Manipur, though started  as a  small production unit , are now  able to make a mark of itself  & in collaboration with  DDK, Imphal, win prizes at the National level. He stressed on the importance of folk art as a basic foundation to all other art forms including classical