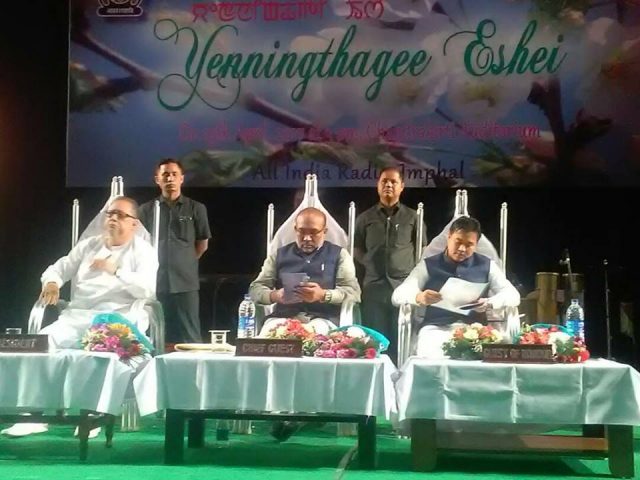 Imphal, April 19 (DIPR): Chief Minister Shri N. Biren Singh has sought people's support in rooting out corruption from the State.
He was speaking as the chief guest at the inaugural function of 'Yenningthagee Eshei' (Spring Music Concert), organised by All India Radio, Imphal at Maharaj Chandrakirti Auditorium, Palace Compound, Imphal today.
The Chief Minister said that Manipur has no dearth of talents but the State is plagued with corruption. As such, people should take a proactive role in ending all forms of corruption, he observed.
Stating that the present State Government understands the mental dilemma endured by the parents and candidates who had appeared in the police recruitment conducted by the previous Government, Shri N. Biren said that the present coalition Government would declare the results of the said examination soon after reviewing the recruitment process.
Observing that corruption starts from the people, the Chief Minister made his earnest appeal to the people of Manipur not to encourage any form of corrupt activities/practices in the coming days.
Announcing that his Government would also recruit many State security personnel soon, Shri N. Biren urged the public to stay away from corrupt practices in the said recruitment.
The Chief Minister also said that no money/fund for any developmental project would be released if photos of work progress are not uploaded regularly on the Government website.
Opining that change should always start with self, Shri N. Biren reiterated that the State Government is fully committed to giving a transparent and clean administration to the people.
Shri N. Biren also said that he would apprise Prime Minister Shri Narendra Modi and Union Information and Broadcasting Minister Shri M. Venkaiah Naidu about various inadequacies of All India Radio, Imphal and grievances and inconveniences being faced by the staff of the radio station at the earliest.
The Chief Minister also informed the gathering that the State Government is planning to construct a guesthouse/bhavan in Mumbai, stating that land had already been acquired by the previous Government.
During his speech, the Chief Minister also accepted AIR Imphal's offer of earmarking a 15-minute slot every month to broadcast his speech on the lines of Prime Minister's 'Mann Ki Baat' programme.
Works, IPR, Power, RD&PR and Commerce and Industry Minister Shri Th. Biswajit and National School of Drama, New Delhi Chairman Shri Ratan Thiyam also attended the function as guest of honour and president respectively.
Speaking at the occasion, Shri Th. Biswajit said that radio is the best medium where the Government can promote its works/activities and welfare schemes.
He said that majority of the people are still listening radio although IT and social media had made remarkable progress in the past few years.
In his speech, Shri Ratan Thiyam urged the new Government to put in effort to popularise art and culture of the State by synergising it with tourism.
The acclaimed theatre personality expressed hope that a new vista of development can be opened for the State if tourism connects with art and culture