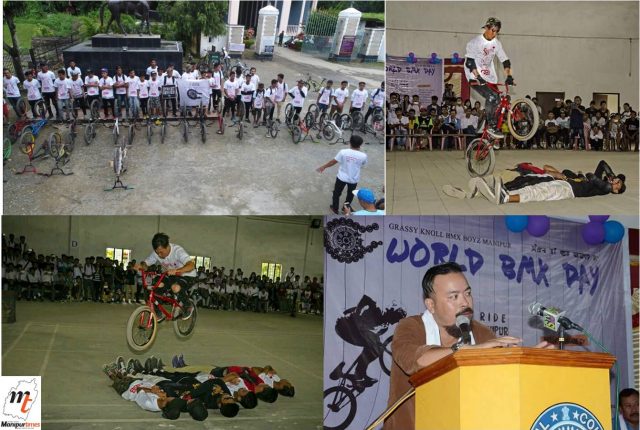 GBB (Grassyknoll BMX BOYZ) organized the first Manipur Chapter event of the World BMX Day on 22 July 2017.
As a way to make known that BMX has been introduced into the Olympic games, a BMX rally from Kangla Western gate to Imphal College was organized. More than 80 BMX riders took part in the event and a street show as also held at Keishampat Juntion.
Chief Guest of the day was honored by Dr. Ibotombi , Principle of Imphal College,  while the President was Irom Umananda, Founder of Extreme Sports Federation of India and the Guest of honor was RK. Etocha, Associate Professor, Department of Political science, Imphal  College and KRIPA President, Hijam Dineshwor.
Apart from this, magic shows, and a dance from ARDAC – The Sayon & Pumkin Crew was also presented. The ECO club of Imphal College also presented a special show on being eco-friendly. GBB riders also demonstrated free style BMX stunts. An 100 photos exhibition was also included as part of this event. A BMX quiz with prizes was also distributed.
[ecwid widgets="productbrowser search minicart" categories_per_row="3″ grid="10,3″ list="60″ table="60″ default_category_id="21294227″ category_view="table" search_view="list" minicart_layout="MiniAttachToProductBrowser"]