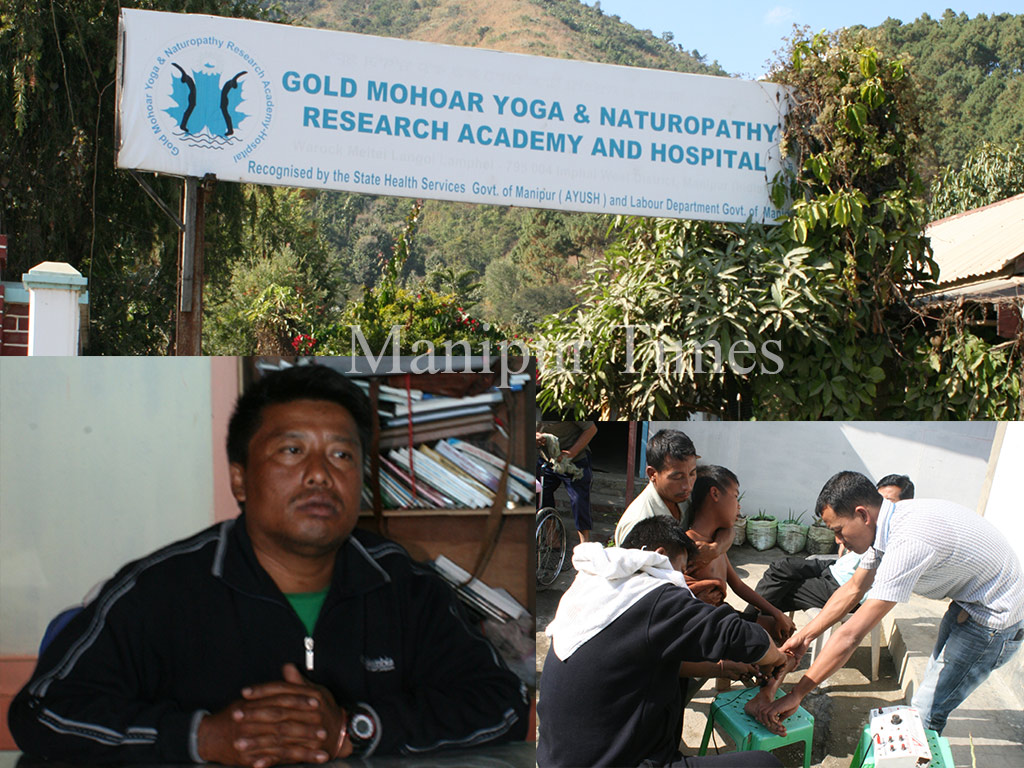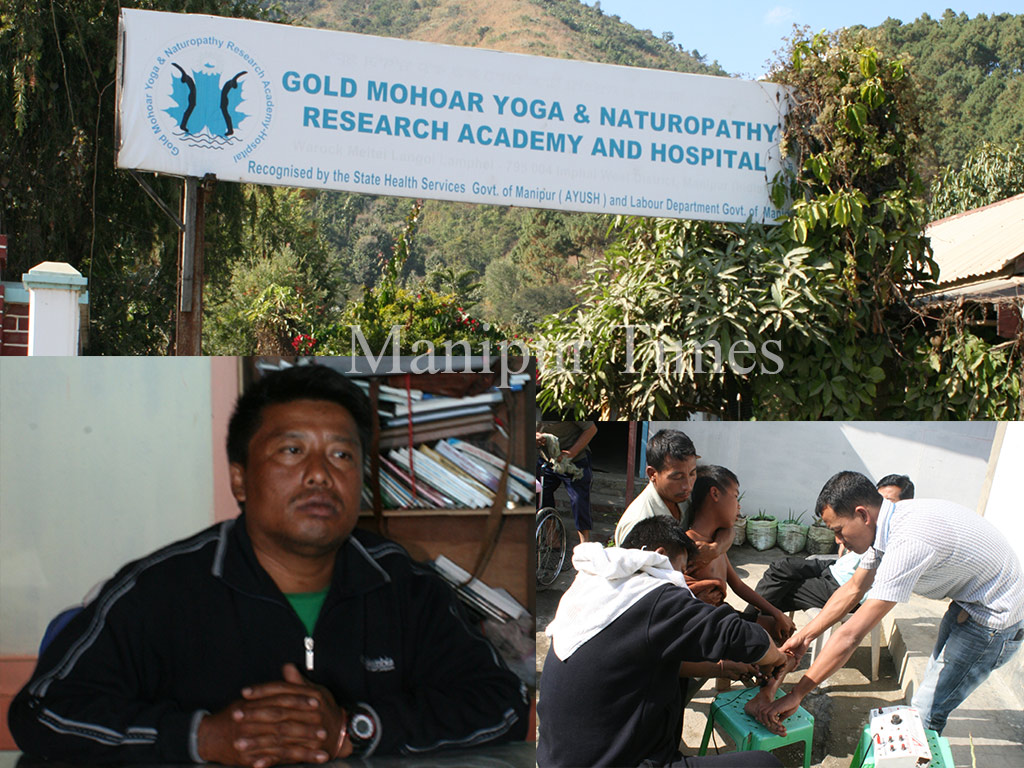 "Right from January 2014, a new colon treatment system will be introduced in my institute for the first time in Manipur. With the help of a German-made new machine, human intestine can be cleansed in 45 minutes to 1 hour using pure water every six months. Unhealthy colon is the main factor for most of the human ailments. Our intestines must be kept clean all the time to keep ourselves healthy. As unhealthy diet and bad food habit lead to many diseases and disorders, our institute will launch an awareness campaign under the punch line 'Your kitchen kills you'".
In a chit-chat with the Manipur Times, Chingangbam Dhakeshor Singh, Director of Gold Mohor Yoga and Naturopathy Academy Hospital, Langol shares his future plans.
Gold Mohoar Yoga and Naturopathy Research Academy Hospital, in short GMYNRA, is the one and only academy cum hospital of its kind, which is recognized by the state government in the entire North East region. This 30-bedded hospital, established in the year 2007 at Warok Meetei Langol Mayai Leikai, Imphal has been successfully giving treatment to many patients with the help of alternative therapy and medicines. GMYNRA is recognized by State Health Services Department, Government of Manipur.
The institute is a venture of Chingangbam Dhakeshor Singh, son of Ch Budha Singh and Chabungbam Ongbi Dineshori Devi hailing from Langol Warok Meetei Leikai, Imphal West. He is the eldest son among three siblings in the family. Dhakeshar completed diploma in Naturopathy from Indian Board of Alternative Medicine, Kolkata.
Patients with chronic diseases such as BP stroke, Arthritis, Paralysis, Psychiatric, ailments related to liver, stomach, sinusitis etc are being treated at his hospital using alternative medicines and therapy. With Dr Atom Nandan Singh as Principal cum CMO, his hospital has seven doctors, who have completed Bachelor of Naturopathy and Yogic Science, treatment attendants and other non-technical staff. The institute has separate administrative office, hostel, classrooms and physiotherapy blocks.
"After the completion of my diploma course in naturopathy from Kolkata, I remained jobless at home for a long time. I could not find any suitable job. Before starting my venture on healthcare, I did cabbage farming at Langol where the present hospital is located. The vegetables were sold at Imphal. With the income earned from vegetable farming, I tried to maintain my family", Dhakeshor.
Later, he not only bought a tractor to earn money, but also even ran a restaurant, which was looked after by his wife, at one point of time.
Dhakeshar who always dreams to set up his own hospital paid domiciliary visits to many households of the state for treatment of patients. He stayed at Khoupum valley and treated about 500 patients living there. He could save some money from his earning by way of home visit treatment and selling of vegetable products of his farm. With this saving, he started working for setting up his yoga and naturopathy hospital. He took loan from the bank too for constructing the present hospital.
"Almost all the people of the state are lack in awareness regarding the cause of the diseases why and how the diseases are originated. Every ailment has its cause factor and one should try to know the cause of the ailment and take appropriate medicine to cure the ailment. For example, headache is a common ailment which everyone suffers from. It is a symptom of some health problems undergoing inside our body. We need to treat the ailment after finding out the cause factor of it", he observed.
As a result of the conflict situation and frequent crimes, 99 per cent of the people might have mental problem. And this is the main reason for health problems in the state. Stress management and focus on diet and nutrition are necessary in such a situation, he observed.
In the year 2010, the academy was set up to provide diploma course in Naturopathy and Yogic Science, approved by MES course under the Skill Development Initiative Society, Government of Manipur and other short term courses. So far, 30 diploma holders in various courses have been produced by the academy in the first batch. Presently, 12 students are undergoing diploma courses.  The academy aims to provide degree courses in various branches of naturopathy and its allied courses in the next three years. For this coming fourth batch session 2013-14, the academy plans to introduce diploma in the history of Indian Naturopathy Medical Education. The institute reserves seats for orphan students, widows, OBCs, ST/SCs.
The diploma course in Naturopathy and Yogic Science offered by the Institute will be of two years and six months course with semester system starting from the year 2014. The institute is affiliated to National Institute Naturopathy, Pune. Under its sister institute Ayush Nursing Academy, courses for nursing services are also opened here.
Extra-curricular activities
Health related programmes, conferences, seminars, monthly health games and sports, outing for two hours (from 2 pm to 4 pm) every Sunday and yoga competition within the academy.
Facilities
The academy is endowed with a team of highly qualified, dedicated and experienced faculties. Separate hostel for boys and girls with mess, internet facility, well equipped library, English and Hindi learning classes, computer and internet classes on every Sunday, clinical guidance, research and treatment, study tours, provision of academic books, diet management, 15 days in-charge of diet management, campus selection from outside Manipur hospitals are available in the hospital. Best students will be given employment in the hospital.
"In the present world, we live with so many threats like communicable disease, stress and strains. Nowadays, there are many people, who are suffering from all types of allergies. New diseases emerge day by day. In such a scenario, we need a multi-dimensional approach in terms of effective health education and establishment of yoga and naturopathy hospitals. Naturopathy is a safe effective lifestyle medicine which can meet the challenge of many diseases and yoga, the means for maintaining mental health. The scientific understanding of yoga and naturopathy is a fundamental requirement to establish this as a recognised system of healing.
WHO is well aware of this Indian system of drugless medical system of treatment and its benefits to human health. Therefore, most of the western and eastern countries used therapeutic system.
Course syllabus
Diploma in Naturopathy and Yogic Science- Basic Human Anatomy and Physiology, Therapeutic Massage, Yoga Therapy and Yoga Philosophy, Advanced Yoga Therapy, Gynaecology, Acupuncture, Electrotherapy (Physiotherapy), Diet and Nutrition. Naturopathy-1 (Comotherapy, Hydrotherapy, Fasting Therapy, Mud Therapy, Weather Therapy, Music Therapy), Naturopathy-2 (Acupressure, Gem Therapy, Exercise  Therapy, Cupping Therapy, Reflexology Therapy and herbs Medicine Therapy).
[ecwid widgets="productbrowser search minicart" categories_per_row="3″ grid="10,3″ list="60″ table="60″ default_category_id="21294227″ category_view="grid" search_view="list" minicart_layout="MiniAttachToProductBrowser"]