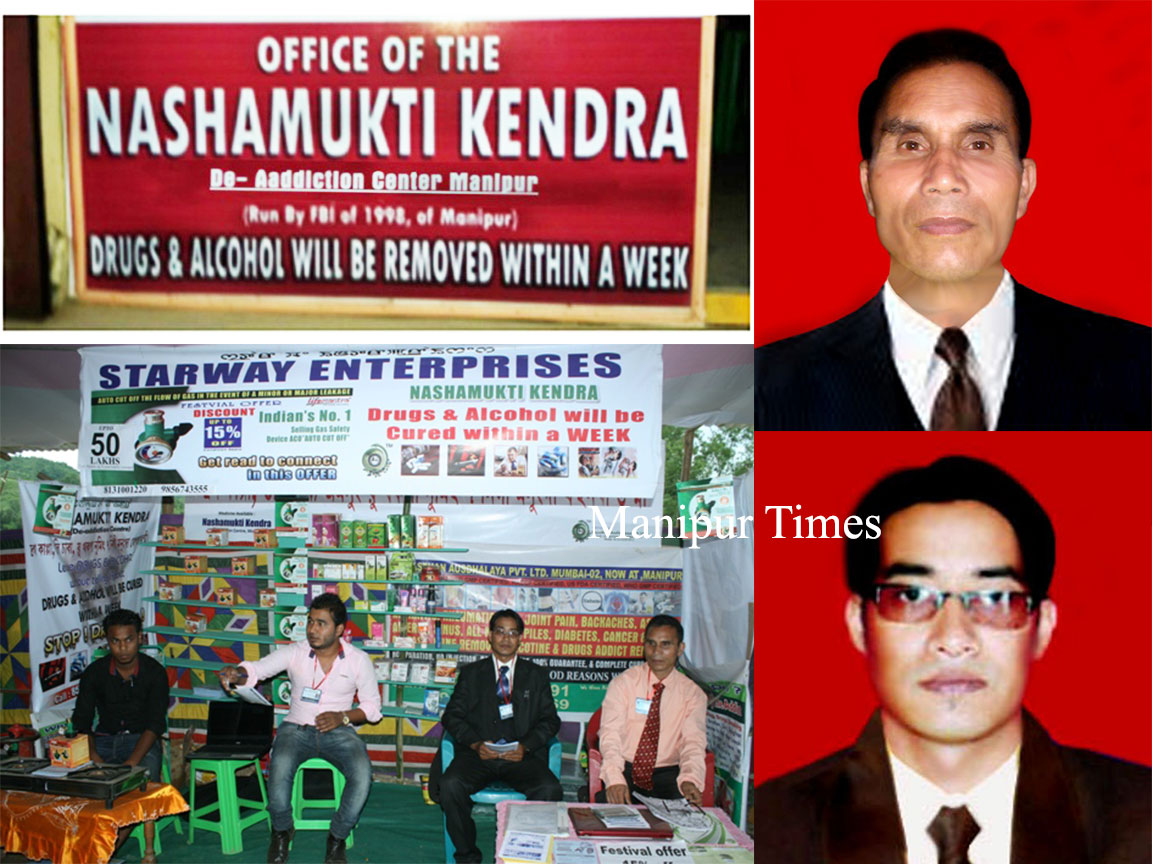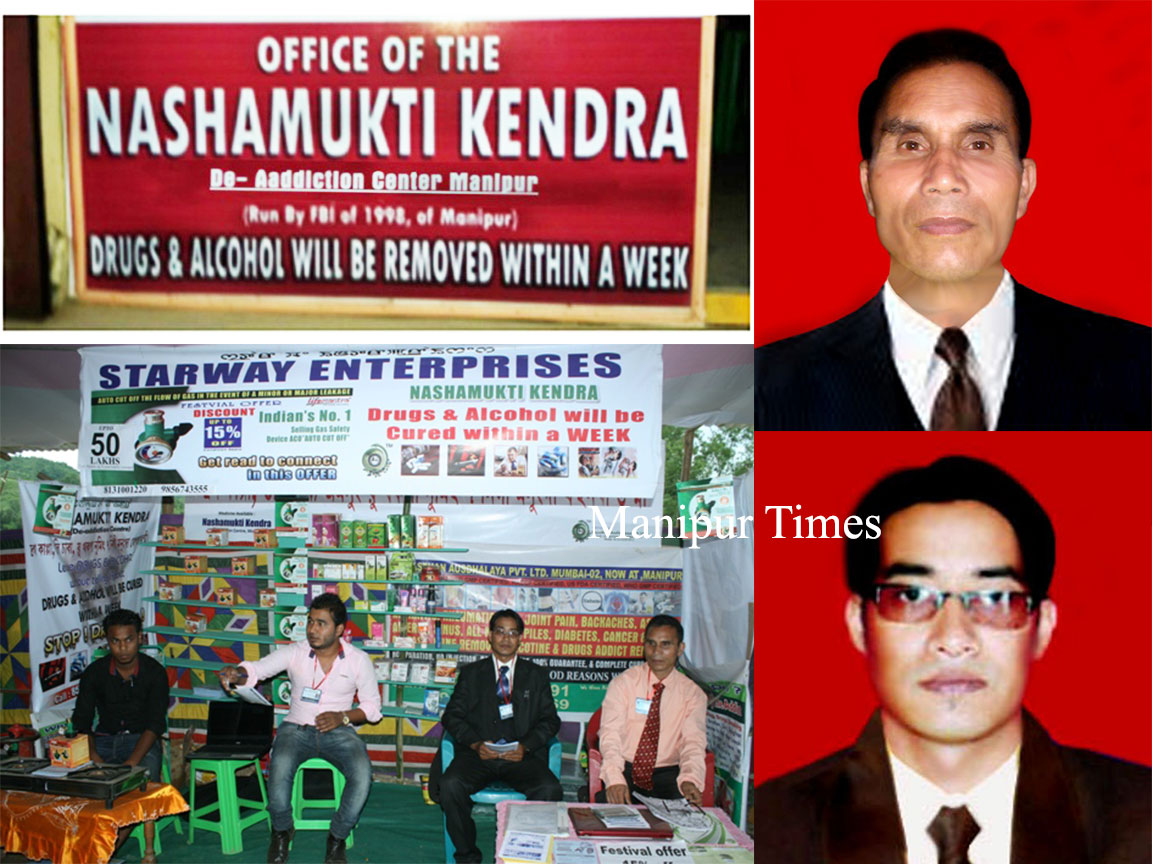 The web of alcoholism and drug abuse has been a great menace to Manipur society creating lots of social problems. People addicted to drugs and alcohol affects a peace, tranquility and happiness of any family. In fact, they are considered as burden and menace to families as the former create problems in the family. Women and children no doubt are the main victim of alcoholism and drug abuse. Drug addiction consists use of Fortwin, Proxivion, Diazepam, LSD, Opium, smack, Marijuana, Heroin, Cocaine, Charas, Ganja, Bhang, brown sugar etc. A craving to obtain peace, to get rid of depression, to escape worldly sorrows and failures and to get a euphoric feeling or to get rid of social inhibitions leads people to the use drugs. Chronic use of these drugs leads to severe damage to the liver, heart, kidneys, brain and the nerves. To fight the menace of drug and alcohol addiction in society, Nashamukti Kendra, Yairipok is relentlessly rendering its service in providing treatment to the persons addicted to drug and alcohol by rehabilitatingthem to normal lives.
Established in Manipur as a branch of Starway Enterprises, Mumbai, amulti national marketing Company working for the last 20 years on 2nd February, 2013, Nashamukti Kendra works in the field of providing treatment to people addicted to drugs and alchohol. Under a systematic treatment, the centre provides treatment and helps in rehabilitating the peopleaddicted to tablet, Ganja, dendrite and codeine and alcohol,etc by bringing them back to normal life.
The centre has been successful to give a new life to round about 180 drug addicts and 120 alcohol addicts in Manipur making them leave drugs like SP Tablet, Dendrite, Codeine  and alcoholism. At present, many drug and Alcohol addicts are undergoing treatment under the centre. The centre offers its service in two type of treatment – Home Treatment and Centre Treatment under the supervision of Dr. Nizamuddin Komol and his son Aamar Komol at Yairipok. The treatment cum rehabilitation centre has been a point of attraction for many people as of now following its successful venture on bringing back many addicts to normalcy.
Dr. Nizamuddin Komol who has completed his MD, AM course from Kolkata has an experience in the field of treatment of addicts.  Currently, he gives treatment to Addicts under the Indo-Allopathy Treatment Clinic, Yairipok as well Nashamukti Kendra.
Aamar Komol, 32 years hailing from Yairipok Toupokpi completed B. Sc under Manipur University and DCA course from Mumbai. He worked as an executive Sales Manager at Electrographic Sign Pvt. Ltd. Bandra (E), Mumbai-51 for three years; Office Manager at ABA MEDIALINK, Goregaon, East Mumbai- 63; Office Manager at Starway Sign, Goregaon,East Mumbai-63 and Medical representative of Rajasthan Aushdhalaya Pvt. Ltd, Jageshwari, West, Mumbai.
The centre operated with a staff of 15 men that not only provides treatment but also supplies medicines. Medicines are made available to public through Anna Medical store, Brighter Academy road, New Chekon, Indo Allopathy Treatment Centre, Yairipok.
"Currently, we are giving treatment to many patients in our centre located at Yairipok as well as paying visits to the houses of the patients as and when needed.  We are committed to our sincere service and serve people. Our rehabilitation centre manages to cure the persons addicted to drugs and alcohol within two or three months. Unlike other centres, we try to give our service with a difference", said Amar Komol.
Drug and alcohol addiction is a menace and alarming situation in Manipur society creating manifold problems. Apart from boys and girls in teen age, many matured men are also found addicted day by day. Due to drug and alcohol addiction, many precious lives of  young and adults have been lost. Many wives and children have become helpless. Presence of a drug or alcohol addict in the family is a nuisance as he often disturbs tranquility and happiness in the family. An addict starts committing crimes like murder, stealingfor money to afford his daily requirements of drug or acohol. He would beat his wife and children when he had no means to afford his needs. In Manipur, incidences of killing of boy by a drug addict to snatch the ear gold ring from the boy, snatching gold necklace from a woman walking on the road took place. From all this accounts, drug and alcohol addiction needs to be rooted out with strategic mechanism, he observed.
Under home treatment, family members can treat the patient at their own home just by providing the required medicines to the patients under the guidance of the doctors. Under centre treatment, the addicts are kept at the Rehab centre and are treated by the doctors. The medicine prepared from herbal plants has no side effect.  These medicines are fed to the patients either directly or indirectly through the food they eat daily. "We can stop any addicts from further using drugs within seven days and cure him completely from addiction within two to three months," he added.
To stop addiction, we provide herbal based medicines like Kalpavit for treatment of drug addicts and Surari for Alcohol addicts manufactured by Rajasthan herbal international which have no side effects.
When Kalpavat herbal medicine is served to the addicts, a person addicted to drugs, Ganja, Charas, his taste for drugs or alcohol will decrease. He may sometimes vomit after drugs. It has no side effects. The person starts getting good result within a week but to get rid of this addiction, three two four months will be needed or as directed by the doctor.
Surari a herbal mixture of rare herbs to detoxify the blood and remove toxins from within the body. It is one of the best detox remedies and can be given in many complicated disease also. Surari includes 30 herbs all designed to work together synergistically to achieve a desired result. The herb kudzu increases bile movement whereas halu, Ocimum Sanctum and malkagni improve liver function. Its extract protects the cells of the liver by both blocking the entrance of harmful toxins while helping to remove these toxins from the liver. This herbs focus on dispersing from the body the residual alcohol by inducing a slight sweat through which the alcohol toxins are said to pass out of the body.
Major components of Surari Kudzu – the root of this herb are used to prevent excessive consumption while the flower is supposed to detoxify the liver and alleviate the symptoms afterwards. Haluis useful for people who consume excessive alcohol develop discomfort in the stomach. It reduces the craving and desire for alcohol in any form. Tulshi Ocimum sanctum leaves of green Tulshi belonging to family Lamiaceae are used traditionally for their hepatoprotective effect. The Ocimum sanctum Alcoholic leaf extract shows significant hepatoprotective activity and synergism with siymarin.
[ecwid widgets="productbrowser search minicart" categories_per_row="3″ grid="10,3″ list="60″ table="60″ default_category_id="21294227″ category_view="grid" search_view="list" minicart_layout="MiniAttachToProductBrowser"]