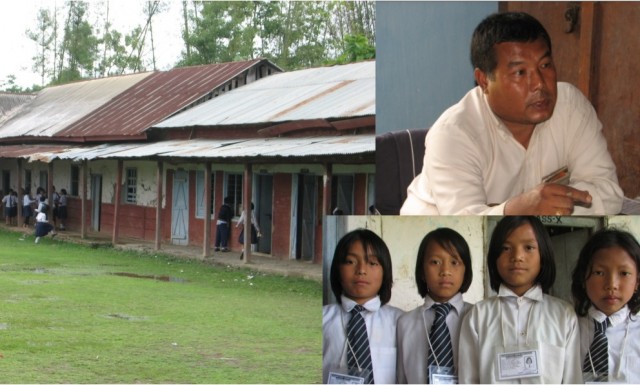 It is known to everybody how hard government schools and government aided schools have been struggling not to get carried away with the 'degrading trend' of government schools. Many government schools have conceded defeat and given up the race of competition at different corners of the State due to government's lackadaisical attitude in one hand and constant ascending of private schools on the other.
However, it would be wrong if we say that all the government schools have given up. Although, the number is too less, there are still some schools, which are still in the race. Haoreibi Junior High School is one among such schools, which dare to stay alive. The school has 196 students as per 2013 admission register. And the encouraging fact is that the school has added 55 more students this year. The Junior High School was established in 1960. The school was upgraded to a high school in 1980 with Class IX and X still remaining as government aided (partly government school).
PRESENT STRENGTH OF THE SCHOOL:
"I think it is not so bad for a government school to have such strength these days", said W. Ibomcha, headmaster-in-charge of the school. Ibomba was busy preparing a science model for his students to be participated in a Science Congress organized by NEIST when Manipur Times visited the school. 
"When I came here in 1997, around 400 students were there in class VI to VIII, and had separate sections for each class. More number of local teachers was also there. Like other government schools, many students who got foundation from here are holding influential positions in different state and central departments now. But the situation has started changing gradually after 1997-98 and the condition became worst in 2008 and 2009 with the school had only 40 to 50 students", he said. 
N. Mohendro Singh (SRO Sericulture Department), H. Birkumar Singh  (Senior Scientist NEIST, Lamphelpat), N. Shantikumar Singh (Scientist), N. Opendro Singh (Scientist), Sh. Indra Singh (Veterinary Doctor), N. Shyam Singh (Doctor), Ng. Sonia Chanu (weightlifter, Olympian) are said to be alumnae of the school. 
He told Manipur Times that with the courage and effort of school teachers and committee members, the school is now moving forward with increase in the number of students steadily and gradually. After 1997, the school could organize a three-day sports meet this year (2013) with the support and help of local club.
It is interesting to know that school teachers and committee members organized house campaigns in and around the locality. They gave awareness to the locals about the strength of teaching staff and conversion of English medium, and this could attract number of parents and students.
A visit to the school is indeed valuable and could draw out the reasons behind the downfall of government schools in Manipur. 
The downfall contributes a number of complex situations and clearly shows lack of planning, carelessness and irresponsibility of the state government and education department. Nevertheless the situation of government and government aided schools of Manipur is always remaining a topic to be discussed in an open platform. 
According to the head-in-charge of the school, authority's failure to inspect government schools regularly, state government's lackadaisical attitude, people's inclination towards English medium schools and nonperformance in Board and Council exams led to downfall of government schools in Manipur.
It is a known fact that state government takes less concern with looking after government schools located outside Imphal area. Ironically, government has not done even a single repairing work at Haoreibi HS since its establishment in 1960, the headmaster-in-charge said. It is said that government provided some Science practical equipments and library books to the school in 1990; since then nothing is happening, he added.
"At the time of establishment of Haoreibi school, there was strict guidelines of the government that there should be a specific distance between two schools like Lilong Haoreibi High School and Haoreibi Junior High School, but now BOSEM is recognizing each and every institute without considering such restrictions. Government does not have any problem in setting up any private school just adjacent to the government school. This kind of mess highly affects running of government schools", the headmaster-in-charge opined.
It may be mentioned that Shamurou High School, Karam Junior High School, Kumari High School and Heibok High School are located within a periphery of 2km to 6km of Haoreibi HS. And all these schools are remaining in deplorable conditions.
In some schools, there are teachers but no classrooms; while the others have classrooms but no teachers. In this highly competitive age, nothing is to be amused with the fact that there are still schools which do not have proper classrooms. Many private schools have installed digital board and projector system in classrooms, while there are still government schools in Manipur which are not even lucky to have a proper blackboard; forget about computer system.