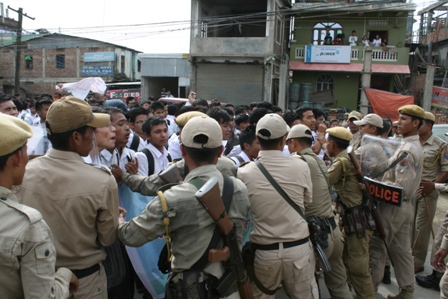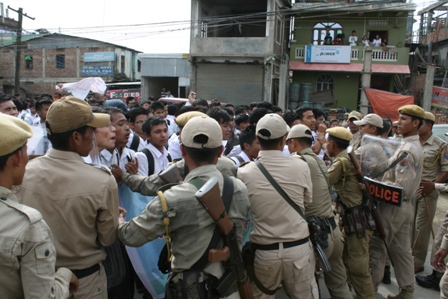 Imphal, August 6: At least 13 students sustained injuries when Manipur police lathicharged with firing tear gas shells and mock bombs to suppress protest rallies at Imphal urging the government for implementing Inner Line permit system in the state.  Two policemen also sustained injury during the mob.
Just ahead of the all political party meet convened by Manipur Government at 2 Pm to discuss burning ILP issue, Imphal witnessed  protest rallies spearheaded  by several students and womenfolk urging the government for implementing Inner Line Permit System.  
At about 11 am, a group of students from various schools started a mass rally from Manipur college to storm the CM Bangalow. They were stopped by a huge Police team near near singjamei Thokchom Leikai from proceeding further. Police fired tear gas shells as the students did not listen to the umpteen warnings of the police. At the spot,  five students namely Ph. Ranjana, BSc. Third year, Gopeshor, BSc. 1st semester, Ph. Sundar, BSc. 1st semester of Manipur College and Moirangthem Dayalaxmi, BSc. 1st semester, L. Lamyanba of Imphal college injured at the spot when police Lathicharged and fired tear gas shells with mock bombs.  One policeman identified as Athokpam Herojit from Shamurou sustained serious injury on his eyes when hit by a tear gas shell.
Eight girl students from GP Woman College who were marching a protest rally too sustained injury when police lathicharged and fired tear gas shells near Imphal Fly over bridge while a policeman namely Naorem Nganthoi from Mayang Imphal injured on the spot. The injured students are identified as Jenny Kom, Kh. Susma, Okram Rojiya, Sh. Gitanjali, Thaja, S. Olivia, S. Nirmala, Th. Nganthoi who are all from GP woman college.
In the meanwhile, several students from various schools and colleges who congregated at Imphal  college started a protest rally from there along the Tiddim road with an attempt to storm Manipur Chief Minister's Bungalaow at Imphal Babupara. They were, however, stopped by a Manipur Police team led by OC Imphal police at Keishampat. Police umpteen times warned the agitating students to retreat saying their movement was illegal with Imphal being clamped with 144 CrPC that prohibits congregation of more than five men. Police drove the students away up to Imphal College.
Imphal city usually crowded with people looked deserted and paralyzed at about 1 pm as Shops and other business establishments were forced to down shutters. Streets in Imphal city were traffic jammed when some groups of women carried out protest rally with shouting slogans "we want ILP", "Resign all the MLAs". Police team led by Mrs. Victoriyua, however, foiled the rally.