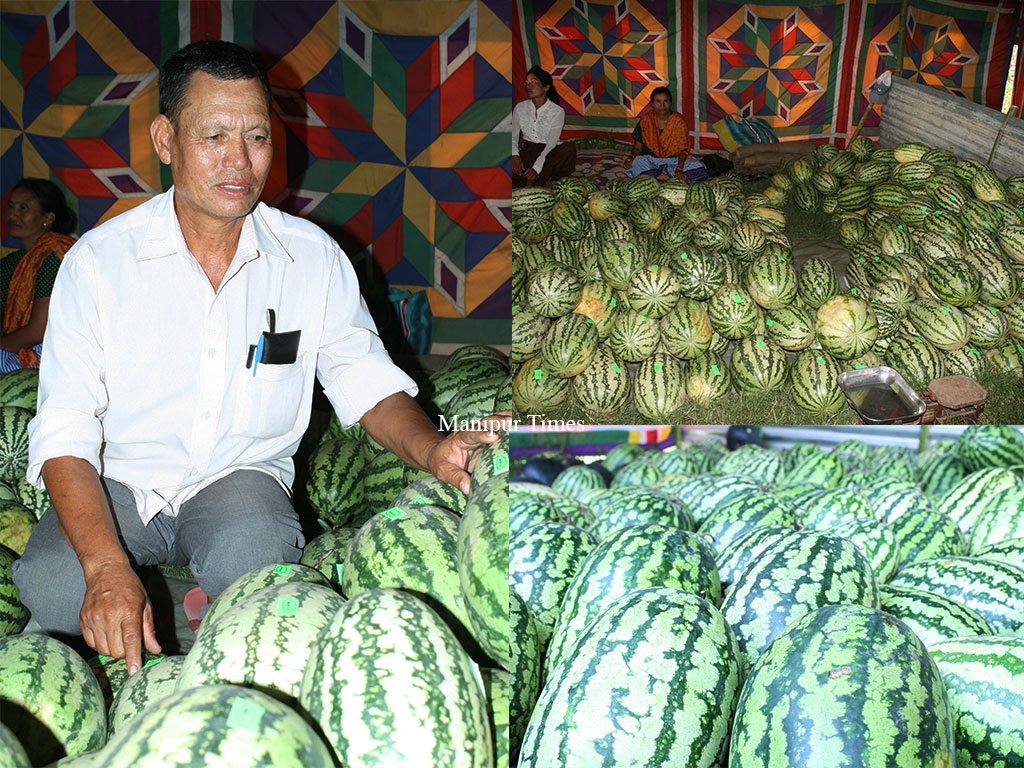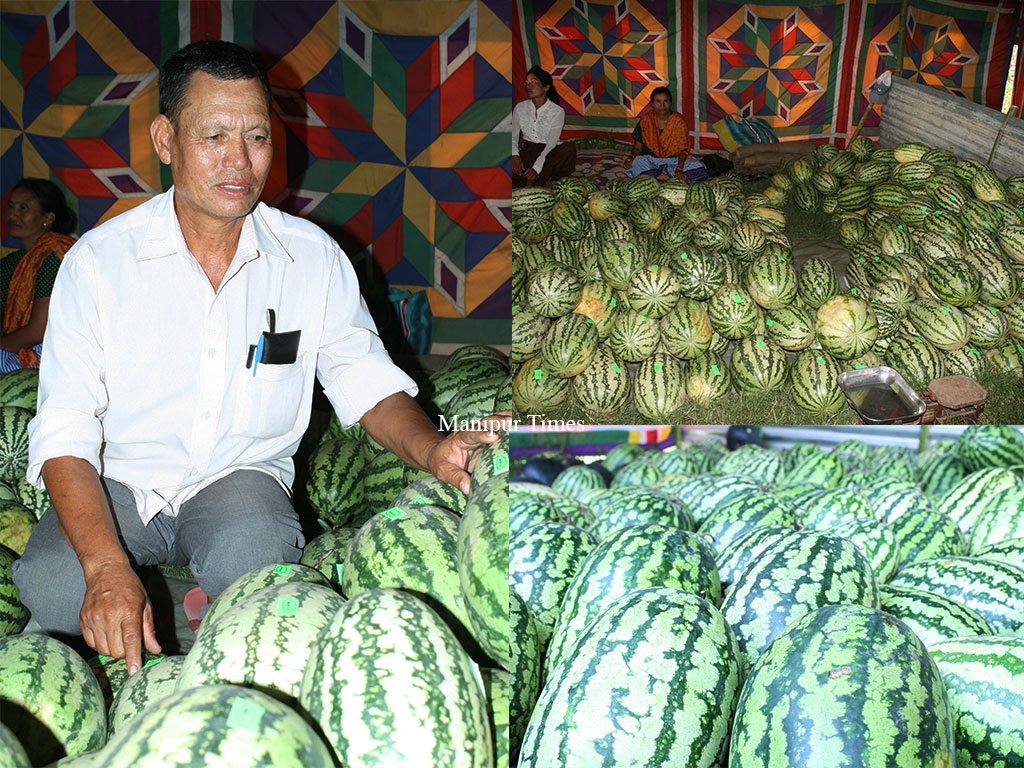 "One of the biggest inconveniences being faced by the local farmers is non-availability of a good market. Our products can't reach markets outside the state. With most of the farmers competing in the limited market, we are at times compelled to sell our products to the consumers at lower rate without considering for profit so as to make up the capital investment incurred in cultivation. This year, I am compelled to sell tomato products of my farm at Rs 4 per kg which is not commensurate to the time, energy and labour invested by a farmer during plantation", said farmer Phijam Nandababu while appealing the state government to introduce agriculture marketing policy in the state at the earliest.
Having failed in the race of getting a white collar job, Phijam Manibabu, son of Kanhai, hailing from Uyumpok Keibi started watermelon farming in 2009 as he was looking for his livelihood. Apart from farming, he is working as an Assistant teacher at Keibi Government Aided High School.
"I along with my wife work as teachers in a Government Aided School. The monthly remuneration we get is not enough for family maintenance including sending our children to school. I always thought of another option for earning. At last, I adopted watermelon farming which is now a thriving business giving smile to all family members. By the dint of watermelon farming, I am now able to reap the result of my prolonged hardships", said Manibabu, who is successfully taking up watermelon farming at Uyungpok Keibi village.
WATERMELON FARMING
Manibabu began watermelon farming by planting about 50 saplings in his field on trial basis. He could earn about Rs 7000 as a profit at that time which motivated him to cultivate more watermelon plants next year. At the initial stage, he sold watermelon at Rs 7 per kg and then increased to Rs 10 and Rs 20 with numbers of consumers increased gradually.  He planted about 1000 saplings of watermelon in his one-acre size field which can fetch him Rs 1.5 lakh every harvest season. This year Manibabu has produced about 15,000 kg of watermelon and sold them at a wholesale rate of Rs 20 a kg. Production rate has reduced a bit this year due to unfavorable weather, he said.
Apart from watermelon, he grows other vegetable items such as tomatoes, gourd etc in the farm. About Rs 20,000 could be earned from selling gourd this year. However, he could not earn much profit from selling tomato this year much to the extent as he had expected due to lack of market.
CHALLENGING TASK
Watermelon farming is a challenging task as it requires hard labour. Watermelon is a favoured fruit to beat the scorching heat due to its high content of water and sweet delicious taste. However, it often gets rotten unless they are harvested in time before heavy rainfall. Hailstorm, a beelike insect are the biggest enemies of watermelon which cause heavy damage to this particular crop. Watermelons often get rotten when these insects attack on the fruit.  Availability of good water source is another main factor for successful cultivation of watermelon. A farmer has to take care for all these, he said.
'ALTERNATIVE ARRANGEMENT'
After the completion of his studies, Manibabu ran from pillar to post seeking for a white collar job to start a decent living. Despite several efforts, he could not find any government job as luck did not favor him.  He started earning for maintaining family by working as a tailor and operator of sound service. Fed up with these jobs, he joined as Assistant Hindi teacher in Keibi Aided High School in 2007.
As the monthly remuneration he received was not enough for family maintenance, he thought of other alternative ways for earning. Considering watermelon farming would be a profitable business option in view of the growing consumers, he began mass cultivation of watermelon in his field which was lying dried up every year after paddy harvest. Now, his field looks green all the year round under his great dedicated work, recounted Manibabu.
TIME MANAGEMENT
For him, every single moment counts in the journey of his earning. In the morning, he earns money working as a private tutor at home. After it, he goes to school.  Even after returning from school duty, he doesn't sit idle but gives most of his time in looking after the farm located nearby his house with watering the plants. Heikakpat, a lake newly renovated with the financial assistance from the local MLA Th Lokeshor who is also the speaker of Manipur Legislative Assembly, has been a boon for his farm as it provides water to his farm abundantly all the year round. Water is the main requisite for famers growing watermelon. He collects water from the lake using a water pump set (Tulu) and waters the plants growing in the farm.
CONCLUDING OBSERVATION
"The main reason why we depend on other states for food can be attributed to lack of work culture. When the vast fields bearing a deserted and dried look after every seasonal paddy harvest are converted to green fields, dependency culture can be reduced and strengthen state's economy. Now, money matters all in living. We have to earn instead of sitting idle. On the other hand, state government should take up necessary measures to provide good irrigation facility and encourage the farmers in terms of financial assistance, he observed.