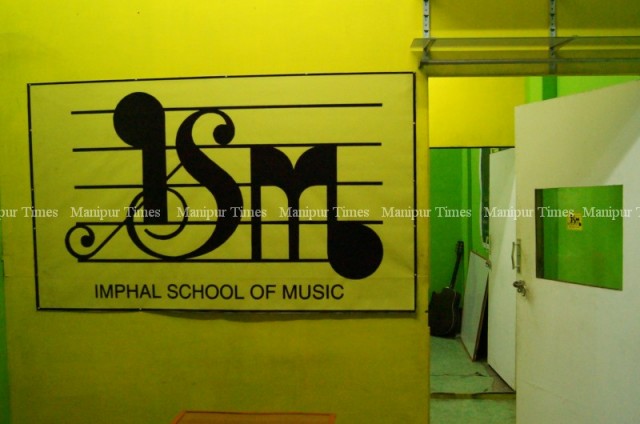 "Earlier there was no western music exam centre in Manipur. We use to run in different parts of the country to appear for exam. We are able to start up an institute of Western Classical Music" expressed Hemchandra (Hem) one of the founder and teaching faculty of Imphal School of Music.
Imphal School of music started with the motive of providing academic Music in the State is a private undertaking with self-investment mainly by Hem, Vinod, Sunil and Sachin.
The School of Music was established on 5th August 2012. It is located at Singjamei, Opposite Supermarket. This is the only private classical western music school run by certified local teachers under TRINITY and ABRSM London. Trinity is a charitable trust based in London.
Children studying in class 2 to parents who are 50 years of age learn here. Established a year back the school has 70 students enrolled till now.
A Student is taught one hour by a teacher in the ratio of 1:1:1.The remark by the examiner given on the spot during exam is the mark scored by the students.
Certified Teaching faculties of ISM are Kumarjit Huirem – Classical Guitar , Karnajit Laishram – Classical Guitar, Hemchandra (Hem) – Plectrum Guitar, Sunil Loitongbam – Drum, Vinodkanta Ahanthem – Violin.
Whoever passed out from the institute gets a certificate from TRINITY, London which has its opening across the globe.
Imphal School of Music is now operating in a rented two room at Singjamei.  The institute is opening up its unit at Uripok in a four to five rent room set up.
One can have basic, intermediate, and advance course from the institute.
Musical Instrument taught in the institute are –
1) Guitar – Classical and Plectrum
2) Violin
3) Keyboard
4) Drum
Currently classes are conducted twice a week for a student.
Fee structure are Rs 700 a month and an admission fee of Rs 2500 for one candidate which is comparatively low comparing to the institutes in other States.
Happy parents in an exclusive meet with Manipur Times has to say –
"My two Daughters one in tenth standard another in 6th standard are learning music since a year and they are about to appear their grade exam.
I let my children learn music to help them stress out after their daily reading. It helps them create a hobby of their own.
Earlier my children use to learn at the locality now their teacher along with their friend has started a school so I admitted my children here.
If they learn music they have a talent to exhibit in their social gathering. Television and video spoil their eyes and prolong engagement resulted into inattentiveness and addiction. Yes media is good but it is sometimes time consuming once addicted" says RK (o) Renubala.
Daryna Renubala's eldest daughter is learning guitar from Imphal School of Music and she says she has an eager to learn music and she is happy learning the art.
Geetika is in her sixth standard and she is learning violin from ISM.
Another music enthusiastic parent – Ch. Deveswor from Singjamei whose son has been learning music since a year says that in free time instead of playing video game which appears to him as making the children dull and violent, music is better option for the leisure time. His son Devasish is learning guitar and Biraja learning Violin. Deveswor use to pick and drop his children and interact with the faculties about the performance about his children.
"Music is well disciplined especially classical music. It gives inner peace to children. For hobby usefulness, they have a talent to exhibit in their course of life and it all sums up to be full of output. I can't sing a song properly and I do not want my children to face the same problem I am facing. My sons do not have an interest in singing so I make them learn music" continued Deveswor.
Exam and sessions under ISM
The institute is continuously preparing student for grade exams under Trinity College London. This year some students are appearing for practical exam presented by Imphal School of Music. Theory exam is done in May session.
There are two sessions in a year May/Nov. So far 15 students have appeared for exam and all of them have got distinction while five of them scored cent per cent marks.
Another 15 is appearing for theory exam which is written test this November.
Now the school has around 70 students in the current session. With the next session starting Dec 2013, another branch at Uripok is coming up with enhance infrastructure.
Musical Concerts
School concert was organised at GM Hall on June 2013. Imphal School of Music is planning to organise Student Concert in the coming December.
"We are making our juniors learn music. In other State it has become a trend where children learn music from a well-run institute. We do not want the hardship we have faced in certified learning.
We have started the school not from the perspective of business. The fee structure for a whole month or two is one class's fee in the State like Bangalore. We are just grooming the students in the right direction for them to decide and make the best use of their musical talent. The certificate TRINITY gives is valid all over the world. We want productive drill and dedicated teachers musicians are in our institute. We feel happy when our students acquire the skill as we taught them theoretically and practically" expressed the faculty.