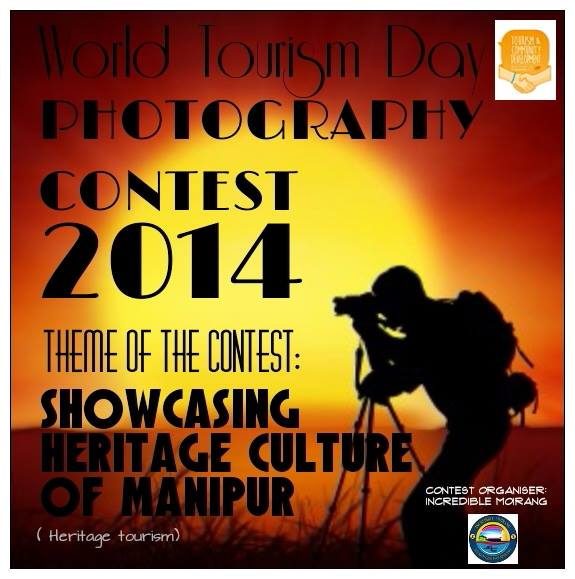 We, the Team Incredible Moirang is pleased to announce that we are going to hold an Online photography contest in relation with "World tourism Day 2014″ and to boost the tourism potential in Manipur and to promote Manipur Tourism to the Next Level.
World tourism Day 2014 is celebrating under the theme" Tourism and community development"
The Theme of the photography contest is "Showcasing heritage culture of Manipur" Photographs that reflect the beauty and rich heritage culture of Manipur and heritage tourism for promotion of Manipur as a tourist destination will be considered for the winner.
Submission Process for the competition:
Submit your Entry through our whatsapp contact
+918014921286 ( Moirang team)
+918750432739(Delhi team ) or you can directly send your photo in our official page inbox. We are accepting every form of photos ( taken through camera or mobile phone) please send us a copy of the photo in its original format with the following details
Name:
Age:
Address:
Facebook user name:
# Important note: All the participants must make sure that their photography are attached with Short Description.
Brief Profile of Photographer:
Criteria:
1 : Participant can submit maximum of two photos only.
2 : Photo must be related to Manipur only
3 : Participants are requested to submit high result image if possible.
4 :Resizing of the Photo is allowed
5: Participant should submit their own photography photo.
Last Date of submission: 30th Sep 2014
Expert panel will be the Judge for the competition and 50% of mark will be taken from public / audience, the photo which get maximum likes from the audience will help a lot to be the winner of this contest.;the result will be announced by 1st of Oct.2014
The winner photo will be featured as our official page "Profile Picture" for two months and will get a chance to be published on the timeline of Eco tourism society of north east India , Guwahati ( winner best NOG promoting North East India Tourism) as well.
Runners – up photo will be featured as cover photo of our page for two month.
Copyright Policy of the Photo:
The participants must agree that the photo submitted for the competition can be utilised by The Incredible Moirang for promotion activity of incredible moirang. The participants must also agree that Incredible Moirang have the Right to use the Photo or reproduce thef photo in any form of media for its promotional activity.