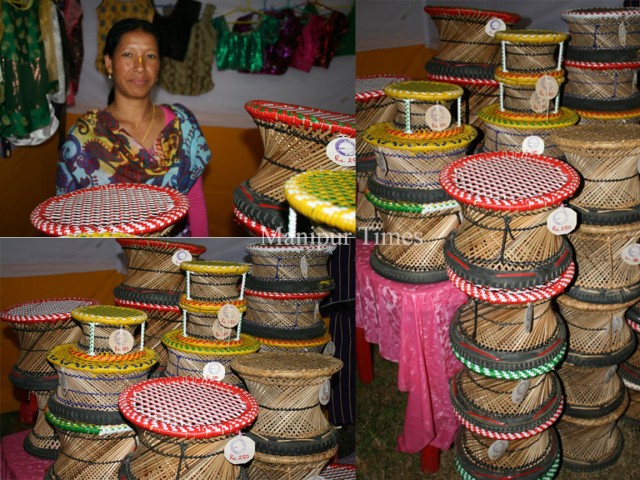 For people living in Torbung village, making Mora (traditionally stool made of bamboo and cane or plastic string) of various designs is also one of the thriving livelihood options for years. In fact, the life of the villagers is very much associated with this particular profession in bamboo craft with which several families living in the village are able to maintain their families and send their kids to school. While the village men make Pajengs out of the fresh bamboo poles, women make Moras (stool) by interweaving them with plastic or cane strings. They make Moras by interweaving the bamboo pajengs with cane strings or plastic strings. For every household in Manipur, this traditional stool is an important domestic item for a long time and is still in use. Providing a Mora to the visiting Guest for taking rest has been an aged old traditional practice in Manipur society to show token of warm reception.
Kshetrimayum Ongbi Indira Devi, a professional Mora maker and proprietor of Torbung Kasar Leikai woman crafts is also one of the crafts persons in the village who successfully can make out a good living from the profession.
"Braving the scorching summer sun or rain, I managed to make my living by hawking Mora to support my family in the initial stage. It was a tiring job. Now, I have set up a firm which produces Mora in huge quantities while providing the village women employment. The products of my firm have been displayed in many handloom and handicraft melas held in Manipur and other state. So far, with the income from this business, I can manage my family comfortably. I am planning to expand the scope of my business if the loan applied to the bank is approved".
Indira Devi, 40 years, wife of Kshetrimayum Yaima Singh hailing from Torbung Gobindpur village, Bishnupur district has been carrying on the business for the last 15 years. Her husband runs a small grocery shop and her eldest son works in a private job while other two younger sons are studying in school. In order to support the family, she ventured into handicrafts, . She makes traditional stools (Mora) of different designs. They are more comfortable to use, reliable and also affordable by most of the people.
The traditional stools crafted by her are of different sizes and designs. According to the designs and sizes of the traditional stools made by her, the rates of the products are also different. The price of Mora ranges from Rs.180, Rs.200, Rs.250, Rs.300, Rs.350 to Rs.630 a piece. She can fetch a good monthly turnover from the business.
Indira Devi started her firm in Mora craft in 1998. Unlike other women engaging themselves in handloom, she followed the footstep of her father in law, a Mora maker by profession. Having learnt the requisite skills and inputs from her father in law on how Mora is crafted, she is still carrying on the family legacy of the particular craft. She has now established a registered firm Torbung Kasar Leikai Woman Crafts which produces Moras of varied designs by engaging helping hands. She has been able to provide employment to at least ten more women workers of her locality in the firm. One skilled Mora maker can earn a good income by making two or three Moras a day. Her firm has been a good source of earning for other men and women.
For making Mora, her firm procures fresh bamboos and cane from many villages in and around Bishnupur and Churachandpur districts. The fresh bamboo poles are bought at the rate of Rs.120 to 140 a piece while rolls of cane strings are bought at the rate of Rs.50 a kg while the plastic wires of different colours and locking wires are purchased at Rs.250 per kg from the market.
She said that Saneibi, Utang are the best bamboo varieties for making Mora. A craftsman cuts up bamboo poles into several pieces horizontally or vertically. The split halves are again split into two, thus dividing the whole bamboo into four bamboo splits. Each of these four bamboo splits is termed a Wachet. While thewachets are still wet, the gluey layer on the inner surface is knifed off starting from the base. The protruding parts on the nodes, especially the Wamit or 'eye' of the bamboo, are removed before use. The wachets are split again into many pieces to make fine thin sticks called Pajeng. Moras are made by interweaving the Pajengs with the plastic or cane strings.
Apart from providing employment to many woman, she also engages local men making fine Pajengs. The task of making Pajeng is entrusted to local elderly men who are experts in making fine thin Pajengs. The finished pajeng items are again bought from them at the rate of Rs.100 for each pajeng bundle comprising 1000 sticks.The finished products are sold at Moirang bazar, Churachandpur bazar, Bishnupur bazar and Imphal. Many women also used to line up at her firm and collect the Moras for selling in different areas.