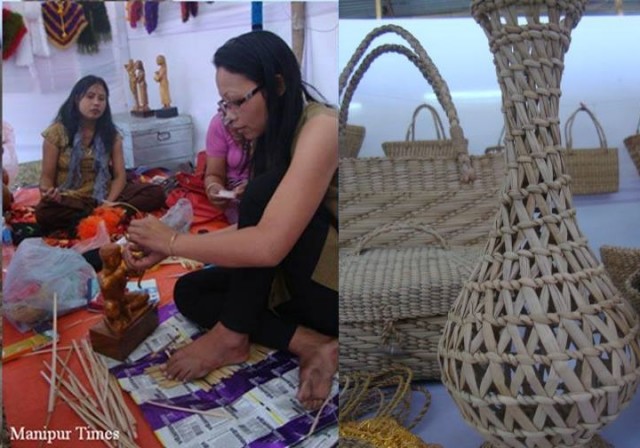 She has been supporting her family selling own handmade kouna (reed) items for the past 10 years. 28 years old Irengbam Rebati Devi d/o Sanatombi hailing from Kwakeithel Moirangpurel Leikai, Imphal West makes many kouna items like bags, cushion, wall hanging, purse, jewellery box, flower pots, flower basket, flower base, make-up box etc. 
She makes about 10 designs of bags. She sells bags at Rs. 250 to Rs 450 according to the design and size. Big size cushion (No. 8) costs Rs. 1800, small size cushion Rs. 200 per piece, purse Rs.50, wall hanging Rs. 50, hat Rs. 150 to Rs 190, flowerpot Rs. 150. 
She earns Rs. 6000 to Rs 10000 a month from this business. Local customers who love kouna craftitems and NGOs are her major costumers. They purchase the items from Rebati and export it to other States. 
Rebati is the fifth daughter among seven siblings. She had faced the pain of poverty during her early life. This pain was multiplied further with the sudden demise of her father, the sole bread earner of the family. Rebati had to support her mother, a vegetable vendor. It was hard for them to maintain the family with their small earning. 
She was a student of Ngasi Rastrapati High School, Top Leirak and passed Matriculation from that school. She could not continue her study further due to financial problems in her family. She had to earn money at any cost.
In January 2006, she attended a two months training course on handicraft organized by Kasturba Gandhi Institute of Development at Konjeng Leikai. From this training, she got the entire skill of making many items with kouna, a grass-like plant commonly grown in the wetland areas. One Lata from Konjeng Leikai was the main guide of her. 
Having completed the two months training course on kouna craft, she started making many such items. Initially, she could not get good return from it as her own made items were not so popular in those days. 
As an instructor of kouna craft, she taught many students in many training programmes conducted by many NGOs. She earned some money from it as well. Many students are presently learning kounacraft under her guidance. The items are made with the help of her students. 
Her own made items are displayed in many handicraft exhibitions held in Manipur. During Manipur Sangai Festival, she could make a good sale. The fresh kouna plants are mainly collected from Khangabok of Thoubal district and Kongba, Imphal East. Green kouna plants grow aplenty in the wetland areas of Khgangabok. She procured these raw materials from many farmers living there. 
"For a poor State like Manipur where Government cannot afford jobs to many unemployed youths, we need to seek the ways that would provide us self employment by hook or by crook. Encouraging the entrepreneurs by the Government with some  funding  or loans is the need of the hour as many successful entrepreneurs can provide jobs to many jobless and it is a panacea for economic growth of the State", Rebati said. 
So far, Rebati has not received any support from the Government under its schemes like PMEGP, KVIC and others entrepreneur related schemes.