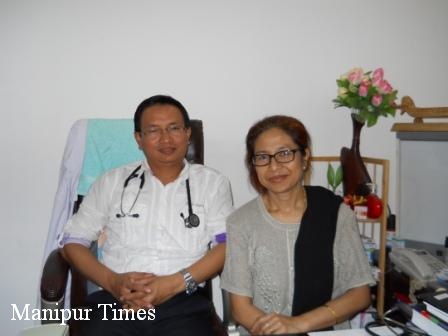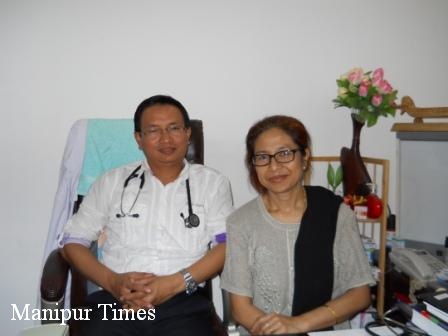 Dr. Ashok's Jivan Hospital stands on Burma Sugnu Road, near Assam Riffles camp at old airfield near Kakching Lamkhai. Presently, the hospital  spread over 8 acres of land and it is said to have covered almost 70-75 percent of Thoubal district, 100 percent of Chandel district, 8-15 percent of Imphal West particularly Wangoi, Iram Siphai, Mayang Imphal and 15-20 percent of Churachandpur district. Easy accessibility secured location and adequate water supply fullfill the most essential and foremost needs of the establishment.
It is a hundred bedded hospital run by 100 staff under the Directorship of Dr. Ashok. The hospital has facilities like digital x-ray, ultrasound and echocardiogram and two well equipped operation theatres and other sterialized machines. Moreover, the hospital laboratory is run by fully automated machine tie-up  with Babina Diagnostic Centre with 24X7 service.
"Since my childhood, it has been my dream to establish a hospital at my home town as medical facility here was not up to the mark. When I was an intern in the gynaecology department of RIMS, I happened to come across losing of lives of some pregnant women from Kakching due to birth complicacy and pregnancy related problems on the way which could have been prevented easily if medical facilities were provided on time. The mission of our hospital is to provide multi-speciality and superspeciality gynae department at par to the facilities available in urban areas", said Dr. Ashok told to Manipur Times.
"Since no operation theater is running properly in the whole southern part of Manipur which is one of the most backward areas with regards to health sector, by virtue of this profession, our social responsibility has increased day by day. It is unfortunate that the number of specialist doctors is very less in this area. However, we can hope that many of them are coming up in the near future that will be instrumental in fulfilling the vision of having a superficiality hospital at Kakching", he said.
It may be mentioned that before the establishment of the hospital, Dr. Ashok and his better half Dr. Jivanlata used to provide first ultrasound facility to the people of the whole Thoubal district from 2004. The facility proved to be a great relief of sigh to the people of the district, especially to pregnant women, as it cut down the burden of travelling a long way upto Imphal for the said purpose.
Dr. Ashok said, as the hospital stands at the junction of Indo Burma and Indo-Burma Sugnu road, Road Traffic Accident (RTA) is one of the major service the hospital has to provide. In order to cope-up with the need and provide fast life saving services, three Advanced Life Support Ambulance (ALSA) along with a trauma centre having all the necessary equipments will be launched soon. Three ALSAs will cover Indo-Burma Sugnu Road, Burma-Sugnu Road up to Churachandpur and Pallel-Chandel Road.
Besides providing health services, employment generation and bringing medical practitioners and nurses back home are Dr Ashok's wishes. He also wants to inculcate the sense of work culture to the people of the area.
Personal backgrounds
Dr. Jivanlata, born and brought up in an academically sound family, becoming a doctor was fulfilling her teacher parents' wish to serve people as a physician. She was the 2nd position holder in Class X examination from Kakching Girl's High School. Again, she secured 4th position in PUC (XII) examination from Kha Manipur College. 
After the completion of MBBS degree from Patna Medical College, she was posted at Kakching Community Health Centre and Chandel District Hospital under State Government for many years.
On the other hand, Dr. Ashok Kumar was born and brought up in a poor family. His father was a goldsmith and mother was a cultivator cum housewife. He was the only brother among five sisters. He is alumni of Kakching High School and Sainik School Pangei, Imphal. He did MBBS from RIMS, Ultrasound training from Apollo, Madras (1998), three years family medicine and FCAMS  under CMC Vellore & Christian Academy Medical Sciences, 6 months Hospital Management course.
Their dedication towards patient care is evident from the fact they have not been taking lunch since past four years. On a query why they are doing so, Dr Ashok responded with a smile, "It's not good to make patients wait because of our lunch. We can have juice or some light snacks instead."
[ecwid widgets="productbrowser search minicart" categories_per_row="3″ grid="10,3″ list="60″ table="60″ default_category_id="21294227″ category_view="grid" search_view="list" minicart_layout="MiniAttachToProductBrowser"]