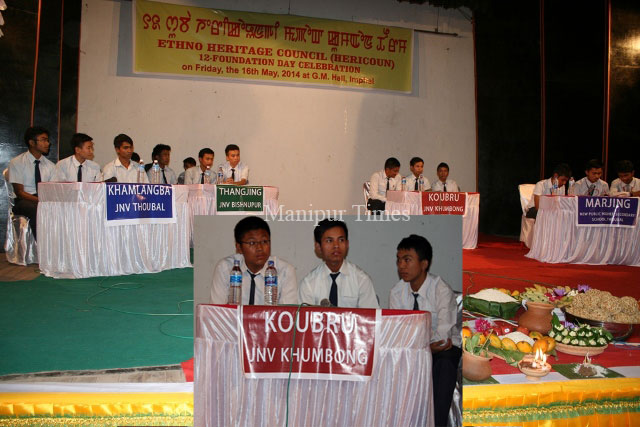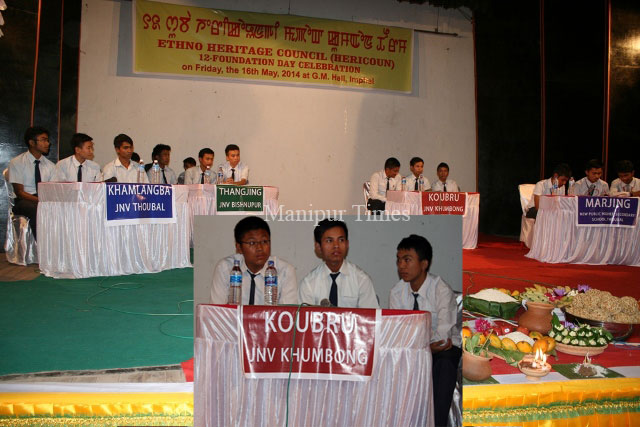 Beating their rival schools in the final round of the 5th edition of 5th  state level Quiz competition 2014 conducted by Hericoun, Manipur under the theme "Khangminnashi Iramdam",  JNV Khumbong team represented by Thounaojam Premananda, Heikham Pritam and Pukhrambam Niraj won the winners' trophy  with 65 points.
 New public higher secondary school team represented by Khundrakpam Robinson, Khundrakpam Sanathoi and  Moirangthem Ashokumar won second  scoring 60 points while  JNV thoubal team represented by Md. Saaz khan, Elangbam Philips and  Md. Fajiruddin won third place scoring 40 points.
 With Heikrujam Debendra Singh, Programme executive of AIR, Imphal as Quiz Master,  students competed each other hard in seven rounds of questions – History, Geograpthy, Current affairs, Culture, Buzzer, Audio and Visual rounds which were purely based on the context of Manipur. Thounaojam Ruhichandra and Longjam Sanatomba as Point scorer and Kh. Shyamsundar as time keeper assisted the quiz master for smooth conduct of the competition.
Complaints from the JNV khumbong team and some audience, charging the point scorer had not given five bonus point meant for the team, disrupted the competition a while when the Point scorer announced the points scored by each competing teams after the end of the six round. However, quiz master settled the matter saying decision of the organizers is always final in competition.