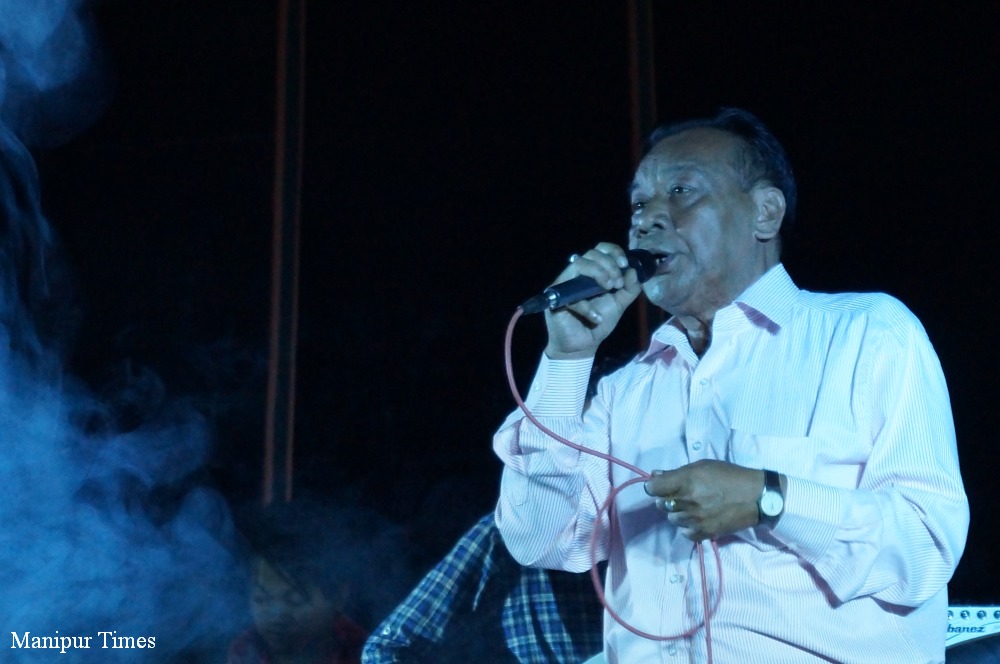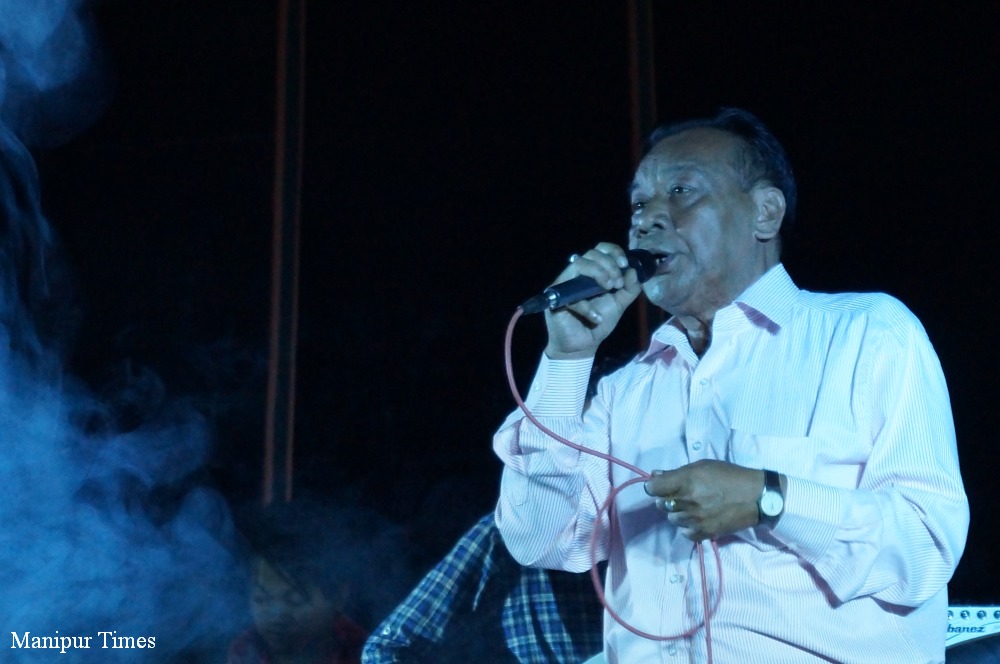 "Sanjenthong gi thongkhada" a song dedicated to social crime of raping and killing a lady. "Eibu hatkanoh, eibu kaapkanoh" another hit number based on social issue.
And to love songs like "Sunita", "Nongmatang" the 62 year oldsinger Sanaton Sharma has given a brand of songs much to the choice of many young and old.
NE Brothers took the initiative of organizing a musical evening on 13th March 2014 at Chandrakirti Auditorium, Palace Compound. www.ne-bazar.com was the presenter of the show, "Likli gi Lai – a musical evening with legendary singer Sanaton"
"I heartily thank Michael and Nelson for organizing a musical evening in my name. I felt very grateful at my heart for the show. And I wish them the best growth in whatever work they do with other artists as well in future.
The new song wave and musical power differs from the olden days to these days, I guess. In our time stage performance was agile. The expression added with little wildness was in vogue.  
Audience and musician interaction while performing on stage have also change or evolved.  It also differs according to the artists in this context", says Sanaton in an interaction with Manipur Times before the musical evening.
"I started singing by the year 1968, when I attended eight standards in School. At 1975/76 people started recognizing me as a singer. My first hit song was 'Thamamba Ahing' released in the year 1981/82.
There was a time when we use to sit on stage and sing. Tabla, Harmonium and Flute were the musical instruments in the Orchestra. By 1975/76 electric guitar, drum came into play.
1000 crowd was a big number in a concert but nowadays it is 10,000.  We use to sing in open green field as well. We use to perform at the military halls of the Armies. GM Hall was another place where musical concerts were organized.
My latest recorded song "I miss you" was released in 2007. The public wants the old songs so I am working on them and there is no plan to record a totally new song as of now. Doordarshan and AIR often invited me to these days to sing. I have recorded more than 20 solo albums and 30 group albums and many others at different albums. 700 to 800 songs so far I have sung in my singing career so far", continued the softly spoken singer who has given his audience many immortal and melodic songs.   
Sanaton Sharma's eldest son Vibid who is a guitarist has joined the Indian Navy. There is much to what the singer has to offer to his audience and as generation of songs have elapsed with the passing of time some of his songs still remains the favorite of many. The energy in his song, manly lyrics and to sum up straight forward nature in the whole set up of his work gave him the steel element of his success to these days.
And he believes in his own songs he had sung so far. Upon an inquisitive query on any offer from anybody to sing a new song, the singer gave a straight no and expressed that public wishes to hear his old songs and I love to work on my old songs says a confident Sanaton who came in a grey colour suit with a tidy hair.
A colleague fan of him greeted him and they have not met him for long. Indeed the musical evening was also a fan gathering old friends met one another and to tell you his colleague also introduced him of her accompanies daughter. In fact the songs have grown old too but the energy at the time of creation seems to remain intact till today and to these the organizers have given the title of legendary. 
One crowd passed a comment, " Sanaton khong nikhai bi doh hourakoh " much to the delight Sanaton make a move with his song and the audience got to swing. The auditorium was packed with music lovers, young and old. 
Lyricists of his popular numbers were felicitated and honored at the musical evening. Mostly all of them have turn senior citizens and they came along with their family. It was so lovely to see them on stage one after another and they are the one who have written the magical lyrics with which the singer and music composers have given an immortal tune. There was a huge applaud from the audience as the lyricists make up to the stage.
The names of the lyricists and the song they have written is as below:-
Likli gi Lai – Sri Soraren (poet) who has also written many songs sung by late Aheibam Shyam.
 Sanjenthong gi Thonkhada  – BS Hidang.
 Thamamba ahing amada – Salam Dilip.
Awabada Awaba Piyu, Nungaibada Nungaiba Piyu – Huidrom Noren.
 Karigi Pirang – Ahanthem Ajit.
Humlarae Wakhalgi Nonglei Nungsitta  – AK Bala.
Eegi Nong – Late N. Gunin (received by his brother).
Sunita Punsibu Fagini Khanganu , Monalisa, Eina Yoo Thakpa Uraga – Nandalal Roy.    
Laihui, Penta Fusion, The Koi also featured during the musical evening and they did a wonderful music and gave the real value of originality and rooted music with native touch. The performance they have given was with full of enthusiasm.  Mention may also be made that Laihui with its specialty in folk art narration using Pena as musical instrument have given training to many people about the art of playing Pena. The Laihui teams in the evening also comprise of renowned film maker Romi Meitei and an emerging film maker Chaoba Thiyam and a very young talented boy with other talented youth including two beautiful ladies. Two drummers also played their role during the performance. Khamba Thoibi and other related folk tales were sung along with the playing of musical instruments with few acts and directions. The dress they wore was classic and indigenous, the ladies wore a thoibi cut hairstyle and the performance was thamoi hooba type.  Laihui had performed in Singapore too.
The Koi with its lingua flavored numbers like Naosum, Loktak, Chekla and one more number gave a new turn to the music era of the present.
Penta Fusion with five talented musicians believes to bring up manipuri folk music through fusion of the west and classic Indian music. They played all kind of musical instruments from varied drums to string Pena, Violin, Flutes and Moibung. But every note was well synchronized.
In fact the evening was suspense with lot of things happening and the auditorium was a nice place to host a musical evening.