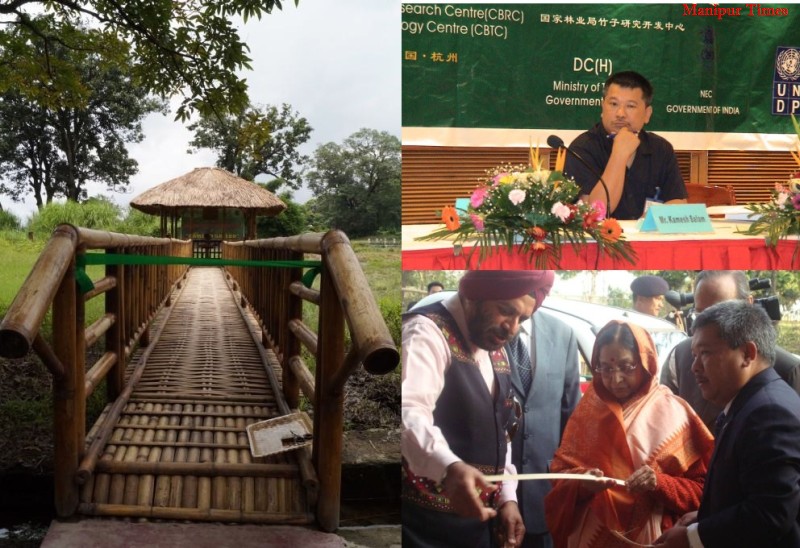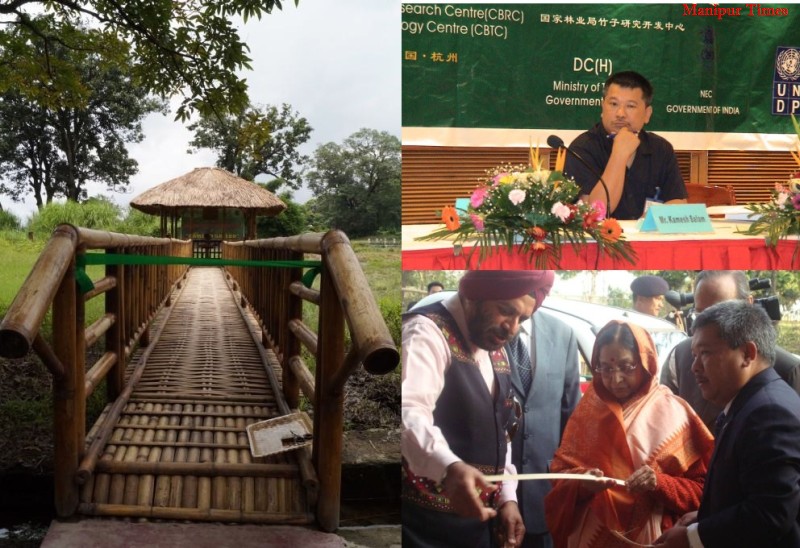 "I am making 4000 bamboo houses in Jharkhand, 200 houses completed so far. Each house cost Rs 40,000.
I am making eco-tourism in Kaziranga from the recycle container.
I ask the railway not to throw away the Bogies. I have made three cottages from railway bogies in Kaziranga National Park Assam" expressed Kamesh Salam the smart middle aged man in his confident tone when Manipur Times meet him for an exclusive feature.
He is also the man behind Bamboo Gazebo, open to the public on 10th August, 2013 at Kangla.
Kamesh Salam contribution for Bamboo development.
The United Nations Industrial Development organization launched a project on Cane and Bamboo technology up gradation. I join as a Project Coordinator at Guwahati in 1999. I got an opportunity to work in the States of North East touring on bamboo work and meeting the Europen and Thai counterpart. Gradually, I was going in-depth   in a bigger platform.
I started networking in a bigger platform. Gradually, I took the international scenario. Later on World Bamboo Organization elected me as their president for three years.  For two years the organization postponed world bamboo conference the reason was lack of funding
Through my efforts, I collect money from people and 600 participants took part in the 8th World Bamboo Conference at Bangkok continued Kamesh Salam.
Kamesh Salam is the founder of World Bamboo Day.18th September is declared as World Bamboo Day. The day coincides with Royal Forest Department Day of Thailand. Governor of Royal Thai Government, Bangkok after a thorough discussion declared the day as World Bamboo Day in 2009. Now it is celebrated all over the World. We have created the website for the same too.
During my last year of Presidency in World Bamboo Organization, 2010 we observe World Bamboo Day at Kisama, Nagaland. The Vice President of India came for that function. The day has become a big force behind Bamboo issues.
Prospect of Craft Village in Manipur.
Craft village is creating infrastructure in the system. Making the houses, road and pavements clean. We need skilled and technique Handicraft person to make products.
A disciplined pattern like a locality making the same product – One village one product is a very attractive uniform pattern.  A locality can make bamboo basket 'Thumok'. Another village can make furniture. A bamboo can thus be used by various localities the topmost part (maton) will go to a locality for Paya making yet another village will have the remaining piece for other furniture items.
Tenfamilies will make design products, another 10 family will do packaging. Thus craft village is a dual purpose. Tourists will be attracted to the village and they will buy the handicraft products also.
If they want to stay the night, we can erect bamboo cottage attached to one house. Food can be served from the house. Tourists will like a comfortable stay, they would not want insect, mosquito inside the house, and we need to protect them.
Bathroom and sanitation in tip top is mandatory. Tourists will want electricity, we can put solar lamp which is ecofriendly. We will put bio digester in the toilet to make it 100 percent eco-friendly. It is practice in Vietnam and Thailand. They are doing very well.
I am not looking for 5 star hotels, I am not looking for 5 star industries in Manipur. Craft village is the best thing Manipur can offer" says Kamesh Salam how is presently serving as Consultant Bamboo Management Specialists in United Nations Industrial Development Organisation.
Ladder to the top position in the world
I got an opportunity to work with INBAR international network for bamboo return. In 1998, I had a chance to attend the Sixth World Bamboo Congress at Costarica.
There I created a platform for networking with different countries.  I lead a team of 36 countries and tried to open a network called Artists. But it did not work much that venture have given me a strong background to network all over the world.
After some year UNIDO contacted me saying that they are making an All India Bamboo Road map. I had a chance to work with Philippine, Thailand and All India counterpart. I made a big contribution in Bamboo Policy making of India. I was a consultant there in the handicraft section.
Then government of India started a bamboo development advisory body, again I was taken as a board member there. I could give lots of ideas there. I started giving direct and indirect advises to Government of India narrated Kamesh Salam in an exclusive interview with Manipur Times.
My whole philosophy is networking and sharing of knowledge. I cannot keep knowledge with me, the more I share the knowledge the more the sector will develop. That is what I am doing if somebody asks any information i definitely share.
I became a member of All India Handicraft Board.
Planning Commission approached me to make DPR (detail project report) for Bamboo Mission. And I am the architect behind National Bamboo Mission.  It was in 2004, and Government of India is implementing the same.
to be continued ..