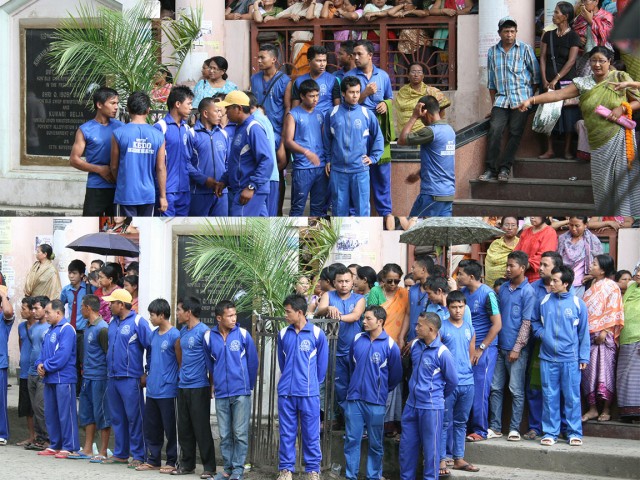 With most of the educated unemployed youth of the state running after from pillar to post to find a government job, finding a government job to lead a comfortable living becomes a cut throat competition in the state. As many as 7 lakhs educated unemployed youths have registered with the Employment exchange of the state. For a fiscally and industrially backward state like Manipur, it is not possible on the part of state government to provide jobs to the increasing unemployed youths. Despite all these facts, life has to go on doing anything available, may be government or self employable jobs. In such a crucial juncture, Kanglei Economic Development Society (KEDO) which is providing an opportunity for self-employment has been a beacon of hope for thousands of unemployed youths seeking for ways of earning to sustain life.
Activities of KEDO
Kanglei Economic Development Society (KEDO) was established on April 20, 2007 at Lainingthou Sanamahi Shanglen, Imphal with the objective of uplifting the economic status of the state by way of inculcating work culture and encouraging use of local products. KEDO has around 100 volunteers at present, who are working in and around Imphal city. They are engaged in various activities like selling tea, sugar juice, ice creams, milk, kerosene, edible oil and transporting goods for the women vendors, involving in distribution of food products of Thambaljao Industries and Marketing Pvt Ltd, Pungdongbam and neem product of Yourbung, providing lift service, and rendering service as night-watches at market places.  KEDO members have been able to earn a good income in rendering such services. Apart from this, KEDO members have opened a hair cutting salon at Nagamapal Bazar.
Over and above their work, they also render other social service activities by carrying out cleanliness drives in Imphal city at regular interval, which helps to keep the city neat and clean. Moreover, KEDO has taken up a project of vegetable farming at Irang Ahum Fangba at Lilong Arapti, which aims to provide healthy vegetables to the general public while at the same time, enable its volunteers to enhance their income.
KEDO President S Maniton Meetei said that historically, Manipur evolved from a society built with strong work culture. Since the state had enough food productivity, it could exist alone without relying to others. Now everything has changed. Since work culture has vanished from the society, the state is fiscally poor hinging on others for existence. With most of the people, the educated youths in particular, eying for only the white collar job as the best one for dignified and decent living in society, the state witnesses a cut throat competition among the job seekers. Our youths need to expand their vision, ideology beyond white collar job and free themselves from the wrong perception. If we inculcate work culture, there are many ways for earning.
Inculcating work culture can prevent inflow of migrants
Since we have no dignity of labour, there is a culture of treating the laborers earning for living by the sweat of their brow as lower class profession while the white government job as high profession. Generally, we feel ashamed of earning as a cobbler, as a barber or as a sugarcane juice hawker. While we are running after for limited government jobs, non locals continuously inflowing the state are doing the jobs  which are generally treated as 'low class profession' by the indigenous Manipuri people.  There is nothing to be ashamed about the kind of works the labourers are doing and one should not insult just because they are doing low grade jobs. Only when the so called unemployed youth force of the state dares to indulge themselves in such kind of jobs which are generally considered "low", the increasing migrant in the state can be checked, Maniton observed.
The labourers are earning with their sweats for their livelihood and maintaining for their poor families and it is one of the purest form of income for their survival. Society need to motivate and extend support to the local labourers engaged in such jobs. The fiscally weak state will develop its economic status when the society shows respect to such labour class. The development of a country is marked by the ideology, culture, tradition and hard working. It is a clear example that a hard working country is always in the forefront of other country in the race of development, he said.
KEDO has changed many lives
For many unemployed men, KEDO is a beacon of hope and a sheltering tree. Many jobless people who intend to work for earning approach KEDO to become a member. The registered member of the organization is provided jobs according to their skill. KEDO delivers its service under the motto 'Work for Identity'.
KEDO has enlightened and uplifted the economic status of one Maibam Tiken Singh from Nongpok Heirok who was jobless. Being a member of KEDO, Tiken earns for his family by transporting the goods of woman vendors at Khwairamband Keithel.
He said," I am the fifth son among seven siblings in the family and we were all brought up in a poor family. Father was a heavy drunkard and we were brought up by mother with her meager income. Compelled by poverty, I joined as a Handyman of a Bus at a very young age leaving my study. With the meager income, I began helping my family. With the income from handyman job failing to meet the family requirement, I approached KEDO under the guidance of one Indrakumar. The organization warmly accepted me as their member and provided me the job of transporting goods for the woman vendors at Khwairamband Keithel. I am doing a brisk business as I earn at least Rs 300 to 400 a day.
Expressing gratitude to KEDO, he said that the services of KEDO would go a long way in helping the unemployed youths and promote work culture among people of the state.
Another KEDO member Nameirakpam Basanta from Naharup Pangong said that he can easily afford the requirements of his family by selling CD cassettes in day time and rendering service as night-watches at Khwairmaband Ima market.
Compelled by poverty, he managed to maintain his family by running a small Pan Shop at Keishampat parking. He had to leave the job as police evacuated him from the site in view of the increasing traffic volume. For a long time, he was jobless leaving the family in utmost poverty. His wife managed to help the family by selling betel leaf at temporary market shed. Later on he joined KEDO and started earning by selling cassette and as night watchman at market which could fetch him Rs 300 to 500 a day. Joining the organization could help revive his family economy, he said.
[ecwid widgets="productbrowser search minicart" categories_per_row="3″ grid="10,3″ list="60″ table="60″ default_category_id="21294227″ category_view="grid" search_view="list" minicart_layout="MiniAttachToProductBrowser"]