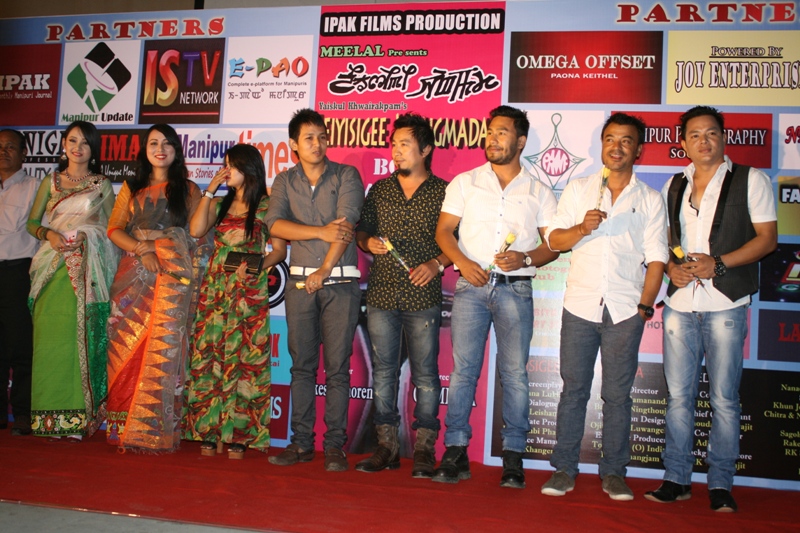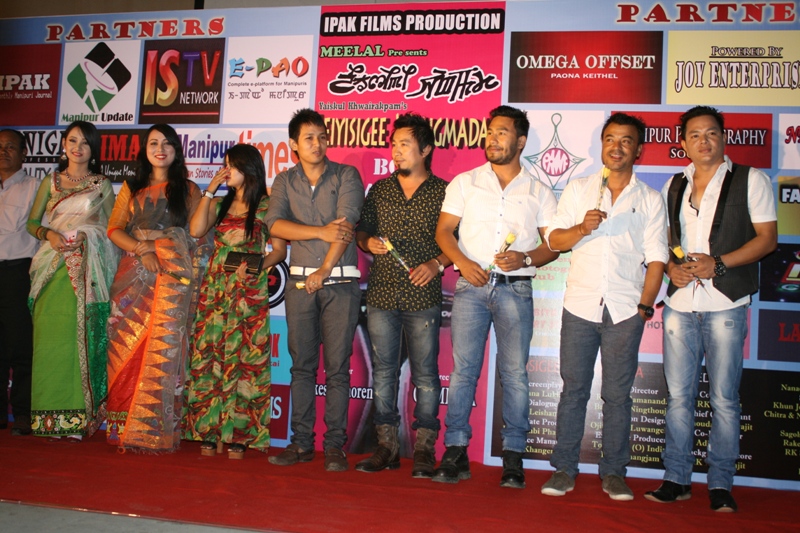 The highly anticipated premiere show of the Manipuri feature film ' Leiyisigi wangmada' the fifth offering from the production house Ipak films Manipur was screened at the highly packed Beighyachandra Open Air Theatre, BOAT, Imphal mesmerizing the audience with its touching storyline on August 30 at 9 pm.
With Manipur Legislative Assembly Speaker Th. Lokeshor as chief guest, the function was also attended by Sekmai  MLA Kh. Debendra as president, Telhou Chana ZP member T. Ratan and Imphal east Adhyaksha Th. Ibomcha as guests of honour respectively.  The premier show of the movie sponsored by the IPAK films Manipur was a grand success with more than 80 percent occupancy of the theatre.
 Ahead of the premier show, IPAK Films Manipur honored Dr. Ambedkar Kala Kshetra National Awardee L. Surjakanta and Dr. Ambedkar National Awardee RK Kaiku with mementos followed by presentation of bouquets and gifts to the crew members of the movie as a token of appreciation by the chief guest and a fashion pageant in traditional attire choreographed by Tom Nongmeikapam.
Speaking at the gathering, Speaker Th. Lokeshor said that Manipur is globally recognized for its unique talent in Culture and sports. Film is one of the best medium for conveying best to society. It plays a great role in social awakening.  That the state tops the north east states in film movement is our pride, he said.
Stating that government acknowledges the contribution of film in society, he said that the state will have its own film city and industry very soon as the government is working hard on it. Site selection and soil testing for construction of film city have been completed, said the speaker.
While spelling out that Manipur is a mini India inhabited by various ethnic communities, he appealed the people to build up confidence, bond of unity among the people so as to uplift the state.
Focused more on thematic treatment and art rather than commercial point of view, the new Manipuri feature film 'Leiyisigi Wangmada' the fifth production under the banner Ipak Films Manipur attempts to showcase the aged old historical and cultural relations between the two states – Manipur and Tripura (known as Takhel in old times). The movies tells the story of two brothers Leishemba (Rahul) and Apanba (Mahesh) whose parents had demised early at their tender age. Leishemba who loves and cares for his younger brother engages himself in any available manual jobs to earn for his family and sending his brother to school.  Apanba met with Thambal (Chitra) of Tripura when he went to Tripura for conducting research on Manipuri diaspora scattering in Tripura. Eventually they fell in love each other.
Leishemba too met with Chanchan (Jennifer) who used to look after her ailing mother Lalitabi with her earning from hardship manual jobs. The duo who met themselves at the same worksite fell in love and used to help each other in times of need. Susmita who acts the character of an Advocate and sister of a local villain Venus (Ratan Lai) too loves Apanba. Once Leishemba rescued Chanchan when a local villain Venus attempted to rape her. It provoked Venus to take revenge upon Leishemba who later on was beaten to death on the same day when his brother Apanba and Thambal came back to Manipur from Tripura. Susmita was helpless and could not reveal her love to Leishemba as and when she learnt that Chanchan and Leishemba loved each other.
Directed by OC Meira, the film is backed by power packed performance from the actors like Mahesh Rahul, Sushmita, Chitra, Ratan Lai, Jennifer, Nandakumar, Geeta, Nonila, Bidiyashowri, Lalitabi, Venus, Keke Wahengbam, Kuber,  Ibopishak, Suraj, Ravi,Ibopishak, Sunil, Romario, Keshow Irengba, Thoi are taking main roles in the film while Pakhangba,, Tamthoi, Suraj, Nisha are working as supporting roles and Jasaoda, Sushil, Thembung  and Thenao as child artistes.
 For Actress Chitra who happens to be a prominent singer in the state, she acts as main role for the first the time in her film career. The three songs in the film penned by lyricists Rakesh Naorem, S. Lakpati and RK Sanahanbi are given meaningful soul by play back singers Pushparani, Chitra, Naoboi, Nanao Sagolmang, Khun Jiban with Nanao Sagolmang as music director.
The art film is produced by Rakesh Naorem, a promising producer who had produced some art films to his credit with Yaiskul Khwairakpam as story writer, Chana Lukhoi as screenplay and dialogue and Premchand as cinematographer.