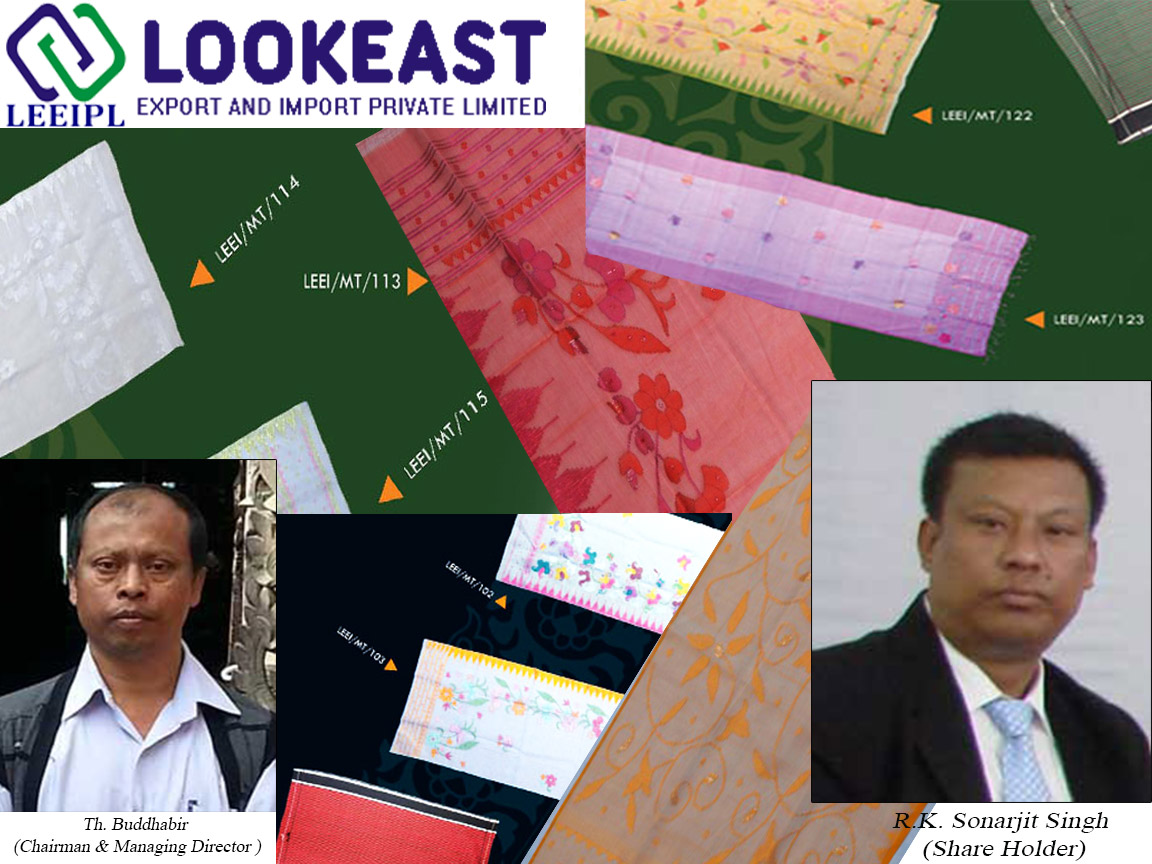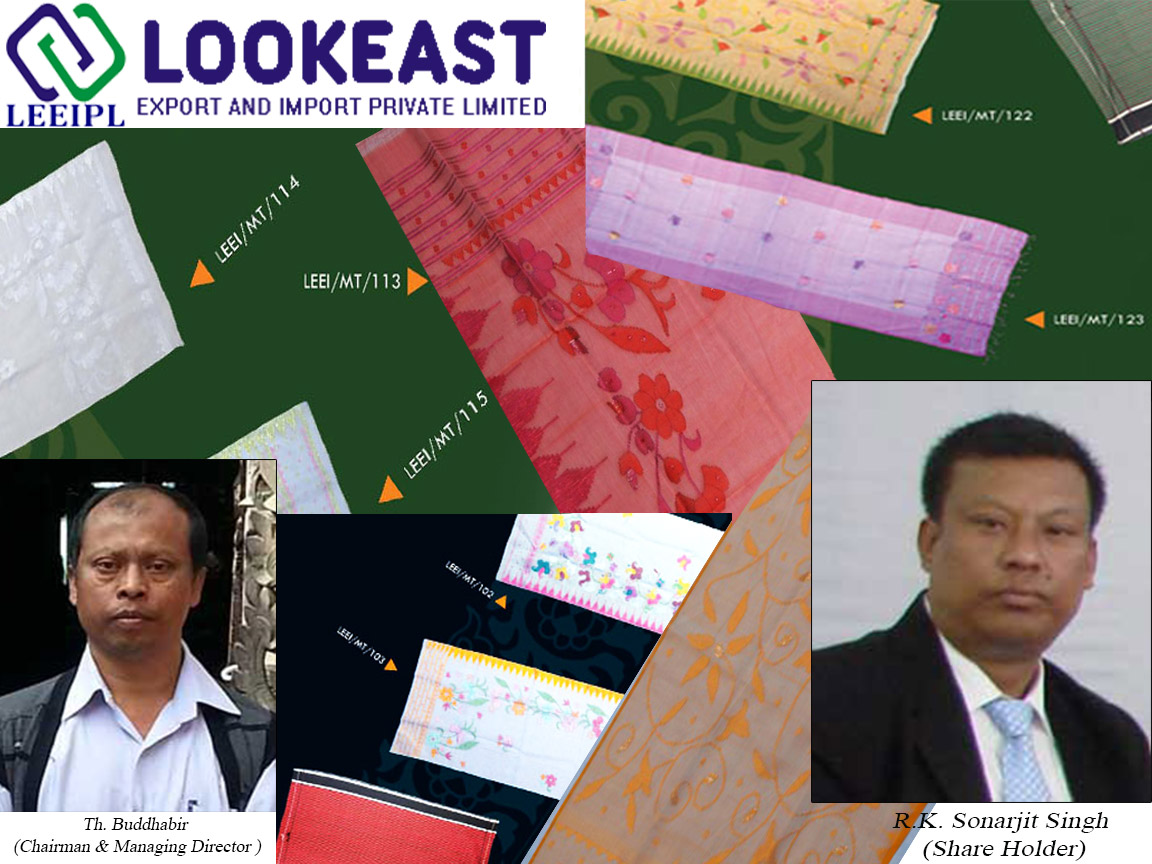 After having explored the feasibility of successful running of an export-import company in the light of opening of India's eastern corridor in terms of trade and commerce to South East Asian countries, Look East Export and Import Private Limited (LEEIPL) was established by a group of young and energetic entrepreneurs in November 2010.
The company mainly aims at exporting products like handloom and handicraft items and other indigenous products of the North Eastern states of India and importing permitted items through Moreh under Indo-Myanmar Trade Agreement, which is a part of India's ambitious 'Look East Policy'.
The company was registered at government's concerned office on April 4, 2011. The company's Corporate Identification Number (CIN) is U51909MN2011PTC008275 and Registration Number is 008275. Now the company's office which was located at Palace Compound, near Eastern ground, Imphal East has been shifted to Khoyathong traffic point.
COMPANY SET-UP
Look East Export and Import Private Ltd is being run by a board of directors/business partners comprising five men led by Thongam Budhabir as managing director. This board of directors look after the day to day business affairs of the company.
RK Sonarjit Singh, business partner of Look East Export Import Private Limited, Imphal, in an exclusive talk with the Manipur Times, said, "At present the company is working with M/S Sagolshem Materials, M/S Marina Spring, Bishnupur (Khagemba Sanabam), M/S AMRO, Khongman, M/S Hangle Industries,Takyel, M/S SP Embroidery, Khanarok Awang Leikai Weavers' Association (Shamchetshabam Piyainu), Kongpal Khaidem Leikai Weavers' Association (Ningthoujam Ongbi Mamata Devi), and Angtha Mamang Leikai Weavers' Association (Laishram Naobi Devi) as business partners".
PROVIDING LOAN
So far, the company has invested loan to atleast 50 women weavers of Kongpal, Angtha and Khanarok village for production of handloom materials such as Rani Phee, Muka Phee, Phanek Mayek Naiba and so on. The handloom products made by women weavers are collected by the company and exported to other countries. The company procures packaged drinking water bottles from Marina Spring, Bishnupur in bulk and sells it to Myanmar via Moreh, the border town of Manipur. In the same way, the company collects various items of spices from Hangle Industries, Takyel, plastic tanks from AMRO Company, Khongman, Rhino sheets from M/S Sagolshem. These products are bought from different companies at wholesale rate and exported to other states by Look East Export Import Private Limited, Imphal. Besides, the company has signed an agreement with SP Embroidery to export cotton Lungi dress to countries like Myanmar and Thailand, he said.
For the first time, the company is planning to display various Manipuri handloom products made by women weavers of the company during Manipur Sangai Festival starting from November 21, 2013.
COMPANY'S SHOWROOM AT MOREH
For displaying and selling various items/products made in Manipur to foreigners, a showroom of Look East Export Import Private Limited has been opened at Trade Centre, Moreh. The showroom will make available many items produced in the state.  
"Our company purchases products from local companies at wholesale rate and transports it up to this showroom at Moreh. Then the company's trucks bring back permitted foreign items from Moreh. Besides, export-import service, the company is planning to work as a construction company by inducting competent engineers. Since the investment of the company is now poor, the construction section is included in the company to earn more revenue so that it can intensify its business growth", he said.
INCEPTION OF THE COMPANY
RK Sonarjit, member of the board of directors, participated in the North East Business Summit held at Bangaladesh and Kolkata in 2011 representing the company. The company is affiliated to NETFI and has applied for financial assistance from it. However, no financial assistance has been received so far.
"Actually, I did not have any idea about the functioning of a company at first. Under the guidance of Dr Thokchom Nirodkumar Singh, who was working in a Thailand-based company, I learnt how to run a company by staying at Thailand for four years. As for the present, our company is unable to expand its business because of shortage of money and other necessary infrastructures and manpower. However, it is expected that our business will flourish by 2014 and it will be one of the biggest companies in the state after some years. There are less numbers of big companies in the state at present. Our company has well experienced persons. But we are unable to promote and expand our business because of financial and manpower constraints. We have a plan to export all the indigenous products manufactured by local companies or factories but our dream cannot be materialised due to lack of financial support and manpower. Except some products of handloom, food items, packaged drinking water bottles and plastic tanks, we are unable to export other items. The company's business can be improved sooner or later if it is financially sound", he said.
CLOSING REMARKS
Service sector or labour class in Manipur is very weak while it is very strong in Myanmar and Thailand. For bringing economic growth in the state, coming out of many entrepreneurs is very important. When the state has many entrepreneurs, which would provide jobs to many people, headache of unemployment problems faced by the government can be minimised to a great extent. As such, state needs to encourage the entrepreneurs, he observed.
More about the Limited
Motto of Look East Export and Import Private Limited: "SUSTAINABLE DEVELOPMENT THROUGH COOPERATION AND COORDINATION"
While the board members of the Limited are Th. Buddhabir(Chairman & Managing Director), Sarangthem Homeshwor Singh (Share Holder), R.K. Sonarjit Singh (Share Holder), Maishnam Romesh Luwang (Share Holder), R.K. Sonachand Singh (Share Holder), Yumlembam Kangleinganba (Share Holder), the Executive Members are Seram Sureshkumar Singh (MBA (Marketing) Management Executive) and Sukumar Haobam ( Design Consultant).
Website:  http://www.lookeastexportimport.com/