Mosquito nets of all type. bed sheet with sponge or plain, mondum montek, blouse, tops, enaphi all that is required for a lady during wedding is made available at an emporium where people can step and get exposed to varied designs and need no hunt for a piece to another scaling the whole market here is Ranjana Emporium at Sagolband Moirang Leirak.
Ranjana the lady behind the emporium have received State Award in Embroidery section during 2006-07. Sabitri National Award for Embroidery in 2007, Dr Ambedkar Fellowship Award 2007, and first position in an exhibition held at Hapta Kangjeibung 2008, and just recently Chief Minister of Manipur handed over entrepreneurship successful women award with a cash prize of Rs 5 Lakh in 2013.
Early Sewing Days 
"It was in the year 1997/98. Sumila a classmate of mine suggested me that tailoring is a good earn. After graduation, I started sewing machine and asked my father to get me a tailoring machine, which he did. While I focus on varied designs Sumila was interested in Phanek Lonba design.
My mom use to run a shop from where I found a painting of a flower in a notebook some people have sold off to the shop. I copied and embroider the flower in the mosquito net. It was like a gift from God the print design was a huge success.
I learnt to stitch on my own. Product demand was high and we formed a group. Ranjana from Wangjing a relative of mine and a lady from Naharup was my first team. We three started sewing and the demand grew even more. In 2006, I got married. I brought all that I sew like four faced mosquito net at my new home. The localities liked my design, so they ask for the same in starting a Khangkhan Marup. So I started sewing again.  
Then I hired three tailoring machines from Uripok @of Rs 50 per machine per month from one Eche Tombi. The four machines were occupied by Bae and Anita from Uripok,  Bebe from Keishamthon and Kamala from my locality Sagolband.  I trained them in 2007.
In the second batch I trained Bidya, Devala, and Kavita from Ghari. Mosquita net, bed sheet, Embroidered Enaphi, blouse were quite popular that time.  Nowadays embroidered enaphi is less demand in the market. We hardly sleep those days", narrated Ranjana memorizing her stepping stones.  
Maturity
"I upgraded our work shed with an electric sewing machine and my students were excited. Slowly I got equipped with multiple electric sewing machines. A three month training batches started rolling out. Now my work shed has around 80 electric sewing machines and a big generator.
I have trained students from almost all parts of the State Moirang, Churachandpur, Jiribam.  So far more than a thousand students were trained. Some of them have started their own business at Thoubal, Urembam, Malom, Wangkhei, Keishampat, Khurai, Pangei, etc", says a happy Ranjana.
Outputs and earnings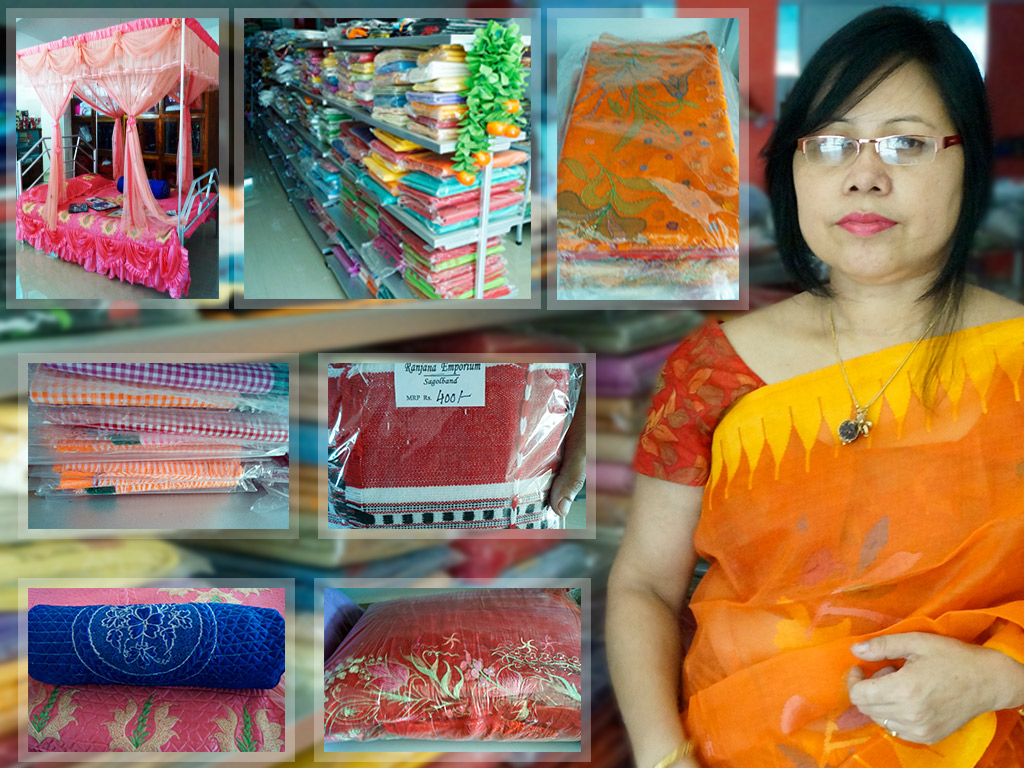 "My work shed became smaller so we shifted to Wangkhei Thambalkhong. In the beginning our showroom was small. Now has also expanded. Those days a wedding set cost around Rs 6500. A set comprising two mosquito nets, two bed sheets, and mondum montek. Nowadays it costs around Rs 22 to 23 thousand.
We use to deliver 5 sets a day after huge working hours in earlier times. We use to fetch raw materials from the bazar in smaller quantity and run around to get the next supply. All the print designs are done by my husband so it is very helpful. He is a very skilled in drawing. He is Phurailatpam Badudev Sharma and the award winning 'Khambana Kaophaba'  design work which won the State Award was drawn by him.
From 2006 till now 2014 I have successfully carried on my business and we are even earning better than a government employee at present. We can make a living easily with the handloom and handicraft industry.
In a month we have lots of products ranging from cushion pillow cover to Kauna products. A person can complete a four faced mosquito net in two days. So production is good", says an enthusiastic Ranjana.
Raw Materials
Materials are from outsides the State, thread, clothes everything. During Bandh blockade time the embroidery centre had to face as lot of trouble as they ran out of materials. They cannot met the customers' order. They tried their best mean to procure material by seeking help while transporting the same. Most of the raw materials come from Delhi and Ludhiana.
Cotton Sari full, Silk sari, Half sari, Salwar, are made from the clothes weaved by phi sabis of Manipur with threads procured from outside the State.
Employment
"Current employment is huge as I also outsource for product generation to various artisans across the State. Like in Lamlai, I am working with 17 mayek naibi sabi. In Uckekon a group of rani phi sabi. On embroidery wwork in our work shed.
In my work shed at Wangkhei Thambalkhong a weaver can earn a sum of Rs 7 thousand if she works regularly and a minimum of at least Rs 3 thousand a month depending on the output. We have a rate for completing a design in a garment. Working people are less these days comparing to earlier times", continued Ranjana.
Marketing
She has her own showroom. Participation at trade fair in New Delhi helps a lot in connecting to varied potential customers. Ministry of textiles organizes such trade fair at Guwahati, Delhi etc Ranjana use to send her students with her products for participation.
Sanatomba, a Silchar based business runner use to buy her material in bulk for supply in Silchar market specially  mosquito net, bed sheet, cotton sari full, wangkhei sari full.
In Vidyawada, Andhra Pradesh where her two daughters study in School products like Cotton sari full and Salwar became a huge demand. People out there saw my catalogue so they demanded and we sent the products there.
The emporium has sold products to customers at France however they cannot go for the second supply as the customer wanted uniform designs in size for all the pieces they would be sending and the demand was in bulk. Since the working style was not fully automated machine the variation in the print length and breadth differ even in little so they dropped.
In Mumbai, they have sold Salwars after recieveing orders. In Jaipur 1200 cotton Sari were sold. They asked for the second time but limitation in the working and product output became the barrier. Most of the outside link comes from participation in Trade Fair at Prakirti Maiden, New Delhi.
Presently they keep stock and sell. When they cannot meet the order tension follows.
Ranjana wanted to expand her work but unlike the past less people are interested in the work.There are some cases where two people make a team and work on a single product and they work in uniform time as they have to stitch design at both the ends of the garments like in the case4 of a Sari Full
She said 5 years ago girls were much interested than present she often remark that the mobile phone revolution could be one factor behind girls dropping the profession as it is interruptive.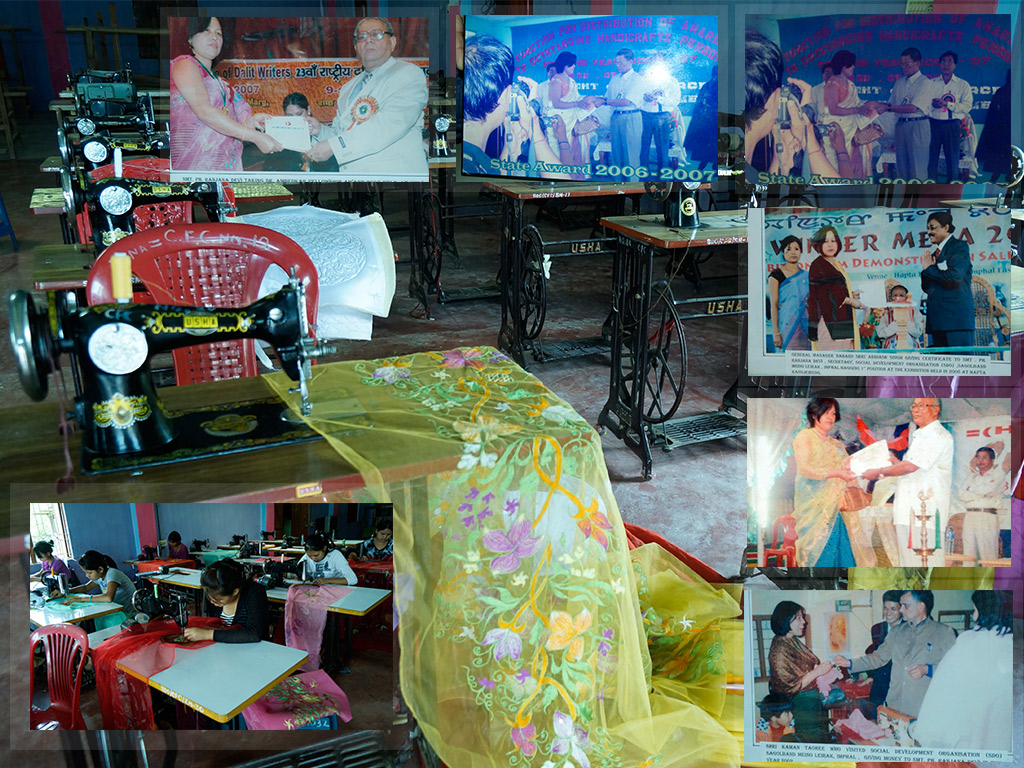 Male Vs Female workers
Sharma a guy from Delhi use to earn around Rs 30 thousand a month at my work shed. He completed two bed sheets a day which was very fast comparing to other workers. He asks for Rs 15 thousand in the beginning, which I decline and hired him on contract basis. Unbelievably he started earning around 30 k. He was very hard working. Male are stronger, outside Manipur male does all clothes making. We hardly find lady.
People from Sagar Sewing Machine Company and Usha company use to visit us and was excited at seeing the ladies working in the work shed.
Free Training Course
"Now I am running cost free training programs and presently 20 students are undergoing training with four instructors at Common Facility Centre, Thambalkhong.  Free hostel is being provided and the materials required during training are given free. When they become handy and expert we use to provide them work to embroider for which they are paid accordingly.  
Earlier we use to take money for training nowadays I provide free of cost for the interested persons to promote their talent.
Four instructors on various fields – 1) Sponge bed sheet 2) Mosquito net 3) Running 4) Ari machine", says  Ranjana with a social cause.
Fashion Show
So far, Ranjana has organized three mega fashion show which she believe was the real reason why people in large number started liking her designs. She opined that such show promotes her products and people get to know her work and after the show people started to search for her products and she continue to work on supplying the products. Her shows were organized at B.O.A.T where huge spectator turn up couple of years back.
[ecwid widgets="productbrowser search minicart" categories_per_row="3″ grid="10,3″ list="60″ table="60″ default_category_id="21294227″ category_view="grid" search_view="list" minicart_layout="MiniAttachToProductBrowser"]