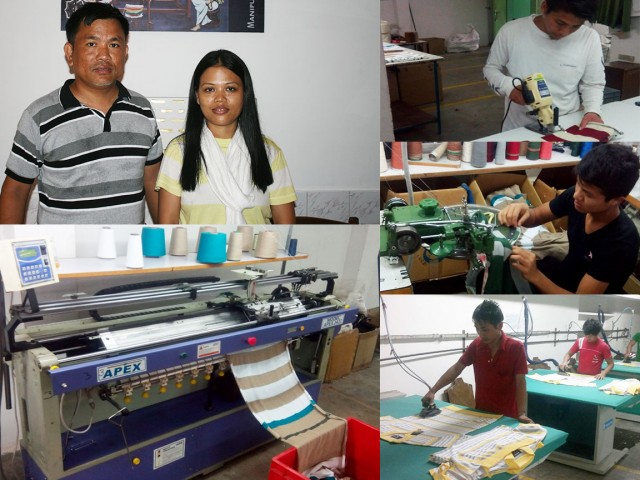 Manipur Creations is a budding textile factory based in Tirupur, Tamil Nadu purely run by a Manipuri native. The factory makes various textile garments at par with other renowned brands. The factory's brands have now arrived in the state with opening its own show rooms where many costumers have started thronging. Success story of the brand was not scripted overnight, but after experiencing prolonged hardships and struggles. Economically backward state like Manipur used to throw out 2/3 crores of Rupees on expenses for buying textile garments every month from outside companies. Manipur creations having a monthly sale capacity of Rs 35 lakhs has now landed in Imphal with a vision to save the huge amount to be drained away from this poor state and replace the outside brands with our own brands.
The Manipuri native who runs a textile factory in Tirupur Tamil Nadu is none other than Koijam Vasunraz, son of Koijam Ibochouba  hailing from Singjamei Oinam Thingel. Compelled by his passion for entrepreneurial spirit, this self made man, textile entrepreneur left his further studies and opted for business venture defying the aspiration of parents.
Start of entrepreneurship journey
After completing B. Sc (Microbiology) in 1998 from Oxford College of science Bangalore, he ran a shop at Bangalore. Once he heard about Tirupur selling attire like T shirt at very cheap price. Compelled by his passion, he along with a friend, one Mr Chaoba (now well known person as Paojel Chaoba) visited Tirupur where the garment products were available in very cheap price. It pricked his mind to start a business. He returned to Bangalore and borrowed his girl friend's gold chain who was also pursuing studies there, mortgaged it for money with which he procured textile attires in bulk from Tirupur. He opened up a Garment shop at Bangalore and could earn a lucrative profit.
His parents, relatives and friends were shocked to know that he was running a shop at Bangalore instead of pursuing studies. They strongly criticized him for taking up business. All such criticism demoralized and made him feel completely down to zero level. He came out to Manipur following strong pressures from parents. Vasunraz also did his LLB degree but left it.
He fled from home to fulfill his dream
For him, staying at home was just like a fish out of water as his aspiration of life was always in stand-off with what his parents liked. Parents wanted him to be a Government officer whereas he opted for business. He was really disturbed staying at home. He even considered his close relative and parents as his biggest enemy.
Comple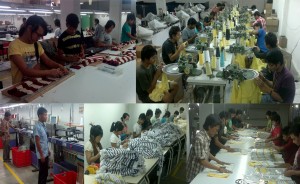 tely disturbed with staying at home, he, on 9.9. 1999, left home with just around Rs 500 cash in hand. He first visited his girl friend's house in a bid to accompany her in his Tamil Nadu journey. Unfortunately, he did not chance to meet her as the later was hospitalized for appendix surgery that time. Frustrated, he left the place and went straight to Churachandpur where he stayed in a hotel there. From there, he contacted his girl friend in hospital with the help of a Nurse through phone. They both met at Churachandpur hotel. After selling out the gold chain of his girl friend at around Rs 14000, they moved to Tirupur braving all sorts of obstacles and difficulties on the way.
Hardship life faced at Tirupur
The couple landed in a strange land 'Tirupur, a district of Tamil Nadu best known as the `textile city` of India, where English and Hindi are not spoken except Tamil language. All the money they had was running out in the journey except Rs 2000 in hand. Out of it, they bought some cooking utensils, Kerosene, a mat and some kgs of rice, spent Rs 400 as house rent. The meager amount of Rs 2000 they had was the only deciding factor for their survival and the success journey of today. For days, he was jobless and could not find any way for earning. The couple even decided to get suicide when the moment they had no other option for survival after the amount got completely run out. They subsisted on just one square meal a day. Many times, they starved.
Turning point after working with Mehta export corporation
Just to survive, he worked in packaging works and swept floors. As good luck would have it, he joined the job interview of a company Mehta export company. His joy knew no bounds when he was appointed as Sweeper supervisor. The company boss Bharat Mehta offered him accommodation with monthly salary. As he had no good dress, he even dared to attend office wearing his better half's trouser.  His wife also got the chance to work as a teacher in a local private school with the help of one lady staff colleague Chitra. A turning point came to the couple after this.
Within four months time, Vasunraz got promoted to Administrative Officer from his sweeper supervisor post by dint of his capability and dedication in works. Later on, he was promoted to General Manager of the company.
"In fact, Bharat Mehta is my real god as he played a key factor behind my success journey  beginning from a zero level. I will not forget him till my last breath", Vasunraz said.
Birth of Manipur Creations
After working with the company for some years, he thought of starting a business of his own. He set up his own business enterprise titled 24X7 checking centre in 2008 which deals in checking of finished textile products and cutting threads. He engaged some Manipuris in the business. In 2009, he tied up with international trading company to start production under partnership mode. In October 2013, he initiated Manipur Creations at Tirupur after having shattered ties with the trading company. There, he has a work staff of more than 200 employees comprising mainly Manipuris. In his new factory, Manipur Creations, he manufacture such designer apparel with the Brand names like Van Heusen , Lifestyle , Pantaloon, Polo etc. He then  launched his own Brand with the Name "MANIPUR CREATIONS" in 2014 .The apparels are designed by his better half, Koijam Sanjita who always supported her husband all the time.
With the Employees manned by mainly Manipuris working with a competitive and dedicated spirit, Manipur Creations could compete with other popular brands there. Manipuris are energetic and have a tendency of strong working will if they are motivated and convinced fully. It is wrong perception that Maniouris are lack of work culture. Credit of my success venture goes to those Manipuri staff possessing the will of fight back, he said.
Advent of Manipur Creations in Manipur
He returned to Manipur to build a textile factory and he has opened his showroom at Thangmeiband ipposite to DM college campus and Thoubal with his own brand titled `Manipur Creations. Apart from this, he has acquired land measuring about 25,000 sq feet at Phumlou Siphai, Lamshang, Imphal West for building his factory . The construction work of the said factory is going on a very fast pace. He is also planning to expand his business by opening show rooms at Kakching, Bishnupur, Churachandpur, Moirang, Senapari and Chandel.
Acknowledging his initiative, state Government has also recently provided him with another 10,000 sq feet of work space with dedicated power supply at Takyel Industrial estate. He confirmed, his Takyel factory will be inaugurated in the month of August this year (inaugurated while we are making this article). This will be first well established Hosiery garment in North East with all the latest Machinery.
Message to people
Opening up of such a textile factory in the state is not entirely about profit making alone but to start an industrial revolution assuring jobs and promoting the State through its colorful attires. We have produced garments at par with other renowned companies. We will compete with any other brand available in Manipur. The theme is to promote the handloom and handicraft of Manipur, my showroom design is based on our cultural heritage, the straw roofing and the bamboo, cane etc. used is to further promote the craftsmen who are dying out due to unemployment. He added that his carry bags are also made from recycled paper to conserve the environment.
[ecwid widgets="productbrowser search minicart" categories_per_row="3″ grid="10,3″ list="60″ table="60″ default_category_id="21294227″ category_view="grid" search_view="list" minicart_layout="MiniAttachToProductBrowser"]