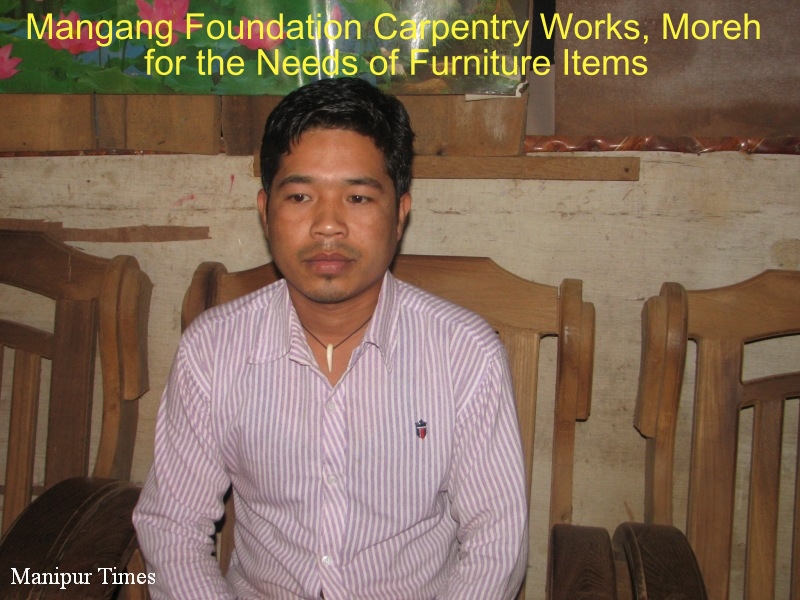 Moreh, a border town of Manipur sees good trade of furniture. On a daily basis, hordes of furniture are driven to Imphal from Moreh on demand from customers.
Among the other tradable items from Moreh, trading in furniture is a highly profitable business opportunity.
With woods being imported from Myanmar (Burma), Mangang Foundation Carpentry Works which is located at Moreh town is crafts doors and windows for housing purposes. At present, the foundation sells windows for Rs. 5000 to Rs. 6000 a piece and doors for Rs. 7000 to Rs. 8000 a piece.
Sanasam Sunil, son S. Ibomcha hailing from Irengbandunder Kakching of Thoubal district looks after carpentry works at Mangang Foundation located at Moreh town. He has been in this business for the past 7-8 years.
Sunil said that he worked as a carpenter in some other firms before he set up his own. He learnt all the good skills of carpentry and trade on earning profits as well. Traders of Moreh can earn good profit as several customers from Imphal thronged Moreh to buy furniture. Customers do not throng at Moreh because of the good designs, wood carvings but because the wood timbers imported from Burma are cheaper than Manipiur. The furniture items brought from Moreh are again modified in Imphal. Sunil's carpentry works earn a profit of Rs 20, 000 to Rs. 30,000 to the least.
At present, Mangang Foundation employs 6 carpenters. These well experienced carpenters make those various models of Doors and windows for houses. The workers are paid as per their volume of work.  The wages of a carpenter is fixed as per square feet. He gets Rs. 50 to Rs. 70 per squre feet. The rate differentiates according to the intricacy of the designs. A well experienced carpenter can earn Rs. 500 to 600 a day while the beginners earn at least Rs. 300 to Rs. 400 a day, he said.
To make a complete a window or door of common sizes, it takes about two and half days.
Carpentry works at Moreh - Gallery
Photo Credit: Manipurtimes
32 years old Sunil, passed matriculation from Kakching Yumbimacha High School in 1995. Among his five siblings, he is the youngest and is a bachelor. With the earnings from his carpentry works, he supports his family living at Kakching. His father is a peasant and the meagre income of his father could not maintain the family. He also could not continue his further studies. He sought for jobs wandering around. He dabbled in various odd jobs.  At last, he, along with one of his local uncle, came to Moreh for carpentry works. With the earning from it, he saved little by little and dreamt of setting up a furniture firm of his own. His dream of setting up an own furniture firm materialised with the capital investment of about two lakhs rupees, he narrated.
For his furniture industry, teaks and Khewu are imported from Myanmar. He purchased them at the rate of Rs. 700 to Rs. 800 per KB. Teak and Khewu are the best timbers for making furniture. Burma is a country where Teaks and Khewu trees are available in plenty and sells out those Teak and Khewu Timbers at a cheaper rate. This is the main reason as to why many customers of India particularly the Manipuris throng Moreh to buy Furniture items. Truck loads of such woods are imported in India daily, he observed.
He says that he has not included other furniture items like Almirah, Bed, Chair etc, as his firm lacks the well experienced carpenters in this field. Many skilful carpenters left Moreh due to the scorchy weather and thus, making of furniture ceased and could no longer be made available to the esteem costumers, he said while adding that almost Manipuris lack work culture and tolerance. All the workers who are presently working in his firm are from Moreh out which one is from NingthiMeetei Village of Burma. He comes here daily to work by crossing the Indo-Myanmar Border.
"For achieving a success, work culture, tolerance and good temperament are the essential qualities of a man. Without these, success won't come to him automatically. In view of the increasing demand of the costumers, I dream of expanding my business with addition of some other items of furniture. If my firm can produce more furniture items with a more beautiful design or carvings than others, there is possibility of earning good profit because the items available in Moreh town cannot satisfy the costumers so far. I need some well experienced carpenters from Imphal ", he said and appealed to come to Moreh to work with him.