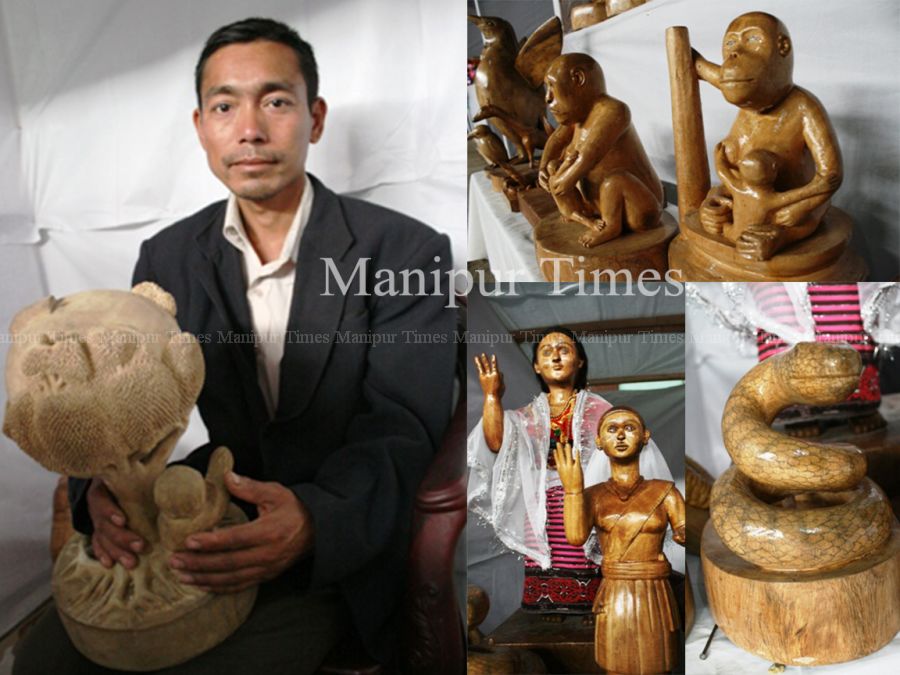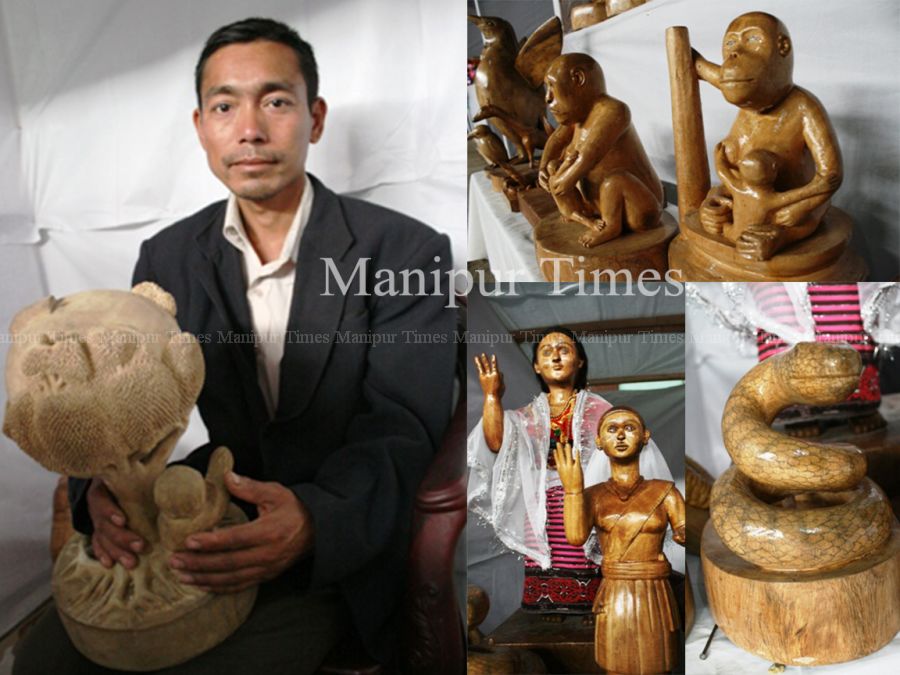 Human activities like rampant cutting down of trees, smoke emission from vehicles and industries etc have threatened the environment of the mother earth leading to global warming. In fact, global warming has been a global issue now and almost all the countries of the world, which are concerned with global climate change and environmental degradation, are taking up various measures for safeguarding environment. In the light of this, Thongam Bhumeshor, a woodcraftsman by profession, too is trying to convey the whole world a message  to save the degrading environment through his wood sculpture works entitled, 'Trees upholding the earth'. 
Thongam Bhumeshor Singh, 38 years, son of Kunjabihari Singh from Konthoujam Kangjeibung Mapal, Imphal West is a successful woodcraftsman who has been continuing his wood carving job since past many years.
Prior to this profession, he used to earn for his family by working as a carpenter and went many far flung villages for construction of houses and furniture items. In the journey of his life, he has even worked as a helper of a local rice mill and electrical fitting works.
"Once, I heard a news about Maldives Government holding its cabinet meeting underwater highlighting the impact of global climate change. Though I lived so far, I was so concerned with the fact that the island country would be under water after some years with the increase of global warming and sea water level. I wanted to do something to safeguard the environment. This is the main inspiration behind my work of art", maintained Bhumeshor during an interaction with the Manipur Times.
IBOMCHA'S GURU
In fact, he got the knowledge of wood carving art from one Laishram Ibomcha Singh of Sagol Tongba, who is a painter and craftsman by profession.  Basically, Ibomcha used to make earthen pots and other crafts items. As a child, Bhumeshor used to go to Laishram Ibomcha's house to see his making of earthen toys and pots. It inspired the young mind of Bhumeshor to be a woodcraftsman in future.
Creative art and painting have been the passion of Bhumeshor since childhood. Hence, right from the age of 16 years, he started his venture on wood carving. He adopted the craft inspired by the workmanship and for earning. Bhumeshor began his craft journey by exhibiting his creations at small exhibitions and events. Under a project, 'Guru Shikshya Parampara', he is presently providing training to at least seven local boys.
He is the youngest son among three siblings. He is a father of three children now.  He passed matriculation from Free Progress Academy and passed Class XII from Western College. He even took part in many social activities and worked for the welfare of the student community as a General Secretary of the college.
"Since the customers of wood carving items are fewer as that of other business, artisans working in this field hardly get good income. There is no regular customer for this business. Those who are interested in such items only pay a visit to us for purchasing the items of their choice. Basically, women are our regular customers as they, in comparison with men, are more interested in craft items. We get more money when somebody asked for supply of the items in bulk quantity", added Bhumeshor.  
Pleased with my works, PHED Minister Irengbam Hemochandra once purchased a wooden money box designed in the form of a tortoise from me. He said, "Hemochandra always comes to purchase my items whenever I design any new item".
IBOMCHA'S WORKS
Thongam Bhumeshor's crafts include wooden sculpture works depicting famous Manipuri Maibi dance, Ras Lila, a mother breastfeeding her baby, Manipur under the clutches of AFSPA Act and many others.
Apart from all these designs, the most enthralling carving item he has designed is the motif depicting the present burning issue of global warming. His sculpture "trees upholding the earth" conveys the whole world the message stating that all the living beings on this earth cannot survive without the trees. Trees are very important for survival of all living beings without which life is impossible on the earth. Bhumeshor is planning to take part in the international level competition with this particular woodcraft item.
TYPES OF WOODS
He said that the timbers locally known as Wang, Heijuga, Tairen, Mango tree and Teak are mostly used for woodcarving works. Fully matured trees are cut down and logs are seasoned naturally for two to four months in order to preserve the original colour of wood. Wang wood never cracks before or after a carving and is lightweight, whereas Heijuga is weighty but does not warp, if properly seasoned. Carving is done in the ancient traditional motifs of Manipur culture.
The woods are mainly procured from the local saw mills at the rate of Rs350 to Rs420 per KB. Among the wood varieties, the price of Uningthou is higher and the woodcraftsmen purchase it at the cost of Rs700 per KB. He has displayed his woodcraft items in many festive fairs in Delhi, Kolkata, Rajasthan etc.  He could sell and make a good profit during Manipur Sangai Festival. 
 "We design our wood craft items manually using ordinary tools without using latest machines. As a result of this, we, the woodcraftsmen working here, cannot make the design was we intend to. As the latest machines that other people of the outside states are using for the woodcarving works are not available here, it takes more time to finish the work. We also do the designing part with our own hands. Due to this, we used to find it difficult to compete with other states, he said.