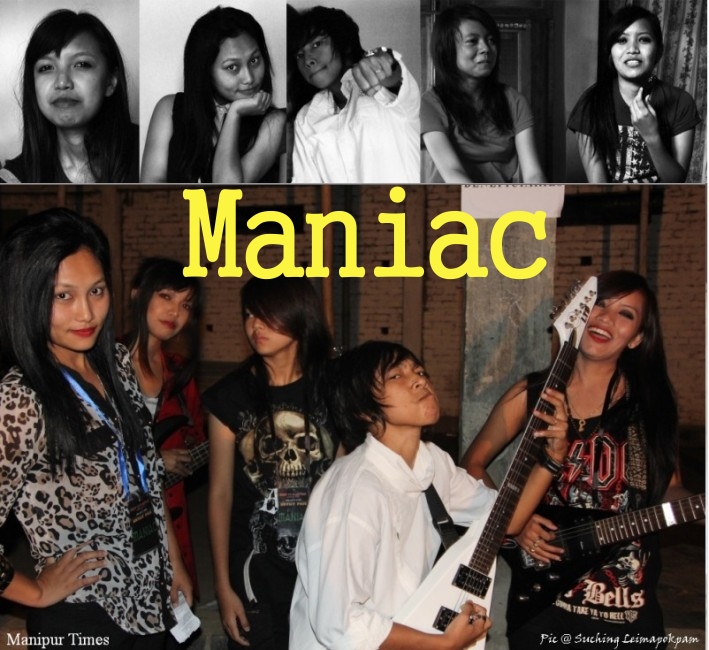 Maniac came to the scene and there was a big cheer. Good happy crowd, it's good to have a ladies band here expressed many. The evening was warm and happening. The band was confident, Kelly in her best vocal swung the crowd. There was an excellent beat from Goldie, Roxy gear up the Rhythm and Deepika string the Lead while Nancy did a smooth Bass.
It was bedazzling, some of the crowd hardly place their foot on the ground. With every musical note and the song pumping their nerves the rhythmic jump from them gave a real taste of the scene.
The colourful lights gave the aesthetic ambience and the smoke that aired out from the stage was a fusion. Added with music the zone was filled with a sensation. The performance from these young ladies mesmerised the crowd.
Dressed up like their counterpart boys the talented girls played cover songs from Judas Priest – Breaking the Law, Eye of the Tiger from Survivor and Zombie from Cranberries. Manipur have experienced a matured rock show from a girls band was the talk of the night.
"We would like to express our insanity with music so is our band named Maniac" says Goldie.
And  to tell you the band members are all young and some of them just cleared the Higher Secondary and is about to get admitted in College. They all love music.
"When I wake up I listen to music" says Kelly.
"Music is my life" Roxie quoted.
" My elder brother use to play guitar and I learn the chord that's how I started playing guitar" narrated Nancy.
Kelly started singing when she was just 6 years old, her grandpa who can sing and play music well is her big influence in her music career.
Deepika who play lead was trained by her brother Deepak who is popular bassists in town.
We will perform so long as people support us says Roxie. Nancy narrated "I met Roxie at College and I was so glad that she also play guitar".
Both Nancy and Roxie attended Guitar Class from Geoffrey who has a lot of music composition of his own. They attended classes at Goeffrey's residence, Keishampat.
We were searching for each other, finally we link up and the band started a month back. We are happy to form our band with luck and faith. We feel so nice together we always wanted to have a band and our dream is accomplished expressed the band members in an interview with Manipur Times same days back.
We are jamming together, we also practice at our own residence in free time and we plan to come up with our own original numbers highlighted the band
There was an offer from Narcotic Annonymous for a North East Tour right after the Road to Rampage concert,we felt good that people like our performance. But we have not decided yet to tour this time.
Maniac Band Members :-
Goldie (Drummer) who held from Singjamei Mayengbam Leikai  is 17 years old – "I learn drum from one of my brother's friend Dinesh Saikhom who is a drummer at 'Giga Haz' a Bangalore base band. He fetched me all my instrumental kits besides training. I played drum at my home since the last three year. My mom bought me my drum.
Road to Rampage was my first Stage performance and I feel good.
My brother use to play guitar for a band but has to leave for further studies."
Roxy (Rhythm) who held from Singjamei Thongam Leikai is 20 years–  " I played rhythm since 6 months. I like listening to music since my childhood days. My younger brother has a guitar and I learn a bit from him".
My Hobby – Playing guitar watching football, and dancing.
Kelly (Singer) who held from New Checkon is aged 18  – "I started singing when I was 6 years old. My grandpa has a tape recorder we use to rewind and listen. Our family love music and sports. My idol is Celine Dione she is unbeatable to me.
I have performed in solo and duet songs in Kut Festival, 2009.  We use to have a keyboard and guitar at home and we usually sing together
I was about to sing for our Catastropic Band at Man Fete Manipur University some years back but the function was closed as people started fighting. The band got dissolved.
Road to Rampage was my first rock performance"
My Hobby – singing, playing badminton.
Nancy (Bassist) who held from Sagolband is aged 22 –  " I use to play guitar with friends at home.  In the beginning it was self-learning, been learning guitar since the last three four months. My family did not support me much but they allowed me to attend Guitar classes. My parents allowed me to perform in the Road to Rampage Concert and I was so happy that I am able to feel the crowd at my performance. Now I got the green card of performing from my parents".
My Hobby – listening and playing guitar
Deepika Ningthoujam (lead) who held from Wahengbam Leikai is aged 20 – "Since my childhood, I play music. My forefather ' Ningthouja Naba Volume was a popular artists.
I was a State Champion in NE Superstar contest and I have attended concerts sponsored by ICCR & NEC held at Shillong and DDK programmes, I have also performed at Man Fete. I am also a singer.
My Hobby – playing guitar and singing, music is everything to me.
BAND MESSAGE TO THE YOUTH :  SPREAD LAUGHTER TO EVERYONE.
When asked about the economic aspect of the band in Manipur
" We felt like  Manipur is happening nowadays in regards to Western music. Performance and the concert frequency are up. We do not dream of earning fame or profit but with the little amount we might get from the concerts and events we would like to invest in improvising our instruments and for the welfare of the band members at the time of health issues if any".