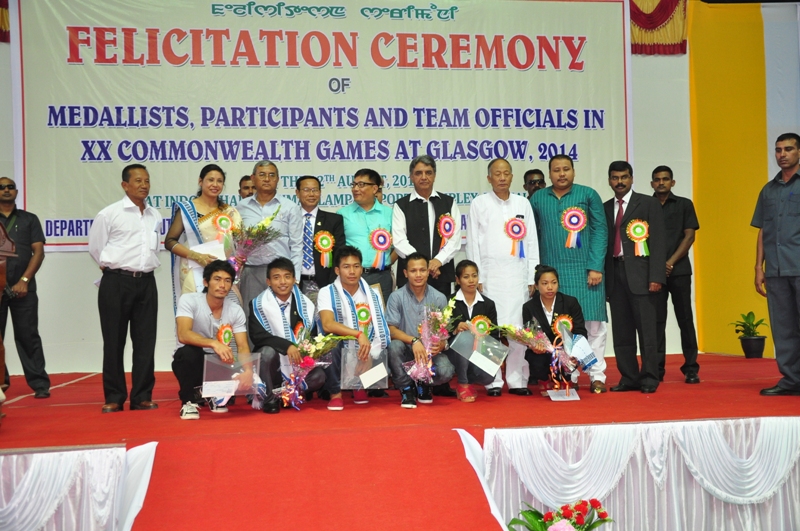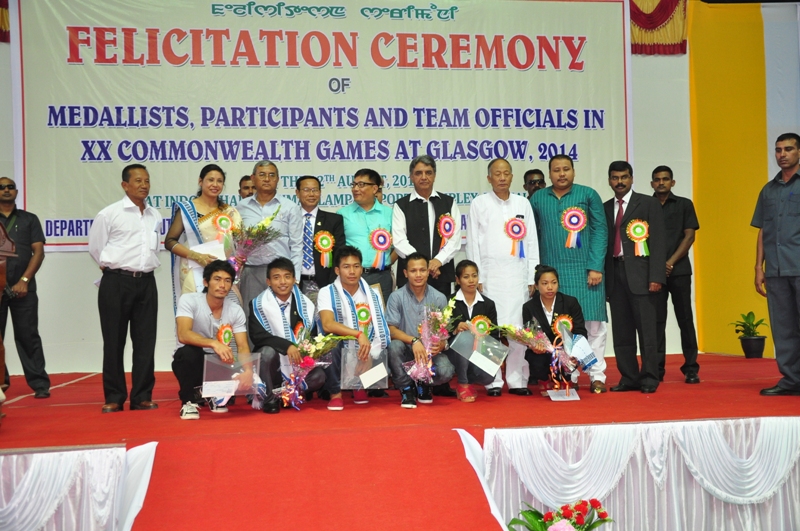 Guv says, Fantastic achievement of state sportspersons makes the entire nation proud
Imphal, Agust 12: Manipur government Tuesday warmly felicitated the state players who won medals including participants and official team in the 20th Glasgow Common wealth games during a grand reception ceremony held at indoor stadium, Imphal here.
Eight medalists – Khumujam Sanjita Chanu of Kakching Khunou (Gold medalist , 48 Kg  in weight lifting), Saikhom Mirabai Chanu of Nongpok Kakching Lai Maning (Silver medalist in 48 Kg in weight lifting), Likmabam Shushila of Heingang (Silver medalist in 48 Kg in Judo), Laishram Devendro of Yurembam (silver medalist in 49 Kg in Boxing), Laishram Sarita of Thoubal Khunou (Silver medalist in57-60 Kg in Boxing), Kh. Kothajit of Lairikyengbam Leikai (Silver medalist in Hockey), K. Chinglensana Bashikhong (Silver medalist in Hockey) and Thoudam Kalpana of Canchipur (Bronze medalist in Judo) were felicitated with  handing over bank cheques amounting 15 lacs, 10 lacs and eight lacs respectively according to medal grade.
An amount of Rs.2 lacs each was also handed over to the participants – Yanglem Sunita (Cycling), Pukhramabam Shushila (woman Hockey), Thokchom Anuradha (Hockey), Chongtham Jina (Judo), Huidrom Sunibala (Judo) and Ramananda Rajbihari (Swimming). Officila team comprising Dr. S. Santikumar, N. Kunjarani, Ksh. Tingongleima and I. Goutamani were also honoured with two lacs each.
With Manipur governor VK Duggal as chief guest, the function was also attended by Chief Minister O. Ibobi, PHED Minister I. Hemochandra who is also president, Manipur Olympic Association, Parliamentary secretary (YAS) M. Prithiviraj as president and guest of honour respectively.
Speaking to the gathering, Governor VK Duggal applauded the players for bringing laurels to Manipur while making the entire Indian nation proud with their fantastic achievements.
Stating that Manipur has been relentlessly doing very well in sports after attainment of statehood and with the formation of various sports associations in the state, he expressed his desire on strengthening club movement so as to make Manipuri players' contribution and achievement a second to none.
"The cash awards come right from the feelings in our hearts and with all our blessings. It may not be fair to compare the awards among different states as some other states do not give such cash awards and it also depends on the capacity of the states. But all our support is with you fully and totally. All atheletes and sports lovers will know that in some respects is going to offer even bigger challenge and the urcompetition is going to be tougher.  Our athletes will excel  there  also through their hard work dedication and importantly the desire to win," said Governor.