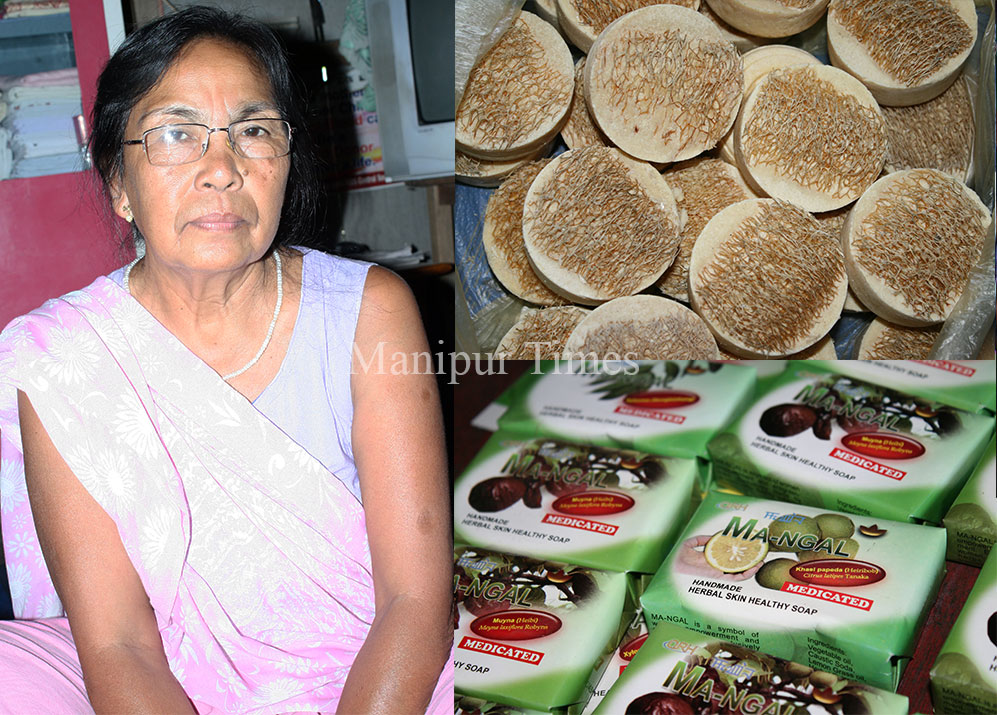 Manipuri women plays have been a major contributor in the socio-economic and cultural life of the state. Several Manipuri womenfolk are seen selling vegetables, fruits, fish and other items in the market or along the roadside to earn and send their kids to school with their little earning. Even in the field of entrepreneurship, they are not lagging behind the male counterparts. One such entrepreneur is Khumujam Jina, proprietor of Our Rest House and an iconic woman- entrepreneur who makes soap and provides jobs to many women.
Local and Indigenous fruits as main ingredients
Jina makes varieties of soaps under the brand name of Mangal with the extracts of locally available fruits and herbs like Heibi (Meyna laxiflora Robyns), Lemon, Nongleishang (Xylosma), Sangbrei (Laminaccae), Neem, Heiribop (Citrus macroptera), Cuccumber, Turmeric, Kekru, Koridak. She has innovatively used such locally available herbs and fruits which are traditionally known to have positive health benefits in her old process of making soaps. Her soap brand "Mangal" is a symbol of woman empowerment and enlightenment. Only freshly collected herbs are used in this traditionally handmade soap.
Tough life and the will to overcome it 
Born to Late Ningombam Gopal and Tombi Devi of Tera as the eldest of four siblings – two sisters and two brothers, Jina began her schooling at Kebol Girls' High school, Tera and shifted to Tamphasana Girls Higher Secondary School from where she passed matriculation and Class XII standard. She got married to Khumujam Ingo of Khurai Thoidingjam Leikai on August 14, 1977. She is a mother of two daughters and one son. Her husband, a driver by profession, passed away recently.
With her late husband failing to afford the daily needs of a family with his little income from driving job, their marital bliss was short lived. Frequent familial squabbles, sometimes violent started occurring in the family when her husband returned home drunk. "With my husband indulging in alcoholism, our family condition worsened more and more to the extent that it was a hard time for me to meet both ends meet for our children. I even contemplated suicide once, recalled Jina.
Self sustaining work
With a view to maintain family, she began working on hand-knitted woollen blouses, socks and gloves, woollen dolls, embroidered pillow covers and bed sheets and gunny bags into dining mats initially. The moment she came across one Mangshatabam Subita, Secretary of woman action for development was a turning point to her life. She got the opportunity to pursue her training in soap making and other traits under her guidance. After completion of the training, she began making soap at her house using raw materials like cucumber and lemon which she procured from market at Rs.200 on trial basis. Her soap business could gather a momentum of social recognition gradually.
Another distinctive feature of this lady entrepreneur is that she has the expertise in recycling waste materials into productive and income generating items apart from making soaps. She collects discarded empty cement sacks and designs carry bags and other decorative accessory items out of it. She also makes dolls, flowers, incense sticks, doormats, does crochet. She does both hand and machine embroidery work on blouses, scarves, bed sheets, pillow covers, fan covers, almost everything used in a family. Manufacturing compost fertilizers out of rice husk, cow dung and other residues of oil refinery is also her another innovative endeavour. Her products are now widely marketed in the state whereby generating substantial monthly income.
Success after hardships
Today, Jina has become a successful entrepreneur after overcoming lot of hardships, stumbling blocks in life. The job of soap making and other handicraft items gives her a smile that conquers tears. With good support of her two daughters – Rocky and Pinky, her business can gather a momentum now enabling her to win more fans. The price of carry bags of varied sizes and designs ranges from Rs.40 to Rs.500 while soap brands are sold at Rs. 20 a piece.
Jina wishes to open up a show room for her products and a training centre. Jina has many dreams unfulfilled due to lack of financial back up. She imparts training to many women self-help groups on soap-making, embroidery works. 
Jina's venture provide jobs to many in need
According to her, those who once tried her soap brands definitely demand the product again with the positive feedbacks the costumers that the soap brands are skin friendly. Her soaps are purely vegetative, herbal based with no chemical ingredients.
Her soap making firm has been a source of earning for some other destitute poor women, like widows and those living with HIV/AIDS. They come to her house and together they would make soaps, handicraft items, chatting and laughing as if they were resting together from their individual hardships at home.
On a query as to how she managed to compete with outside soap brands already dominating the market, she said she managed to attract customers' eyes with unique quality in her brand. Her products are made available to those customers who know the quality of her product and some other local retailers.
Competition in the market
 Lamenting that Manipuri's generally lack encouragement to local products, she said," the fates of local upcoming entrepreneurs entirely depend on local peoples' support. Without their support, my business growth is lagging behind my counterpart brands thronging in local market. Either they sneer in scorn and say, ' who will use your soaps when there are many soap brands coming from outside,' or some say this is a futile work, look for other livelihood option.
"Our people disregard local products and are not willing to buy local products while  they use foreign brands costing few hundred rupees. Foreign brands are draining away money in crores from this industrially backward state. If people encourage local products as done in some other South Indian states,  economy of the state would be strengthened and provide jobs to many unemployed youths of the state. Entrepreneurs are the future of the state, she maintained.
An accomplished and hardworking Manipuri woman, 61 years old Jina could win accolades from high profile professionals in the corporate world when she exhibited wide range of creative textile designs and patterns at the Indian Institute of Management, Ahmedabad recently. Even people from USA and Australia visited her home and expressed their desire for importing her products.
Till now, Jina has neither received financial help from the government nor banks. She never pursues financial grant due to long official channel. She has no time for lobbying bankers or officials for loan as she is mostly confined to her work.
[ecwid widgets="productbrowser search minicart" categories_per_row="3″ grid="10,3″ list="60″ table="60″ default_category_id="23492072″ category_view="table" search_view="list" minicart_layout="MiniAttachToProductBrowser"]