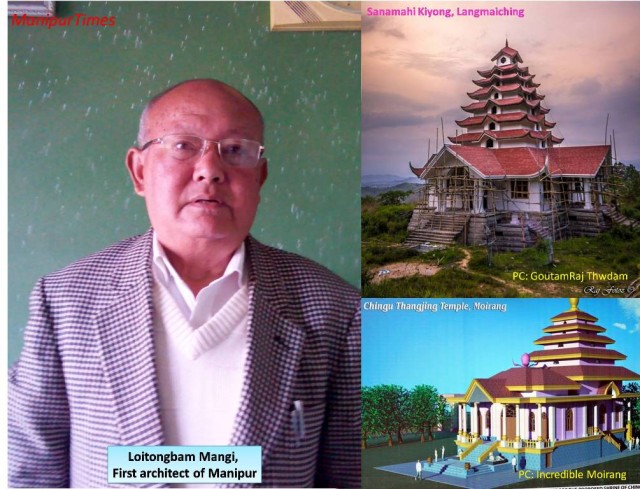 Though he is widely acclaimed in his professional circle, few people know that 72-year-old Loitongbam Mangi Singh is the first trained architect of Manipur. During his service period, he was actively involved in the design and supervision of important structures of Manipur like Shahid Minar, Kangla western gate, banquet cum auditorium of 1st Battalion Manipur Rifles, banquet cum Darbar hall at Governor's bungalow, Khuman Lampak sports complex, Pologround mini stadium, Nupilal complex, waterfall project at Loukoipat and Bheigyachandra Open Air Theatre (BOAT).
After retirement from Government service, development and construction of models of three Ima Keithels, two Kanglashas inside Kangla Fort had been performed in the capacity of one of the design committee members.
In his personal capacity, L Mangi has also designed Sanamahi Kiyong at Langmaiching, Chingu Thangjing temple at Moirang, Okram Apokpa complex at Thoubal Ningombam, Hotel Nirmala, Hotel Mass etc.
He was born at Yumnam Leikai Ngakraba Leirak, Nambul Mapal, Imphal West on March 1, 1944 as the first son of L Kalachand Singh and Thoibi Devi.
During his early days, he attended Pettigrew LP School (Thokchom Leikai) and Keishamthong High School. Later, he studied at Johnstone High School from Class VII to X. Mangi passed Matriculation examination from Johnstone School in 1959 under Gauhati University. He passed Intermediate (Science) from DM College in 1961 under Gauhati University and BSc (Chemistry Honours) in 1963 under Gauhati University.
Mangi said, "Very few people know about architecture at that time. Oja Nilamani of Sagolband Bijoygovinda was the first man who told my father that there was a new subject known as architecture. However he even didn't know much about it.
As a child, he didn't have any interest in other co-curricular activities as his mind was fully occupied by art. He loved painting and that might be one of the reasons why he was so successful as an architect in the later part of his life.
He passed Bachelor of Architecture from JJ College of Architecture (Bombay) under Bombay University in 1969. He completed PG in Town and Country Planning with specialization in housing and community planning from the School of Planning and Architecture, New Delhi under Delhi University in 1977.
L Mangi is a nominated member of the general council of Council of Architecture, New Delhi from 1981 to 1983. L Mangi is the first elected member of National Academy of Fine Arts, New Delhi from 1984 to 1989. He was also the president of Indo-Japan Friendship Association from 1995 to 1999. He is now the Architect member of Board of Planning and Development Authority, Manipur and the chairman of the governing body of Imphal Art College, Manipur.
Before he got into the profession of Arechitecture, he served Model Higher Secondary School, Takyel as a teacher for some time. However, his father asked him to go to Bombay to learn architecture.
After reaching Bombay, he came to know that a certificate in art was required for admission to B. Arch course. So, he returned home and got admitted to Imphal Art College for a certificate course. This time, he got admission at JJ College of Architecture, Bombay. However, he joined his class around one month late as he could not get information on time. Before he left Imphal for Bombay, his father sent a telegram to the authority of the college informing that his son was on the way.
When he started joining classes, he had a little bit problems in the beginning as he had missed classes for around a month. However, L Mangi is a hard worker and he did not sit idle. He collected notes from his classmates and tried to pick up the missed classes. As he is good in English, he soon became a popular student in his class. Most of the lectures were given in English and he could jot down the notes faster than his classmates. As such, most of his classmates borrowed notebooks from L Mangi.
PROFESSIONAL LIFE
He joined the Department of Town and Country Planning as draughtsman Grade-I in December 1969 and worked up to October 1971. L Mangi was later appointed as the Assistant Architect in Public Works Department in October 1971. He was promoted to Architect in the Department in 1981 and later elevated to Senior Architect on Ad-hoc basis in 1984. However, the government regularized his service only in 1991.
VIEWS ON CURRENT SCENARIO
L Mangi said, "In the State Public Works Department, there is still no Chief Architect's post. In other States, Chief Architects are empowered to function like Secretaries. And PWD Senior Architect Wing is still lack of manpower."
He opined that every engineering department must have its own Architect Section. PWD, Irrigation and Flood Control Department, Manipur Police Housing Corporation, Planning and Development Authority and Town Planning Department have Architect Sections. However, Public Health Engineering Department, Manipur State Power Corporation Ltd, Command Area Development Authority and Imphal Municipal Corporation have no such section, he added.
Mangi said that in Manipur training is given only to engineers but not to architects. Contending that an architect is a half-engineer and half-artist, Mangi said that architects have structural knowledge of a building. As it is unbecoming on the part of the State Government to neglect architects, he said.
PERSONAL LIFE
Mangi married with Haobam Ningol Ibempishak Devi on November 22, 1972. The couple have four daughters with two of them are dental doctors. Their youngest daughter is an Architect currently based in New Delhi and their third daughter is pursuing M. Phil at Ecology and Environment Wing of the State Forest Department.