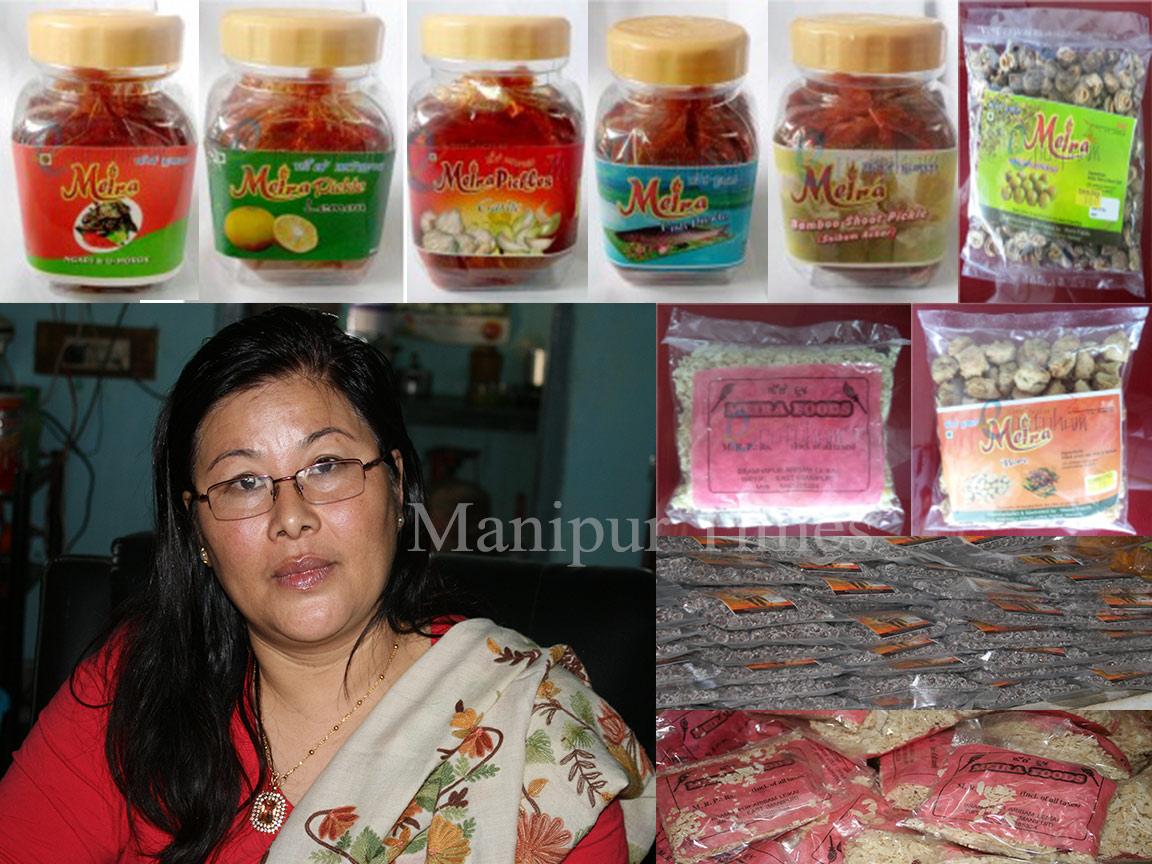 "In fact, my packaged food business is to help the marginalised people by providing jobs. Years long schooling in Banasthali Vidyapith, Rajasthan, influenced by Gandhian philosophy, ignited the thought of working in the service of humanity. Poverty and unemployment are the major problems being faced by the state. I feel to contribute something to the state in its effort to alleviate poverty and reduce unemployment utilising the skills and capacity I have. The word Meira (torch) was used as brand name of my industry as a tribute to our Meira Paibis working for the social cause", said Hanjabam Shubra Devi, Proprietor of Meira Foods.
Hanjabam Shubra Devi, wife of Dr. Banikanta Choudurimayum, who is working as Assistant Professor of Orthopedics Department of JNIMS hailing from Bamon Leikai Aribam cleared her Master's Degree in Food Nutrition from Banasthali Vidyapith, Rajasthan in 1990. She began her early schooling in Kendriya Vidyalaya, Lamphel, where she studied up to Class V.
Prior to her packaged food business, Shubra Devi worked as a Training Co-ordinator of Development Institute under Tangkhul Theological Association, TTA from 1993 to 2003. Apart from this, she has also worked as a Lecturer of Waikhom Mani Girls' College and as a staff of CVTC.
Inspired by her entrepreneurship, she charted out a plan on how to start her own food processing industry after completing a month-long training course on food processing conducted by MSME (erstwhile SISI). She bought some fresh fruits like gooseberries from the market and started making candies with some local women at her home. The said processed foods were sold in local shops.
Her venture on packaged food industry was initiated in 2004 with only Rs1000 investment and four women workers on trial and error basis now can earn a good annuak turnover of more than Rs 50 lakh. Candy and pickle brands of Meira Foods are processed mainly from the two manufacturing units of the Industry located at Bamon Leikai Aribam and Elangbam Leikai.
MARKETING AND PROMOTION
After her factory started production, she took part in many exhibitions to promote her products. She even requested Mr Biren, Proprietor of Kangla Food to display the products of Meira Foods also in his marketing point located at Keishampat junction.
The Products of Meira Foods are available in 50 local selected shops of Imphal East, Imphal West, Thoubal, Churachandpur and Ukhrul districts of Manipur. Apart from this, the products are exported to Kohima, Dimapur, Guwahati and Mizoram as a part of its market expansion plans. For marketing part, her industry does direct marketing through different hawkers on commission basis.
"The products of Meira Foods continuously receive positive feedbacks and high demand from all walks of life. We are selling our products of more than Rs 20,000 a day now", Shubra claimed.
"Recently, I along with some local entrepreneurs of the state went to Mandalay, Myanmar to take part in the international trade fair under the sponsorship of Commerce and Industries Department, Government of Manipur.  All the candy and pickle products of my firm were sold off in a single day. The products of Manipur have a good business prospects in the international market. However, lack of support from the Government and bank discouraged the local entrepreneurs in our effort to successfully take up our mission", she said.
[ecwid widgets="productbrowser search categories minicart" categories_per_row="4″ grid="10,3″ list="60″ table="60″ default_category_id="21230848″ category_view="grid" search_view="list" minicart_layout="MiniAttachToProductBrowser"]
No bank and trust is willing to provide any loan to the entrepreneurs like us, who are engaging in small scale business. To expand my business up to the global level, I need to invest another Rs50 lakh to one Crore in addition to my present standing asset of about Rs10 lakh. The profit earned from selling the products is again invested to expand my business instead of personal needs. My husband is also supporting me a lot, she said.   
By launching Meira Foods Industry, one of the pioneer food processing industries in the state, entrepreneur Hanjabam Subhra Devi has been successful in creating jobs for the unemployed youths of the state while setting an example of self-reliance. At least, 100 persons, mostly women, are being provided jobs directly or indirectly.
FUTURE PLANS
Disclosing her future plan, Subhra said, "I am happy to provide jobs to some of my local people. But this is not the end. I am planning to open a big processing unit which can generate more employment opportunities and also planning to launch a product that will represent the state in the international market."
Recalling her days of the past, Shubra said, "When I was studying in Rajasthan, I asked my mother to send me homemade food products. My mother used to send packaged foods made in Myanmar. I questioned myself why Manipuris do not produce such packaged foods while Myanmarese are successful in exporting their products to our state.
PRODUCTS VARIETY
About 24 food items of different taste under Meira Foods brand are being prepared including pickles, candies and other commonly used kitchen commodities such as bamboo shoot pickle, fermented soybean, fish pickle, garlic pickle, lemon, mixed vegetable pickle, ngari and U-morok pickle, amla salty, bori (prepared from horse gramdal), fried rice flacks, heibi dry, heimang powder (varnish fruit), hog plump, pineapple candy etc. The pickle and candy items are prepared with the locally available fruits from the hilly districts Senapati, Ukhrul and Churachandpur. The advent of such a packaged food industry like Meira Foods has benefitted the marginalised people in their earning.
MAIN HINDRANCES
Talking about the problems a small industry in Manipur usually faces, she said, "Irregular power supply, frequent bandhs and blockades are the main problems. Since the introduction of prepaid metre system, power problem is solved to some extent now. Unavailability of plastic containers for packaging the processed foods in the state is also another problem. We procure these containers from Guwahati. When these containers are not available here due to economic blockade, production of my factory ceases.
[ecwid widgets="productbrowser search minicart" categories_per_row="3″ grid="10,3″ list="60″ table="60″ default_category_id="21230848″ category_view="grid" search_view="list" minicart_layout="MiniAttachToProductBrowser"]