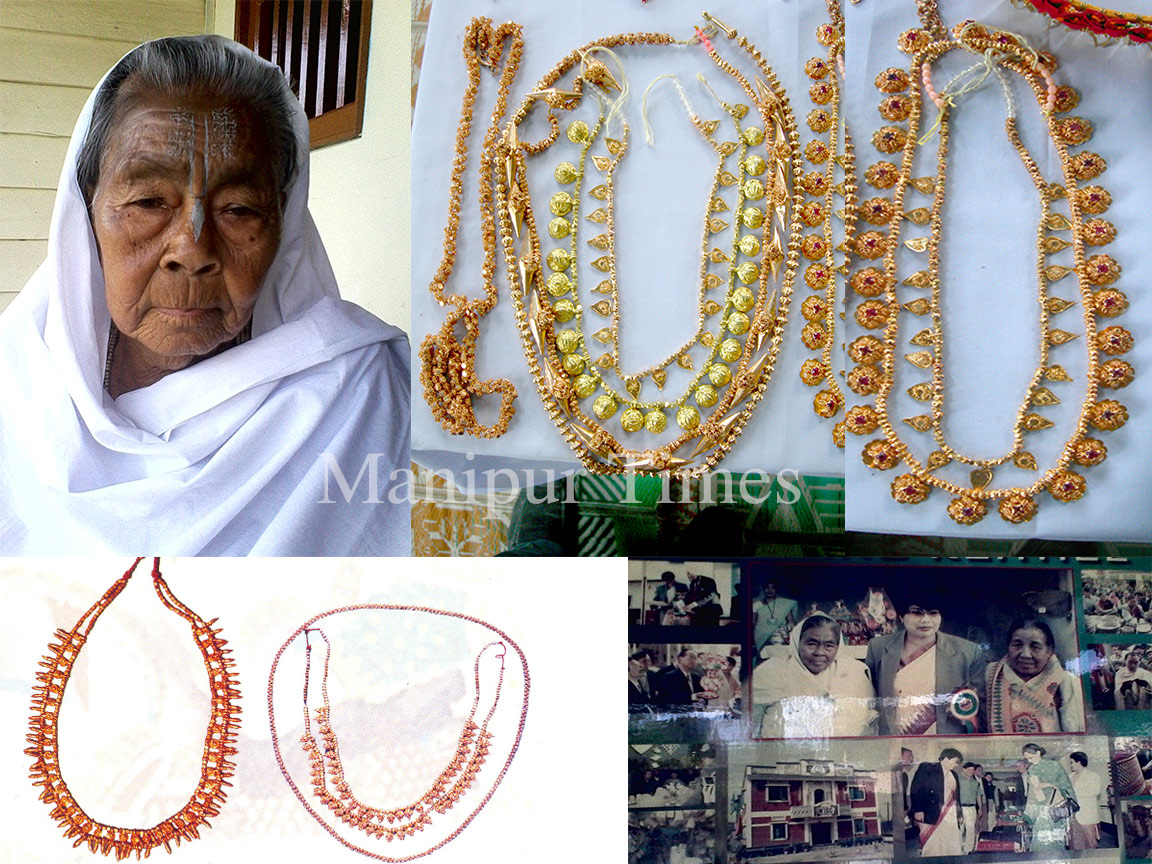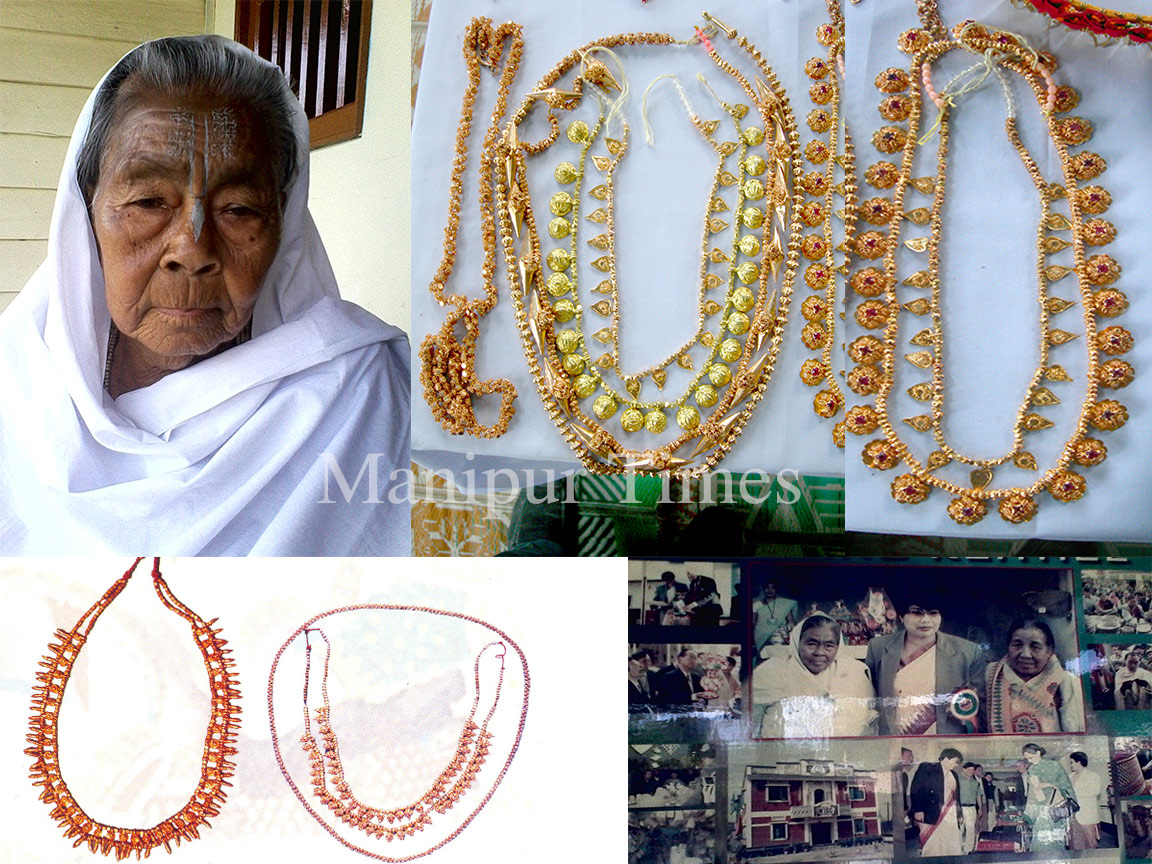 92-years-old Konsam Ibemcha of Khoyathong Polem Leikai, is one among distinguished woman jewellers, who have earned a great eminence and a decent life through the profession of indigenous manual jewellery.
Ibemcha has crafted and designed many popular jewellery items. Her natural abilities in the field of jewellery have not only made her prosperous but also helped in getting many merit certificates and awards at state and national levels.
Ibemcha has spent more than 6 decades in her smithy hammering and scouring to craft her jewellery exquisite and appealing to prospective buyers. Today, she has reaped the fruits of her hard work.
Recently, she was honoured with the Inspirational Award by the state Commerce and Industries Department in a state level function, and she has also received state award for 1992-93. Ibemcha also brought home prestigious National Award (Jewellery, Handicraft) in the year 2001-02.  The award was conferred by the then president of India, Dr APJ Abdul Kalam at a function held at New Delhi.
"I have never expected that I would receive the state and national awards, and would earn other merit certificates through my work. And I never thought that my consistent dedication and hard work would be remunerated adequate worth someday", Ibemcha told to Manipur Times during a conversation at her residence.  
"I love my life because I'm poor and illiterate. But from the God's grace I have received so many prizes and awards, in tally which may be around hundreds. God has favoured me and understood my laborious works. So, I felt like crying, that's why I'm crying now", an emotional Ibemcha said. 
The walls of visitor's room of her house are adorned with certificates and her photos of receiving awards. Although, she is approaching 93 years, she is mentally fit, and she can recall every bit of experiences she met in the course of her journey.
Taking down the Manipur Times in the memory lane of her golden past moments, she recalled and said, "Those times were too dear to me because of my innocence and simplicity, the president (APJ Abdul Kalam) treated me very warmly and specially when we (national awardees) were invited for a meal at his place. It was during the national awards giving ceremony, the president asked me to give my signature. Then I showed my thumb to give the impression. Then he looked at me and gave me a good smile as he knew my simple illiterate life."
Reminisce of Yesteryears
Konsam Ibemcha was born on 3rd May 1922 at Chingmeirong Kabo Leikai during the erstwhile period of British colonial rule in Manipur. British government selected Meidingngu Churachand Singh (1891–1941) as the king of Manipur at that time.
She told to Manipur Times, "It was the times where most parents hardly preferred to send their daughters to schools for education, including those affluent one." She then added, "At that time, our elders considered that it was not ethical for women to go out for school to study."
At 18-years of age, Ibemcha tied her marriage-knot with (L) Konsam Apabi of Khuyathong Polem Leikai, who was a popular goldsmith at that time. Jewellery making and selling gold-plated jewellery in market was the vocation of her husband's family.
Ibemcha not only learned the craft but also earned expertise in jewellery-making through the guidance of her husband and her mother-in-law. She said, "Our mother-(in-law) used to sell those jewellery at 'Lalonpham' (trading place), where she would displayed all the finished jewelleries above a red-coloured cloth-pad in the market."
Recalled Life-clips of Ibemcha
Since the early days of her marriage, she started working from dusk to dawn from the times when electricity was only permeates to those affluent class of Manipur. She has worked many countless nights braving the black smoke of locally made lamp called 'Podon' and lanterns sometimes with her mother-in law before her death; a long time with her husband, and later alone and then with her lone daughter.
But the results of Ibemcha's labours and sweats that lasted for more than 60 years in their home-based smithy has made her life adorned with compliments and awards now. Few of the awards that were visible hanging while having this conversation in her walls were merit certificates of 2nd All India Handicraft Week (1957), 5th All India Handicraft Mela (1959), 8th All India Handloom Week (1961), 1st Khadi & Village Industries Exhibition (1962) etc., besides the State (1982-83) and National Awards (2001-02). She has travelled most part of the country participating exhibitions, trade fairs and melas etc.
When the Manipur Times asked to recount some of her poignant moments in life, she said, "I've braved lots of tension, considering what if my finished jewelleries couldn't found their prospective buyers in the market and trade fair exhibitions that I have participated outside the state." 
She then added, "We buy the raw materials including gold from the markets with a very little cash in hand. At times, we faced many problems as we were not economically sound".
When MT enquired about the prospect of her business she said, "The demands for traditional gold plating jewelleries would be ceaseless from market, and it always peaks during wedding and fest seasons like Ningol Chakkouba". She then said that the gold has drastically become costly in the market that it became unaffordable for many. So, gold plated items serve in place of gold for many in ceremonies, cultural and social events with long durability. She said, "When it becomes dull, it can be re-glittered".
When the Manipur Times enquired about her favourite items, she said, her awards (national) winning item was 'Kiyam Likpham', which is believed to be worn by historic characters like Kumba, Puremba, Nongban etc.
And, she makes bangles like Khuji Borobi (which the both ends en-touches with a beast heads); Marae-panbie; Heibi Mapal Khuji etc. And,mostly preferred necklace items by her customers are 'Kiyam Likpham', 'Likkhom', 'Lik Mari' (chain); Thounum Maru Liktut; Heibi Mapal (Achobal likkhom); Sandrenbi etc. And also said that she too makes finger rings of erstwhile designs like Khoimahum (beehive design); Yubi Khudop etc.
When MT asked what messages she wants to give to the upcoming artisans and craftsmen of the state she said, "God will never ignore if they work very hard with honesty and dedication.She maintained further, "I wanted to bless all those young craftsmen and their busy hands that may all of them receive recognition from people, win awards from government. And may their hard labour bears fruits in their life like me"