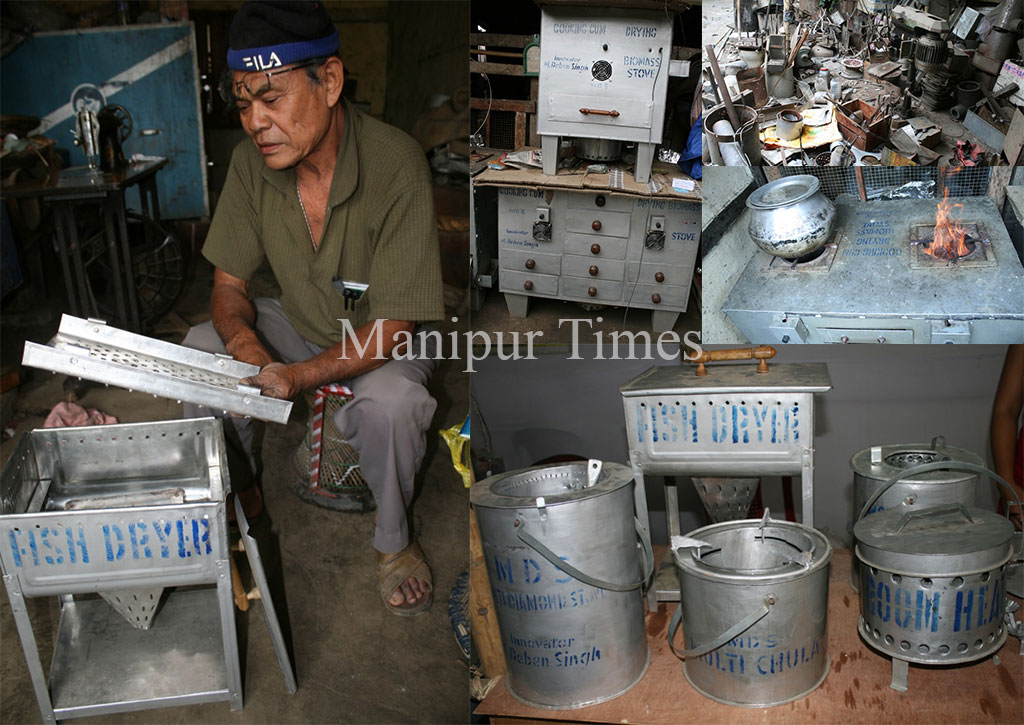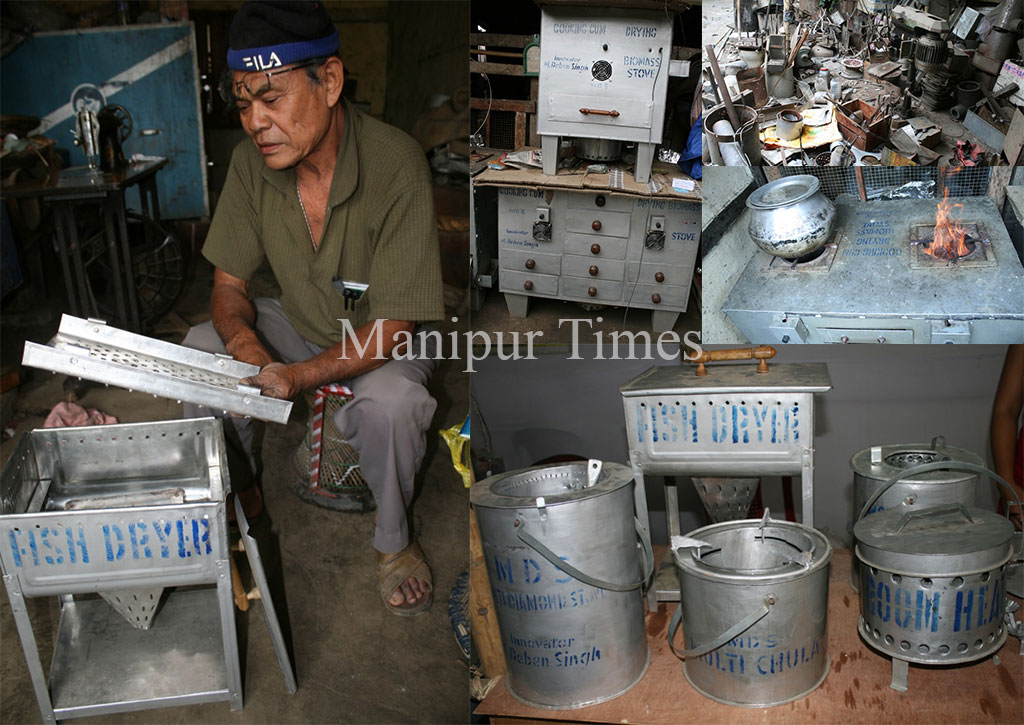 Traditional sun-drying of fish is a time consuming practice. An innovative device developed by Maibam Deben Singh, son of late Manao from Singjamei Irom Leirak, a blacksmith by profession, helps people especially those individuals in fish business. The new device, propelled by paddy husk or charcoal, can be used in dryings up the fish uniformly in a significantly lower time than the traditional method and cooking purposes without consuming much time and fuel.
Maibam Deben Singh, 64 has studied only till Class VIII and was a jeep driver and a workshop mechanic before he started his innovative venture of making fish dryer machine.  As he had to travel to hilly places and could not earn sufficient money from the job, he decided to pursue blacksmithing. He also casually worked for construction of electric poles when he was engaged by the electricity department. As a blacksmith, he made iron doors, windows and gates.
In his journey of this innovative pursuit, Deben has been honoured with various award and achievement by many organizations. National Innovative Foundation, NIF, New Delhi honoured him with the prestigious National Innovative Award for his innovative works on Fish dryer cum cooking stove. Apart from this, Rotary Club of Imphal honoured him with state award in recognition of his outstanding performance in his vocation for promoting indigenous oven in the year 2010.  Panthoibi Cultural Research Centre also honoured him by conferring the Nongpok Ningthou Award 2012.
 Deben is the eldest son among six siblings in the family. His father was a driver and it was difficult for his parents take care of the family with his parents meager income gained. Being the eldest son, circumstances compelled him to earn for a living and to look after the family including sending his younger brother and sisters to school.
"Compelled by poverty, I had to help my parents in taking care of the family by doing odd jobs at a very tender age of 14 instead of going to school. I left school after passing class eight and came out from home for earning by working as a jeep driver since survival of my family was more important than learning", said Deben recalling his past journey.
Having left the job of workshop mechanic and driver, he began earning money by making Meiphu (oven) with GI sheets from the market. He also made an innovative Grass cutting device at the initial stage of his innovative pursuit. By doing so, he began his work on making a device of fish dryer in 2002. In 2008, he introduced a prototype of fish dryer device for the first time in the state.
Presently, Deben is making various products under a registered firm "Kangleipak Fish Dryer", At least,  ten different  brands such as Fish dryer (Rs.650), Emoinu Leirang (Rs.1200), Room heater (Rs.650), Square punching machine (Rs.2800), Pork dryer (Rs.1200), Fish scale remover machine (Rs.350), Multi dryer (Rs.8000), Multi diamond stove (Rs.2700), Multi Chulah (Rs.450 and Cooking cum drying biomass stove (Rs.13,000) have been designed by him. The business can help him fetch at least Rs.30000 a month.
Initially, his brands could not get much profit. With people being aware of the products and its utilities in cooking and drying purposes with less amount of paddy husk and charcoal, his products are able to occupy a good place in the market now.
He employs seven men from his locality. Those who are interested in this job are also provided training.
Recalling how he developed the device, he said that once, one of his sisters was suffering from cancer. Traditionally ailing persons are given smoked fish as source of proteins. He thought that smoked fish may further aggravate the deteriorating health of his sister. It was then when he thought of an efficient dryer and a low emission biomass stove. Without bringing it in the knowledge of his family members he kept on developing the prototype at a secluded place. There were technical glitches like designing the inner chamber. However, with hard work and perseverance, he finally completed his work and came up with this device. The dryer uses charcoal and paddy husk as fuel.
"I have a dream to set up a small production unit cum training centre whenever my factory is financially sound so that I can give employment to more jobless youths. So far, I am running my business without any loan or grant from the government. As it would be difficult for me to stop any one from copying my design and money is required for maintaining family, I have sold this technology of fish dryer to NIF. I like the coming generation to come up with more quality device better than mine. An innovator's aim should be to produce quality products at an affordable price each", observed innovator Deben.  
His innovative works have been showcased in many occasions like Science Meet 2011 held at Iboyaima Shanglen, Palace Compound  at the Innovative Technologies Exhibition organized by MASTEC, a two days  Regional Science Congress For North East Region organized by ISCA Imphal chapter and Manipur University, 102nd Indian Science Congress organisede by Indian Science Congress held at University of Jammu from February 3rd to seven 2014, Machinery Mart 2010 held at Guwahati from 9th to 13rd March 2010, Manipur Sangai Festival  and Peace Craft Bazaar held at Wangkhei and many others.
He maintained that he could earn more than Rs.50,000 during the Manipur Sangai festival by selling his products. The demand for his products have increased to a great extent now after displaying the products in various exhibitions. His men in the manufacturing unit are highly engaged in their work to meet the increasing demand.