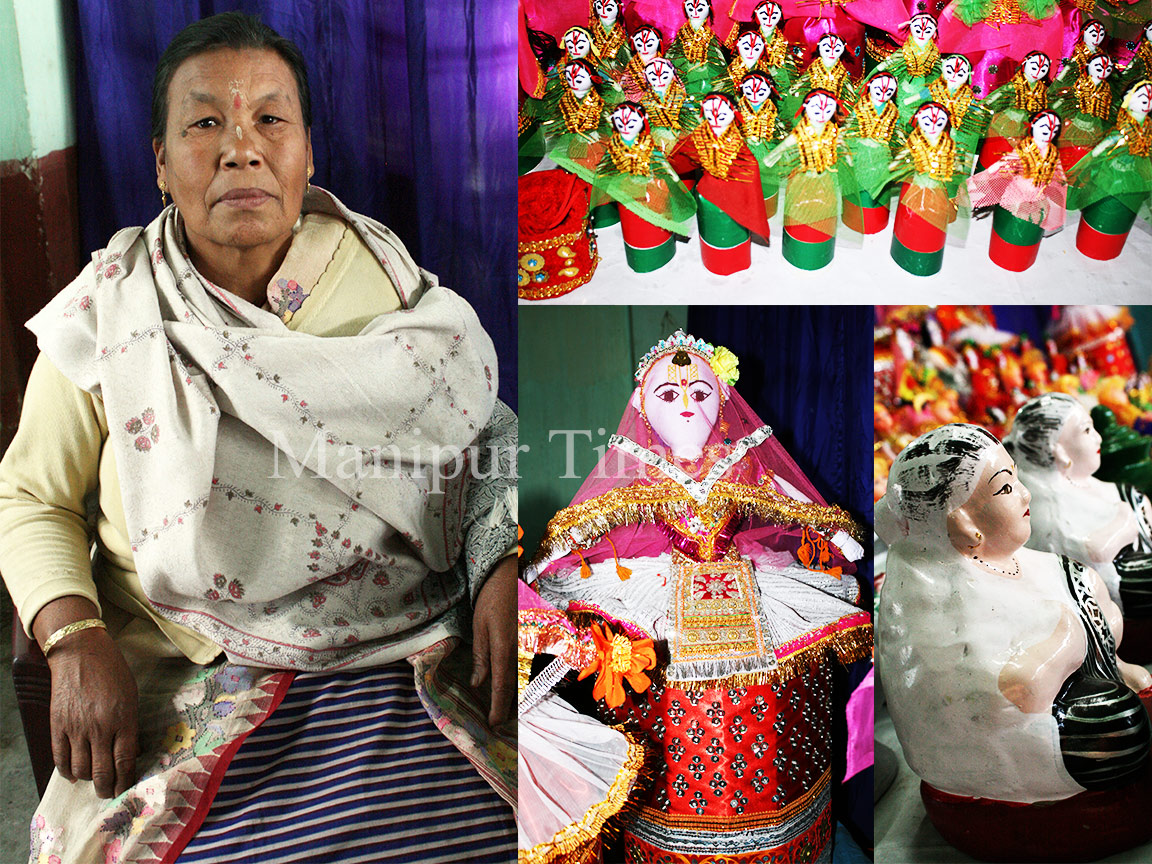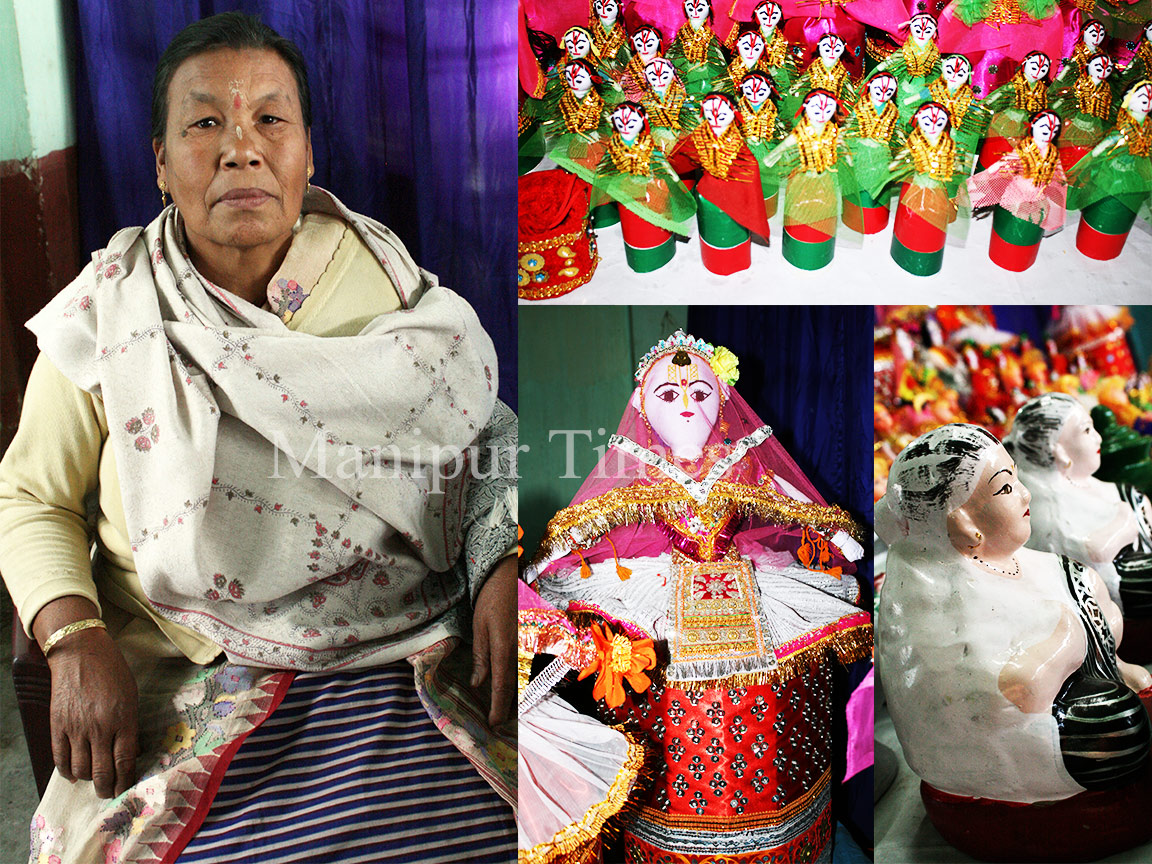 Laiphadibi, Manipur's traditional dolls that has a beautiful charm and is competing with dolls and toys of different brands are almost on the verge of losing its popularity. Local artisans whose sole livelihood depend on these art form are paying the price of the price of dwindling demand of local made dolls. It is my humble appeal to the people of the state to encourage local artisans and save our traditional Laiphadibi which has a close affinity with our religious beliefs instead of throwing away our money in buying branded toys.
Khongbantabam Thoibi Devi, who supports her family by making Laiphadibi (Dolls) for years, expressed her concern over the slowly vanishing demand for local made dolls.
 Khongbantabam Thoibi Devi, 64 years and wife of Mangijao Singh hails from Khongman Lisham Leirak, Imphal east. She started making dolls since the tender age of 10 years. She learnt the art from her grandmother Late Mikoi Devi of Chingmeirong, a professional doll maker. In her childhood, she watched her grandmother making various types of dolls. It inspired her young mind.  Under the guidance of her grandmother, she slowly tried her hands in making dolls with traditional motifs. She soon made it a profession and started supporting her family by selling the traditional dolls.
Her husband is a tailor by profession while her sons work in private companies.  As she devoted most of her time to doll making, she could not focus in her studies and has read up to class VIII.
Thoibi Devi was conferred the prestigious state award of master craftsperson in doll making by the Commerce and Industries department, Government of Manipur for her masterpiece "Jagoi Ras" (Ras dance),.
Laiphadibi (Doll) used to be a favourite of little girls in particular. Meiteis commonly believed that 'Laiphadibi' (doll) in Manipur has Godly power and bring prosperity in the family. When a man dies on a Thursday or on Nongma Panba of Meitei Lunar month, Laiphadibis are sacrificed to God with a prayer not to bring any evil consequence in the family known as LaiAmangba Khurumba.  Laiphadibis are not left outside of the house after day long playing with the children. It is believed that Laiphadibis cry whole night when they are left outside while children get sound sleep inside the house. According to legends, angry Laiphadibi curse her friend for being careless and leaving her outside and they fall ill. When the little girls stop playing with a  Laiphadibi when they grow up, she is not thrown away at random. Instead, a  Laiphadibi is properly buried underneath a grove of Banana trees.
"The Word Laiphadibi is wrongly pronounced as Laidhi by most of the people of the state. Lai means God and Phadi means shabby clothes. Laiphadibi is made of shabby clothes," she corrected.
Dolls depicting Manipur culture and tradition such as Khamba Thoibi, Ningol chakkouba, Fishing woman, women selling vegetables, Radha Krishna, Goddess Laxmi, Doctor, Meetei woman in traditional attire, Meetei woman in Potloi attire, Khamba Thoibi etc. are some of the models she created. The model Meetei woman in Potloi attire is sold for Rs.5000 while the price of other doll items ranges from Rs.20 to Rs.500. With the earning from making dolls, she has been supporting her family and has been successful in sending her four sons and two daughters to school. Now, all her sons and daughters are married.
Thoibi's daughters- in- law and granddaughters help her in making dolls. They are also able to support their family with the income.
Under a project called 'Guru Shiksya Parampara' of Ministry of Textiles, at least ten students have been trained on doll making under her guidance.
Speaking to Manipur Times, Thoibi said that she sells her dolls at Mahaballi temple  at Imphal on every Tuesday as the temple is thronged with many people to pray on this particular day. She can make a good sale on this day. She has displayed her dolls in some craft festivals and exhibitions held at New Delhi, Kanpur, Jaipur and others. Her dolls were not only sold rapidly at such public events but also customers visit her house often to purchase traditional dolls as gift items or toy for the children enabling her to earn a good income.
 Her dolls are made of bamboo, sponges and different clothes. To explore the demands of Meitei traditional dolls, the dolls made by her are also exported to other States like Kolkata, Rajasthan, Kanpur, Meghalaya and West Bengal. The demand of such dolls is increasing in countries like Myanmar and others.
With her determination and devotion in her profession, the craftsperson said that she has been successful in providing employment opportunities to at least 15 women of her locality at her work place located at Khongman.