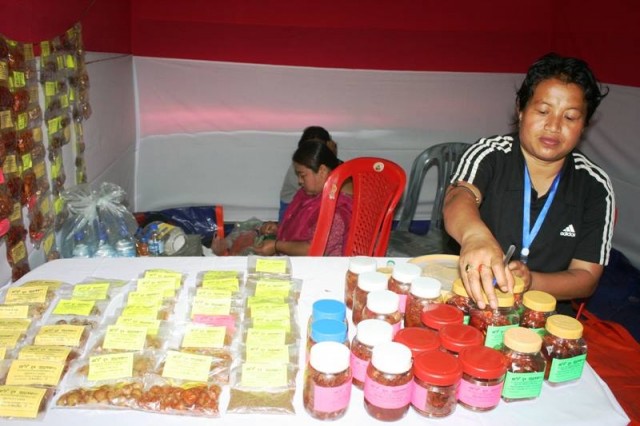 Kanglei Woman Society located at Keishampat Thiyam Leikai is a self help group formed by some like-minded unmarried women from different parts of the state, who want to start a business venture to create employment avenues for the jobless and make an economically self reliant state.
Recently, the women group launched its new brand Kanglei foods to cater the needs of pickles and candy in the state. Around 20 unmarried woman are working under the society. Before inception of the society, the women members were working as activists of MEELAL to promote Meetei Mayek script in the state. In 2009, some like-minded women decided to form a self help group so that they can initiate a business venture. They initiated their venture in embroidery and handloom work.
"We are planning to start a home for the destitute women", N Kunjalata, secretary of the Society said. Currently, Kanglei foods makes sweetie, salty and pickles of various kinds. Candy Items include wild Apple Candy; Pineapple; Amla (Indian gooseberry); Olive (Chorfon); Plum (Heikha); Mange-Ball (Tamarind); Heibung etc. Pickles items inlcudes, U-morok pickles (King/Big Chilly); Shoibum(bamboo shoots), Mango, Olive, ginger, Heimang, Hawaijar and other mixed pickles. She said that a few other new products are in the process of launching shortly.
"Since we are in infant stage, our brand can occupy little space in local market. But we are planning to expand the retails and distribution networks in the state. The present turnover of the Industry is not satisfactory, but we can sustain ourselves to some extent. We want to expand business to provide more jobs ", she said. Another woman worker Sachi Devi said that she can comfortably manage her family with the income from the job.