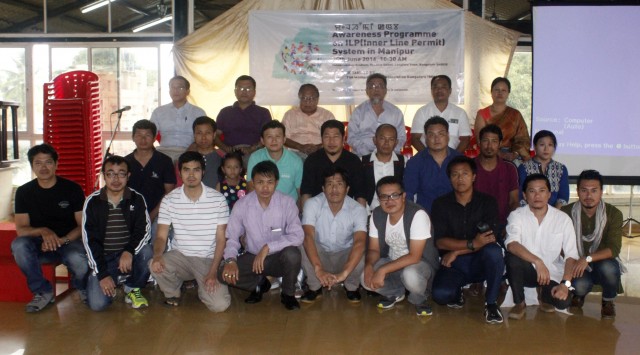 25th June 2016 , The Manipuri Meitei association Bangalore (MMAB) has successfully conducted an awareness programme on 'The Inner Line Permit(ILPS)System in Manipur' at the Hockey stadium,Rhenius street,Langford Town,Bangalore-25. It was attended by people from different walks of life, the students ,working professionals, writers etc.
It was presided by Dr. W.Budhendra as the Chief Guest. The program started with a keynote address by the General Secretary of MMAB ,Mr. N.K.Khuman and mentioned that all the views presented by the speakers are their personal views and doesn't represent the views of MMAB. The President of MMAB, Mr.Omprakash Potsangbam ,then shared a brief history of how MMAB came into being and the principles and motto of the association .It was followed by a clear and detailed presentation on the current three bills related to ILP by retired Army Major R.K Jhalajit. Many other speakers presented their views and shared their knowledge about ILP and discussed about the current situation.
One of the young speaker Lucky Nongthombam said "…..It is very important to bring an understanding between the people of the Valley and the hills. We should try to bring a feeling of unity and togetherness for our future generations but it is also important that while expressing views on social media it doesn't hurt the sentiments of the other community and take this step of demanding ILP backwards. We should not loose respect of each other…..''
R.K.Kenebo ,a dynamic young poet and writer also expressed his views that while using bandh as a means to demand ILP , we should refrain from using violence and causing destruction to vehicles and harm to people. We should not let these unwanted incidents to create an atmosphere of hatred and disunity among the people. Adopting a more peaceful approach would be appreciated .The people of the Valley and the hills should maintain the brotherhood that has been existing from generations and move forward as one. Both should come out for open talks to clear out any kind of misunderstandings……
There were many questions from the audience and overall it was a very interactive and knowledgeable session .Finally it was concluded with a vote of thanks and a concluding speech from the President stating that, this programme is just one step among the many that is in pipeline related to ILP.
MMAB hopes that this seminar has been able to create some awareness and made the audience to gain something and go back richer in knowledge about ILP. MMAB would also like to sincerely thank one and all who have come to take part in this programme despite their busy schedule , making this event a grand success.
Thanks and Regards,
Publicity Team,
MMAB