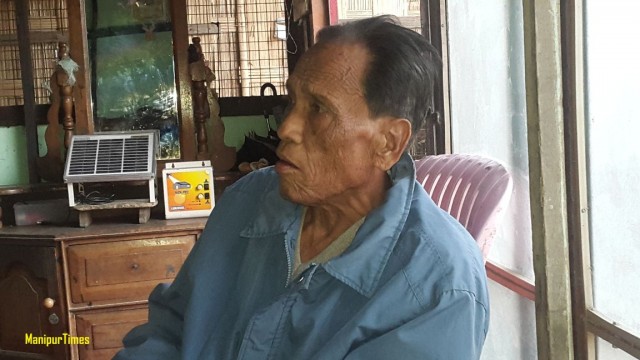 Manipur is globally known for its rich cultural heritage. Varied art forms and cultural expressions and ramifications distinctly showcase the small hilly state to the world.  Manipuris are artistic and creativity by nature. The state is inhabited by varied ethnic group having their own distinct culture and tradition deeply embedded in its dances, music, customary practices and pastimes. Among the varied rich art forms, Manipur is known for its aesthetic Manipuri dance, particularly the Ras dance. Haobam Ibochouba is a great exponent of the art form who had dedicated almost his life for promoting Manipuri dance.
Beginning his journey in dance
Born on November 22, 1942 at Uripok Haobam Dewan Leikai, Imphal west, Haobam Ibochouba is the eldest son among four siblings of late Haobam Kala Singh and Haobam Ongi Manitombi Devi. Both his grandfathers were renowned dance Gurus of Manipur. The elder grandfather is Haobam Guru Ningthou and the younger grandfather is Haobam Atomba. Ibochouba started learning the art of dance from his late grandfathers at his 10 years of age.
Many aspiring artistes used to come to the house of his grandfather Atomba for learning Manipuri dance. He keenly watched their activities which eventually motivated him to be an artiste in life. Ibochouba had actively involved in teaching different form of Manipuri dance and worked as choreographer in various fields of art. He is a member of the elite Rupmahal theatre, Imphal.
He served as choreographer of Chorus Repertory Theatre for the last 20 years under Ratan Thiyam.
His Gurus
He learnt dance and music under the feet of various gurus like Maisnam Guru Amubi of Uripok Sinam Leikai, Haobam Guru Atomba of Uripok Haobam Dewan Leikai, Sorokhaibam Paka of Uripok Achom Leikai, RK Akesana of Sagolband Tera, Guru Thiyam Tarunkumar of Uripok Haobam Dewan Leikai, N Gopal Singh of Naoremthong, Haobam Ngangbi of Uripok Haobam Dewan Leikai, Laimayum Thambalngoubi of Nagampal Kangjabi Leirak, Ningthemcha Ongbi Nayani Sijha of Nongmeibung.
He learnt Pung Cholom from Gurus including Thangjam Chaoba of Khurai, Hijam Anganghal of Yaiskul Hiruhanba. Ibochouba said that his gurus taught him the art forms like their own son with all the blessings to shine in the fields of art. He learnt Meitei Pung from Guru Laksman Singh (Jai Pattra) Head of department (Meitei Pung) Jawahralal Nehru Manipur Dance Academy, Haobam Gopalmacha, Laishram Mikoi.
For Thang-Ta art, he learnt the art from Gurus like Damu Singh of Uripok Achom Leikai, Guru Ibotombi, visiting guru of Jawahralal Nehru Manipur Dance Akademy. He also leant Lai Haraoba art from Ima Rajani Maibi, Kumar Maibi and others.
Academic background
Ibochouba passed IA from DM College under Guwahati University in 1963. He joined the government service as a teacher in 1972 and retired from service in 2006. He also passed three years certificate course in Manipur dance in 1960 from Manipur Dance college Imphal, diploma course in Manipuri dance and music in 1972.
Awards and Honours
He was awarded Governor's Gold Medal for excellence in the relevant filed on June 24, 1972 from the Jawaharla Nehru Manipur Dance Akademy, Imphal. Apart from this, he was awarded four certificates of honour by Hase Gawa Director of Mithiya, Japan in recognition for his performance of Manipur variety programme in 1995. Yesuo Seko Director of Niwabi festival committee Japan also awarded him a certificate of honour in 1995. He worked as Choreographer of a cultural troupe of DM college of science which won team champion of Guwahati university youth festival in 1976. Apart from this, his 150 members Manipuri cultural troupe in which he worked as choreographer won the best performed troupe of the Republic day celebration 1990.
He has been serving as founder cum principal of Guru Atomba Institute of Dance and Music from 1976.
His theatrical activities
He is the senior member, choreographer and Music director of Rupmahal theatre and had acted in many dramas including Tangang Mahajan Tuba, Ei Mamani, Imphal Kaba etc. He is also serving as vice chairman of board of directors Rupmahal theatre for two consecutive terms since 2013 till date.
His activities
He worked as choreographer of the festival of Traditional performing arts of Manipur 2003 organised by Manipur state Kala Akademi, senior fellow on Manipuri Ras 2006 under Ministry of Human Resource development, choreographer of festival of India in Japan 1987 under the guidance of Ratan Thiyam, renown theatre personality, choreographer of variety programme for the cultural items of the states of north east India 2009 held in Gujarat under the sponsorship of Ministry of culture and North east zone cultural centre.
He had popularized Manipuri dance forms at various foreign countries like Mexico, Peru, Quito, Cuba, New York, Canada, London, Spain, France, Switzerland, Singapore, Japan, Korea, Rangoon, and Thailand as a choreographer of Chorus Reparatory productions under the guidance of Ratan Thiyam since 1980.
His published Books
He has written and published many books including Meitei Jagoi Lamjing Lairik 1983 for school syllabus, Pre-world war-II form of Ras Leela in English version under grant in aid scheme of Sangeet Natak Academy New Delhi in 2008, Shri Shri Govinda Ras Leela in Bengali script in 2010, Mera Thaomei in 2012 and Shi Krishna Bhakta Krishnananda in 2013.