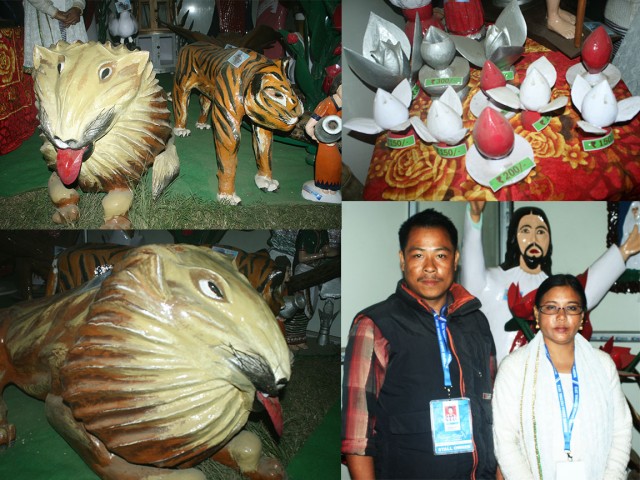 Various wooden craft items designed by a lady wood craftsperson Thangjam Mala, w/o Thangjam Ibomcha from Ningel village in Thoubal district is a point of attraction for many tourists and festival revellers of the ongoing Manipur Sangai Festival held at Hapta Kangjeibung.
Mahatma Gandhi, Ashok, lion, tiger, python, Meetei Nupina Macha Pamba, eagle, duck, girl performing Manipuri dance, Jesus Christ, lily etc which are purely made from left over woods are some of the enthralling craft items the lady Artisan makes with her own hand using ordinary tools like hammer and Paija.
"As the latest machines that other people are using for the woodcarving works are not available, it takes more time to finish the work. I use only ordinary tools for carving. I also do the designing part with my own hands. Due to this, I used to find it difficult to compete with other states," she lamented.
Artisan Mala says that she gets full support from her husband Thangjam Ibomcha, a carpenter by profession who makes various furniture items like almirah, bed, table, chair at a workshed located at their house. The couple have two sons, two daughters and they are able to maintain their family comfortably with the income earned from this work.
Brought up in a poor family, the lady artisan could not continue her studies after passing class VIII. However, she expresses her commitment towards crafting more artistic wooden crafts to win national and international awards in the years to come.