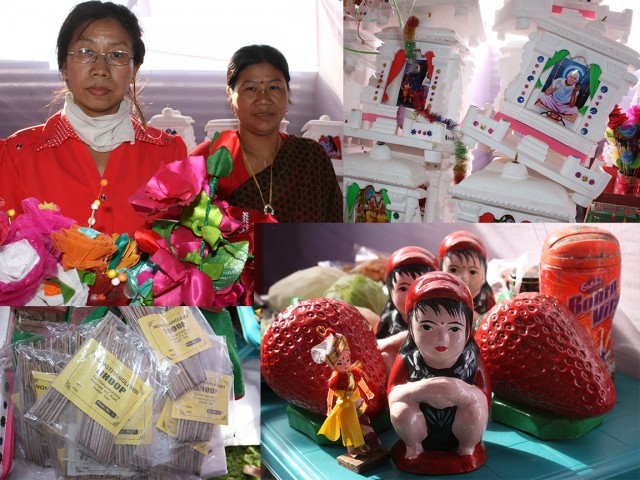 Manipur is known for its handicraft products which occupies a unique place among the various crafts of the country due to having its own aesthetic and artistic value. Although handicrafts industry started originally as traditional part time activities in rural areas without any significant market demand over the years, it has been transformed into a flourishing industry with generating self employment opportunities to a large number of artisans. Many hundreds of local artisans in the state are eking out a living with adopting various handicrafts like artistic textile, woolen shoes, Kouna craft, cane and bamboo, sculpture works etc. Among these crafts, doll making craft has become a thriving and lucrative business for many artisans like Thokchom Nongthanglembi Devi who is successfully taking up the craft.
Beginning of the Craft
Forty five years old Thokchom Nongthanglembi initiated the craft since 2010. Now, she has become a proprietor of Craft Industry called Nongthanglembi Craft under which many local womenfolk are working to supplement their family economy. She is fourth daughter among six daughters of Tomba and Ibempishak of Top Khongnangmakhong. She had a great passion for making various decorative items since her childhood. Young Nongthanglembi was a keen observer and started making various decorative flowers, dollhouses after seeing the designs made by others. She did not formally learn the craft from any experienced Artisans.
Her decorative items
She makes various decorative items like doll houses of various gods Radha Ksishna, Emoinu, Brahma, Mahadeva, Saraswati with ragged and worn out of corrugated plastic fibre board/cardboard box used as fish containers. Apart from this, she also makes flower, Dhup (incense stick), earthen shelphu,
She said that the craft of making dollhouse, decorative flowers is now widespread throughout the State because of demands from both domestic as well as International buyers. "I am planning to expand the business to create more jobs for many apart from popularizing the Manipur craft", she maintained.
Apart from making decorative items, she also runs a fitness centre called Nongthanglembi woman fitness centre at her residence. Nongthanglembi said that she was a national player in woman arm wrestling and power-lifting. As a coach of the fitness centre, she is providing training to many women. More than hundred woman players have been produced from her fitness centre.
Raw material
For making doll houses, shabby and worn out cardboard box (chongang) used as fish containers is the best material. She collects the cardboard boxes from various fish vendors. The idea of making decorative items from the shabby cardboard boxes pricked her mind after she found many such boxes being thrown away/dumped in the garbage pit considering them as useless materials. She thought of converting the shabby cardboards into decorative items.
At first, I collected the shabby cardboards from the garbage pits and many fish vending shops free of cost. Now they have charged me Rs 30 to 50 per such card boxes. Many local artisans making such decorative doll houses have also come up and the demand for such shabby cardboxes is now on the rise, she said.
Regarding how they make the decorative doll houses out of cardboxes, she said that they at first draw out the designs of what they have in their mind in a blank paper, then, they cut off the cardboxes into pieces to make the doll house.
Current trends of handicrafts product is not only restricted to aesthetic or artistic value but incorporation of design and new ideas make the products into daily utility items broadening the marketability as well as scope of handicrafts products, she observed.
Creating jobs for local woman
Nongthamlelbi said that her handicraft industry is providing jobs to some local woman. These women who worked with her have been able to supplement their family income. Without any government support she is also providing training to some local youths in this craft.
Ningthoujam Tejmala wife of Biren of Kongpal, a woman worker of the handicraft Industry said that she has been able to support her family with the income earned from making various decorative items in the handicraft industry. Compelled by poverty, she approached her sister Nongthanglembi to allow her join in the latter's handicraft industry in 2012.
Tejmala is a mother of two sons and her husband is a workshop mechanic. As her husbands' meager income from workshop could not make it sufficient in maintaining daily needs of the family, she managed to help her husband by adopting handloom. However, she left weaving and shifted to the job making decorative items which helped her fetch a thriving income.
She said that she walks to the house of Nongthnglembi everyday to make various decorative items like doll house, flowers.
Another woman worker Ningthoujam Puja from Top Khongnangmakhong also claimed that making decorative items at the handicraft industry has been a thriving business for her as she can comfortably supplement her family income with the job.
Market
The various decorative items/products designed by the workers of Nongthanglembi are sold to the woman vendors in Imphal. Price of the decorative dollhouses ranges from Rs 70 to 100. No doubt, a worker can earn an extra income of Rs7000-10000 a month from the job.
She said that the products of the Nongthanglembi Craft Industry are available at a stall erected at Top Khongnagmakhong. During festivals like Durga Puja, they can make a thriving business with selling maximum products.
Message
Success comes only to those who work hard with a determination. Many youngsters in the State are running from pillar to post to find a government job.  Why should we look for only Government jobs? We need to look out for other self earning opportunities without dreaming for white collar jobs. Until the general conception that finding a white collar job will give a decent living is changed, we cannot bring an economic revolution in the state. We need to change this concept. I would like to appeal to our youngsters to join me and live as a craftsman and to show the crafts outside. If we have work culture, we have many ways to earn, she said.
[ecwid widgets="productbrowser search minicart" categories_per_row="3″ grid="10,3″ list="60″ table="60″ default_category_id="21294227″ category_view="table" search_view="list" minicart_layout="MiniAttachToProductBrowser"]