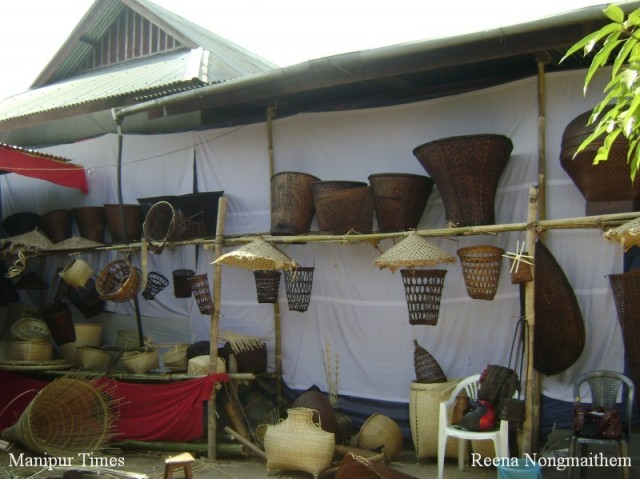 With the aim and effort of giving awareness on Manipuri Civilization and its relation with Cane and Bamboo culture, one Mayanglambam Gourachandra of Kakching Makha Leikai initiator of People's Museum Kakching organized 10 days demonstrative workshop on Cane and Bamboo culture in collaboration with Indira Gandhi Rastriya Manav Sangrahalaya Bhopal.
"The theme of the workshop was to enhance the relation between Manipuri civilization and Cane and Bamboo culture. We have a list of product names from historical books but no one knows about its uses. Again the Maring tribes is continuing to make some traditional stuffs like 'fingaruk', what if they also stop making, it will be a threat to human history", said Gourachandra.
Old and Traditional work were demonstrated on the workshop, some of them were    Tabu, fingarok, saum, yempak, lashing polang, lubak long, lu, sangbai, likhai, laitang, yengkhu ,yangkok, foura, fei, ritualistic stuffs etc.
"I roamed all the corners of hills and valleys in Manipur in search of these things. There are some items which are very difficult to remake it as exactly as it was. Very few of them have some skill to craft exactly as earlier, still we are giving best effort to preserve such items. Some of them are degrading too," Gourachandra continued.
The workshop was participated by 40 skilled and unskilled men from different tribes. KR. Momo, a participant from Khudei khulen, a village under Thoubal district expresses his gratitude of organising such workshop that "it's very good and happy that we get the chance to protect and preserve our endangered stuffs made by our ancestors".
Manipur had been a home to many ethnic groups and tribes since time immemorial. Though they were differing by their tradition and culture at one point; most of their traditions, beliefs and culture carry common ideology at one point or the other. There are many culture and practices that bound early humans in Manipur together. Cane and Bamboo culture is one among them.
Cane and Bamboo work had been a part of Manipuri civilization. There were no tribes or ethnic groups who did not practice this culture. In fact there were cane and bamboo period where all household items ranging from kitchen items of match box to harvesting tools were made of cane and bamboo. With changing time and advanced human development, none of us bother how we human civilization was associated with bamboo and cane culture. We hardly think of "how our matchbox would look like and what our ancestors of that period must have been using in place of umbrella on sunny days, where they must have kept their valuable ornaments and costly costumes".
Till date the State has enormous collection of artistic cane and bamboo works. The creative thoughts are well channelled in the products being brought out from time to time by the resourceful people living in the region.
The game of nature and the human association through the fine yields of natural resource and beautification of the same through various cane and bamboo products are quite amazing.