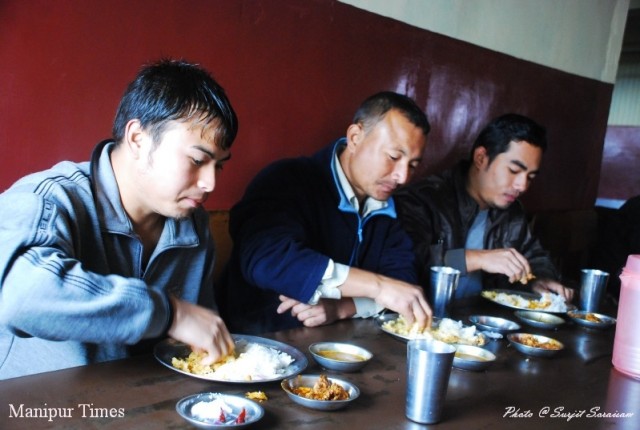 When the name of OK Hotel comes, everyone is quite familiar with it. Its famous chicken roll, with its delicious taste and textures has become a household name. It's been always ok taste for every chicken's lover. One could find and enjoy the same colour, smell and delicious taste of it whenever he or she is going to have a byte of it. It is most likely that when people decide of having meal in rice hotel, the OK Hotel always stand in forefront. And why not, the hotel has been making out of the world delicious taste of the curry. With its quality oriented services, quick served and unforgettable taste, it has evolve as the first choice of chicken centric people.
It specialised only in chicken so as to produce one of the best and tastiest curry of its kind that people can enjoy having it. The so called 'OK Roll' is quite popular among many people. The history of the hotel is rich as its mouth-watering taste of the curry.
It came into existence from way back 1966. It was first stationed at near Rupmahal Tank, BT Road starting from 1966 to 1978. For a certain stint it was again shifted at the adjacent side of GM Hall. Then from 1999, the hotel started flourishing at Thangal Bazar.
"The OK Hotel is not just a rice hotel. It is a family business. After ours elders rested from it, now I am carrying forward the legacy. Here, we always maintain the quality and delicious taste of chicken curry. We do not put any kind of hazardous ingredients or other added flavours in the curry so as to produce extra taste. Instead we just maintain the unique taste of our hotel", said Ngangom Megha, owner of the hotel.
In a chit-chat with Manipur times, Megha stated that the hotel has been using healthy and low calorie oil considering public's concern and to produce good taste of the curry.
The hotel has its own poultry farm located at Heibongpokpi, Lamsang and this is helping the hotel to render its service in continuous manner.
"In early times chicken was not in much demand. But nowadays with the changing food culture, chicken curry has become after sought curry. Keeping this in mind, we are striving hard to avail one of the best chicken curries in the market", he maintained saying that the poultry farm has been an integral part of the hotel.
There are around 15 staffs in the hotel. Three well experience cooks looks after the chicken curry and other 2 engages in making rice. And remaining others looks after the customers' needful. The hotel sells around 40-50 kg of chicken on a normal day.
For ensuring the peculiar taste of its curry and chicken roll, Megha said the hotel made sure that it is putting the right recipes required in making of it informing that it controls the exact amount of spices, chillies, onions etc needed in making the curry.
In short, we have been trying to maintain the quality taste of the curry. Here, we do not think much of profit instead we are focussing more on customers' satisfaction and needful, he added.
Many outlets and retailers used to come early in the morning at the hotel and take away the chicken roll they order. One piece of chicken roll costs Rs 20.
Around 30 people can have meal in one time at the hotel. It used to charges Rs 70 for one full meal and one good thing about the hotel is that customers can have and order rice of his desire amount as it does not charges extra money for it.
"Whenever we are going to have meal in hotel, the OK Hotel is always our first choice. Apart from its tasty curry, we also like their quality and quick services. We feel fully content here", expressed Naoba who was having meal at the chicken centric hotel when a team of Manipur times explore in it.
Normally, the hotel open at 8 am and close at around 5 pm.
 "The hotel has also been engaging in poultry farm for more than 20 years. Looking at this field, we are witnessing surplus and shortage cycle. The rate of chicken shall decreases when the surplus time comes whereas in shortage period one would witness sky rocketed price of it", Megha further observed and added that the OK Hotel would try to charges its tasty curry at moderate price so that all kinds of people can afford and enjoy it.