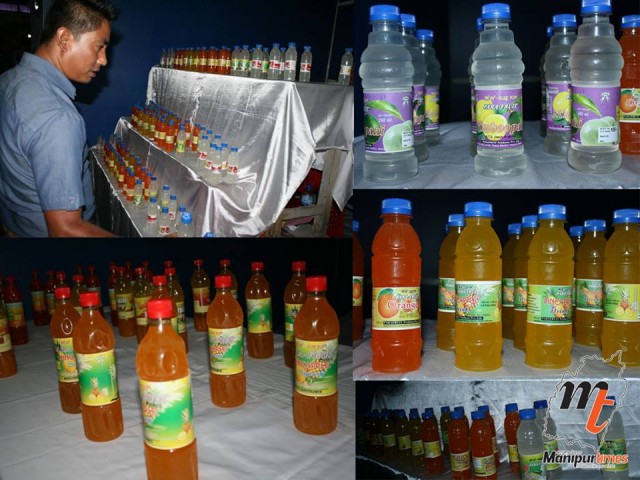 With a commendable annual production capacity of processed food and beverage products under the brand Para Fruit, M/S Para Fruit Products Pvt Ltd is also one of the pioneering success Agro based Industries in Manipur.
Located at Sagolband Moirang Nepra Menjor, Imphal West, Para Fruit Products Pvt Ltd, a small scale food processing unit manufactures varieties of food and beverage items of Orange, Lemon, Pineapple and Passion fruit, squash, ready to serve beverages (non fruit) items made of Litchi, Mango, Orange, Pineapple, Apple, Strawberry etc.
Agro Business
M/s Paradise Food products were established in the year 1998 as SSI Unit carrying the business of Agro Food Processing with a small project cost of Rs 15 lacs. Then for success performance of the unit, it was upgraded shortly to the private limited company in the name and style of M/S Para fruit products Pvt Ltd as one of the pioneer Private sector company in the state. The company has taken up expansion/modernization and it is running under well management of a private Limited company.
The company is a joint venture of four namely Kh Sanayaima son of Angou Singn of Sagolband Moirang Leirak Nepra Menjor, Y Bilashoni Devi (44 years) wife of Kh Sanayaima of Sagolband Moirang Leirak and Kh Meghachandra Singh (40 years) son of Kh Mani Singh of Sagolband Moirang Leirak.
Kh Sanayaima who who is well expertise in Agro food processing and Marketing for ten years is working as Managing Director of the company while Y Bilashini, having experience of a Board of Director of a Private Limited company as Director and Kh Meghacnadra as Director of the company.
Main objective behind the Business
The North East, especially Manipur, because of her geographical location is quite cut off from other parts of the country and no other industries can be successful due to lack of infrastructure, transport and telecommunication and unavailability of raw materials. That's why, Manipur is far behind the progress in comparison with other states. Even though the variant excellent agro climatic condition of Manipur and having its plenty of natural and horticulture varieties of fruits and vegetables a great scope for development of Agro-based industries in the state of Manipur. The present existing fruits vegetables processing industries located in this region could not compete national and international markets as they did not complied with modern technology.
With this background in view, there is an urgent and vital needs for setting up a few modern, well equipped communication networked fruit packing houses and modern intergrated horticulture complex in the state with a view to promoting fruits of assured quality at reasonable prices to compete national and international markets and highly needed to exploit the horticultural potential to generate sustained levels of income, employment opportunities and to reduce poverty levels of the region and to keep peace and harmony, the promoters of the company have factually decided to establish M/S Para Fruit products Private Ltd and running successfully to reach maximum target.
The Company
The company was incorporated with an authorized capital of Rs 15 lacs for the allotment of 15000 equity shares of Rs 100 each initially as per maximum target of the business of the company. However, for requirement of the business of the company, the promoter declared to undertake allotment and subscription of share for producing promoter contribution of the new project proposal, hence, rose up the authorized capital. The subscription of shares and allotment of shares can be called up at any time as per requirement of the business of the company as per rule. Once the company undertook to subscribe as per the requirement of the business the liability cannot be escaped.
With the motto 'a new venture in Agri and horticulture', the company visualizes a developed and industrialized Manipur by exploiting the vast raw materials of Agro-Horticultural products locally available in plenty. The state endowed with varied natural resources have high prospect of business growth in Agro and horticultural products. The economy of the state can be strengthened as and when the Government focuses more on developing Agro and Horticulture based Industries, apart from creating more employment opportunities, observed the Director.
Raw materials from Manipur
M/S Para fruit products Pvt Ltd procures the raw materials of the company mainly from various villages of hilly districts in Manipur. The company collects Oranges mainly from Tamenglong while Lemons from Kachai and other villages in Ukhrul district of Manipur. With its own Sale Team, Supply Team, Food and Beverages Division, the company is successfully running its daily business transaction.Roadblocks
Bandh and blockades, erratic power supplies are the main hindrance the budding local entrepreneurs use to face while carrying out his business. When production ceases and workers off the work, entrepreneurs suffer loss in business.
[ecwid widgets="productbrowser search minicart" categories_per_row="3″ grid="10,3″ list="60″ table="60″ default_category_id="21294227″ category_view="grid" search_view="list" minicart_layout="MiniAttachToProductBrowser"]