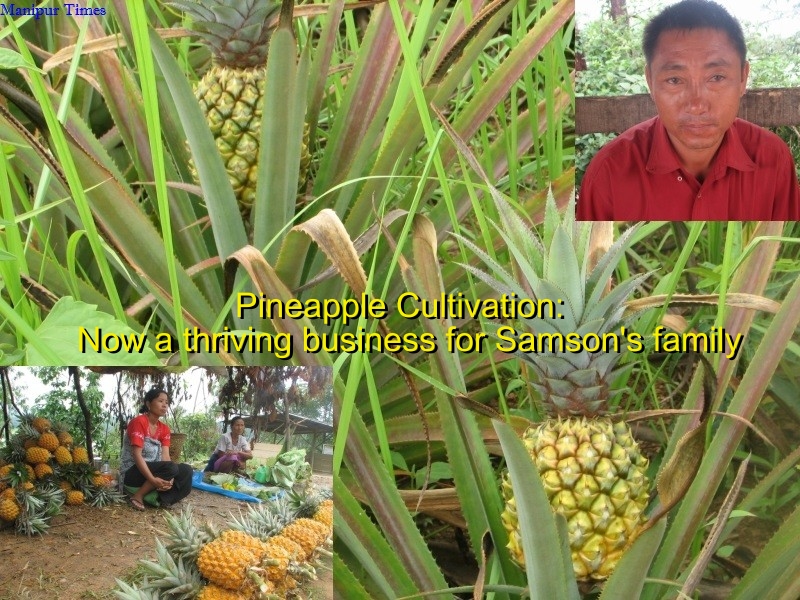 For farmers like AS Samson Tangkhul, 43, of Ngaraiphung village, Senapati district, pineapple cultivation in his 3 hectare plot on the slopes of Ngariyal hill range is his main occupation since past many years. With the income earned from selling pineapples, Samson has been maintaining his family of six members comprising his wife, three children and his ailing mother.
AS Samson Tangkhul is among the pineapple farmers who are preparing to exhibit their pineapples in the forthcoming Pineapple Festival 2013, organised by Development Organisation Andro Kendra. The festival is commencing on 10th July.
Ngaraiphung village is a tiny-lovely beautiful village which has population of about 170 people. Pineapple farming is the main occupation of almost all the villagers. Other people from neighbouring villages like Angtha, Huikap, Poiroukhongjil villages also come to Ngaraiphung for pineapple farming. People from neighbouring villages are also allowed to grow the fruit in the village with the payment of 'Lambal' (land charge).
"This year, I am expecting a profit of not less than Rs.70,000. About 5000 pineapple saplings were planted in my 'Pamlou' (hill farmland) of three hectares last year. Of the 5000 pineapple saplings, 4000 plants bore pineapple fruits while the remaining plants dried to death. I used to earn a profit of about Rs 15,000 to Rs20,000 annually from pineapple cultivation, but now it has increased between Rs 50,000 to Rs 60,000, said  AS Samson in a recent interaction with Manipur Times.
According to Samson, pineapple cultivation is his family occupation which they inherited from their forefathers. His late father Ako maintained his family with the income earned from pineapple farming. He used to harvest pineapples twice a year.
Their pineapple farm yield best products from July to August. The pineapples which are reaped during the month of December to January are known as 'Heiron'.
Although, the rate of pineapple varies according to the size, Samson presently sells the fruit at the rate of Rs 10 to 20 a piece in the market. His pineapples are also sold at a roadside shop along Imphal-Yairipok road. The pineapples harvested from his 'Pamlou' are transported to Imphal market by a DI Tata. Rs.20 per pineapple bag is charged as freight charge.
Besides pineapple cultivation, he also plants banana trees of local variety in his 'Pamlou'. Banana cultivation is another occupation which gives him handsome profit every year.
Samson could not continue his studies after he studied up to class 10 in Yairipok High School. Being the only son of his family, Samson had to look after his needy family. Soon after his father became bed-ridden due to ill health, Samson left his studies and took up shovel to feed his family.
"Like others, I too dreamt of becoming a government officer after completing my studies. As the saying goes – 'Man purposes, God disposes', my dream of becoming a government officer has now turned into a pineapple farmer because of poverty. It is the will of God", said Samson while adding that he does not have any complaint to his destiny.
Pineapple cultivation has now become a thriving means to earn good income due to growing pineapple market. The demands of this fruit from the public as well as the fruit processing units newly flourishing in the state and outside have increased to a great extent. The only problem is – farmers are unable to meet the ever increasing demand of pineapples. Two most-sought-after varieties of pineapple – Kew (big size) and Queen (small size) – are produced on commercial scale in Manipur. The Kew variety, which is available in Manipur, is known for its unique taste; and it is suitable for canning as well. Thus canned pineapples form a part of the exports from the fruit processing industries of the state, said Samson.
Toiling hard in all weather, pineapple farmers struggle to enhance production throughout the year without much assistance from the state government. A pineapple farmer has to invest a big amount in engagement of labourers, ploughing and weeding. Farmers are working without any financial assistance from the government.
"We hear the banks are providing loans to farmers. But we can't get any loan benefit. When we approached the bank, they were not willing to provide us any. If Government provides us some financial assistance in the form of loan or grant, it will be so helpful to pineapple farmers in boosting up pineapple production as well as the living status of the poor farmers", opined Samson.
He went on to say that government needs to encourage the farmers by fully patronizing their effort to increase pineapple products in the state. By doing so, it will prove to be a dual benefit for the government as it will increase the economy of the state on the other hand. And it will relieve the burden of the state in tackling the soaring unemployment problem. Moreover, successful commercialization of a local product is a matter of pride for the state as well.
Pineapple Cultivation in Samon's Family
Pineapples grown in Manipur are known for its unique taste. The fruit is farmed in an estimated area of more than 10,000 hectares of land producing over 700 MT annually.
In Imphal East district, pineapple farming is mainly concentrated around Andro village, which is located around 20 km to the east of the state capital Imphal.
Churachandpur is another district where pineapples are grown abundantly in around 700 acres of land in the hill ranges of Khousabung, Bunglon, Ningthiching, New Ningthiching, Harmontlang, Muolhoih, S Nabil and Sangbo villages. The juicy fruit is also grown in Thoubal and Senapati districts.
Cultivation of pineapple originated in Brazil and gradually spread to other tropical parts of the world. Pineapple cultivation was introduced to India by Portuguese in 1548 AD. Pineapple (Ananascomosus) is one of the commercially important fruit crops of India. Total annual world production is estimated at 14.6 million tonnes of fruits.
India is the fifth largest producer of pineapple with an annual output of about 1.2 million tonnes. Other leading producers are Thailand, Philippines, Brazil, China, Nigeria, Mexico, Indonesia, Colombia and USA. The fruit is a good source of Vitamin A and B and rich in Vitamin C and Calcium. It also contains phosphorus and iron.