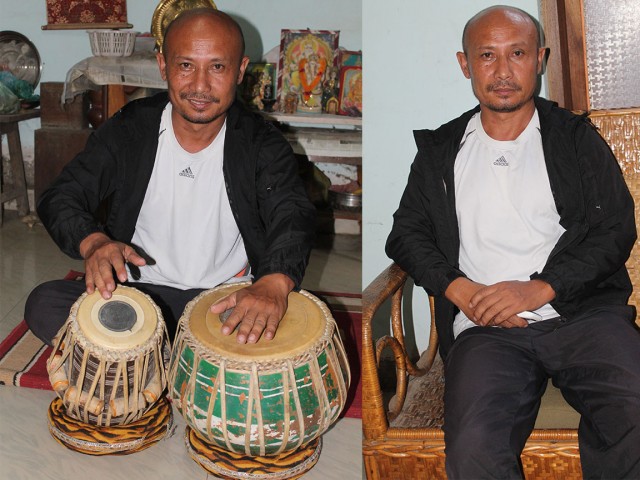 Listening to music soothes one's mind and heart. Music is a ubiquitous companion to people's everyday lives. A song without music is like a body without soul. While singers are quite familiar to the people, musical instrumentalists, who play a key role in making a song alive and meaningful, are hardly remembered by anyone.
Hamom Purnananda, a key percussionist of Roop Raag, one of the state's oldest musical orchestral groups, needs no introduction. He has been playing percussion instruments including Tabla, Dhulki and acoustic drum etc. for many prominent singers in the state for about 35 years.
His debut song
Purnananda is the eldest brother of Hamom Sadananda, a popular singer and Manipuri film actor. No doubt Purnanada is also a good singer, apart from his being expertise in musical instruments like Tabla, Dhulki and acoustic drum. He, however, hardly sings like his brother Sadananda. He made his debut song "Koina Paibi Cheklani Nangdi, Koina paiyu Leirak khullakta, Gali Galida Yarekpana Chekla Nangi Nathou Oibane" in a music album entitled 'Angaobani Haibire' released in 1995 after the sudden demise of his younger brother Hamom Shivananda who was a good guitarist. His late brother composed some Manipuri songs by playing guitar. He sang the song composed by his brother.
Life background
47 years old percussionist Hamom Purnananda is the eldest son among five siblings (4 sons, 1 daughter) born to Hamom Mohindro and Hamom Ongbi Indubala of Sega road, Imphal.  Purnanada's mother Indubala maintained her family by running a hotel. He used to help his mother in preparation of morning tea, bead and Bora for the costumers. His father was a contractor who later on adopted the profession of Arangpham Phamba.
He got married with Laimayum Promila from Nagampal and now become a father of one son and a daughter.
He passed matriculation from 1st MR school while Class XII and BA from MB college, palace compound and Imphal college respectively.  He also did LL.B at LMS Law college Imphal, but he was compelled to drop his studies due to some family problems.
Learning of the art
Purnananda discovered his passion for playing musical instruments like Tabla, acoustic drums at his tender age of 15 years. He was highly inspired by his  local uncle Hamom Kumar, a noted Tabla player.
"Many people came to the house of uncle Kumar to learn playing of Tabla. I used to watch them beating Tabla, which highly motivated me to make a try of it once. Urged by the passion of playing Tabla, I used to play the instrument while our uncle was away from home", Purnananda recalled.
He also learnt playing percussion instrument under the feet of various teachers like Gambhir Singh, drummer Radheshyam, Shamungou, Bimol effect, Mobimacha and many others.
The young percussionist was highly motivated to adopt the art of music since he was surrounded by many different artistes, singers and musical instrumentalists. One of his uncles is a prominent Manipuri singer and another one is a tabla player. He got the opportunity to interact with many singers and artistes when they came to meet the noted art personalities in his locality. His family also extended their best support to him when he started his journey  of music art. He said that late Khun Joykumar, noted Manipuri singer  and Dr Hamom Naba were the main inspiration behind his success in the career.
A key instrumentalist of Roop Raag
Compelled by his passion for musical instruments, he joined Roop Raag as a drummer. He played acoustic drums, tabla and dhulki for the orchestra group and started giving performance in many musical concerts in different parts of the state. He said that he was so happy when he received Rs 20 for a concert by that time.
He has been working as a percussionist for Roop Raag for the last 35 years.  Once in a music concert at Keishampat, he played tabla in a song of Khun Joykumar who was highly angry with the poor performance of Purnananda. The incident motivated him to be a great percussionist.
Training to many aspiring instrumentalists
Under Shiva Institute of Music, he gives training to the aspiring artistes. So far, the music institute has produced many successful students.
Purnanada believes that "everything is well if health is well". Good health is very important for the artiste to render their service for long. As such, he joins in a gym centre. He wants a drug free life and society.
"Art is limitless, it has neither beginning nor ending. It is limitless to learn, only man dies, not the art", he said.
"Music is sound that has been organized by using rhythm, melody or harmony. If someone bangs saucepans while cooking, it makes noise. If a person bangs saucepans or pots in a rhythmic way, they are making a simple type of music", he elaborated.
Message to young artists 
Purnananda said that younger artistes should adhere to strict discipline and pay due respect to elders to be successful in life, apart from learning the art with a determined effort. In early days, artistes showed respect to their teachers by touching their feet. This phenomenon has completely changed now and discipline and respect which is supposed to be maintained between the student and teachers is fading away from society, he lamented.